Overview
One of the most important steps of using DocSend is uploading content. You can get started by going to the Content tab to upload your first document!
Skipping Ahead
Accepted Document Types
DocSend accepts the following file types and extensions:
PDF

Microsoft PowerPoint (.pptx, .ppt)

Microsoft Word (.docx, .doc)

Keynote (.key)
Additionally, users on the Standard plan and above can upload additional, download-only file types such as spreadsheets, images, videos, and more. See Download-only Content for more information.
Upload a Document
To upload a new document to your Content library:
Open the

Content

page.

Click

Upload Content

.

Click

Upload files and folders

.

Locate the document on your desktop or external account, or drag and drop the document from your computer.

Click Upload.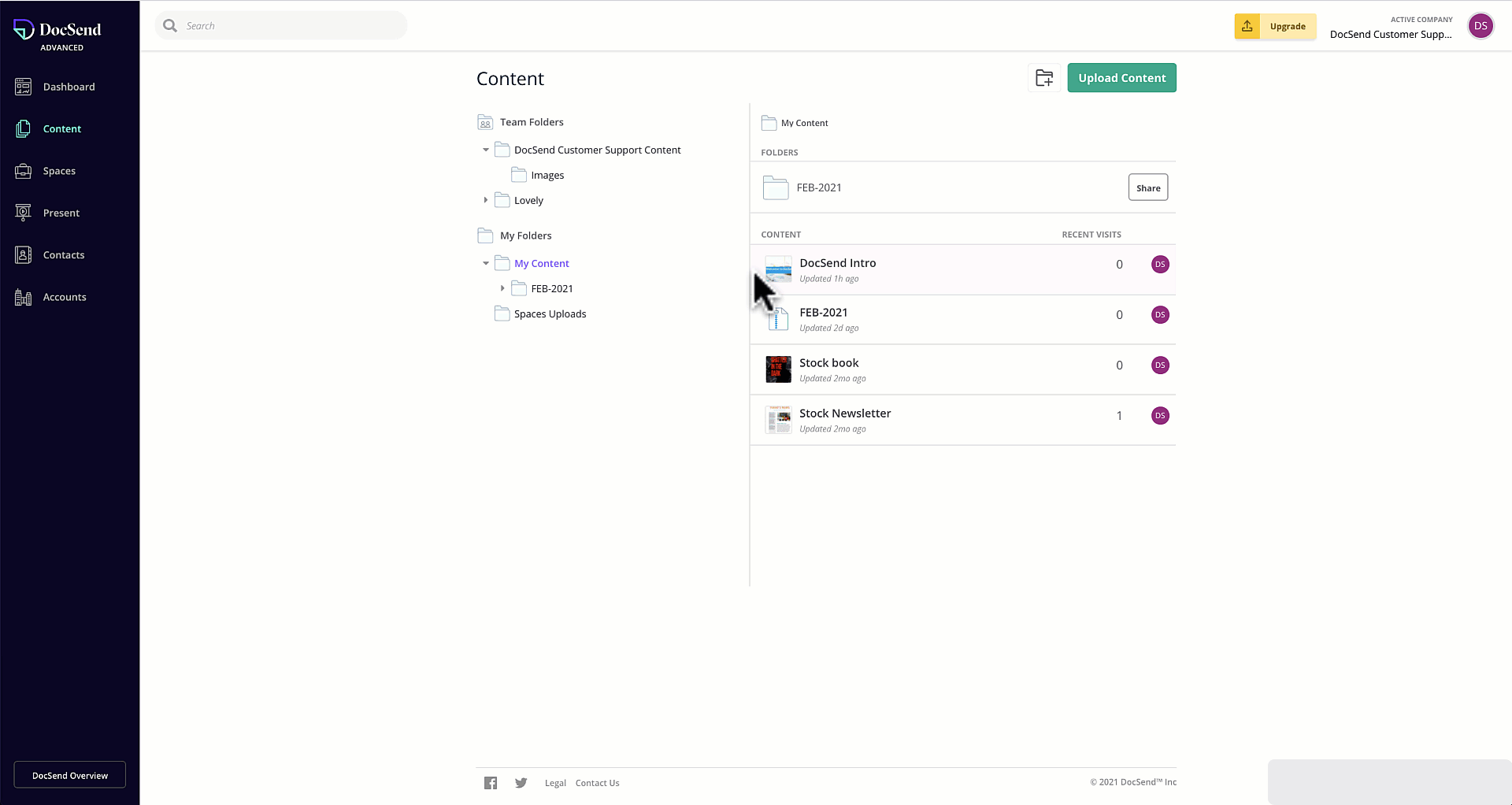 After the document is successfully uploaded, you can edit the document name or add an internal note below the name.
Switch Upload Provider
You can upload documents into DocSend directly from any of the following external accounts:
Google Drive

Dropbox

Box

OneDrive

OneDrive for business
Important: To select a different upload destination after you've switched to an external account, click on the provider dropdown, then click Manage Accounts.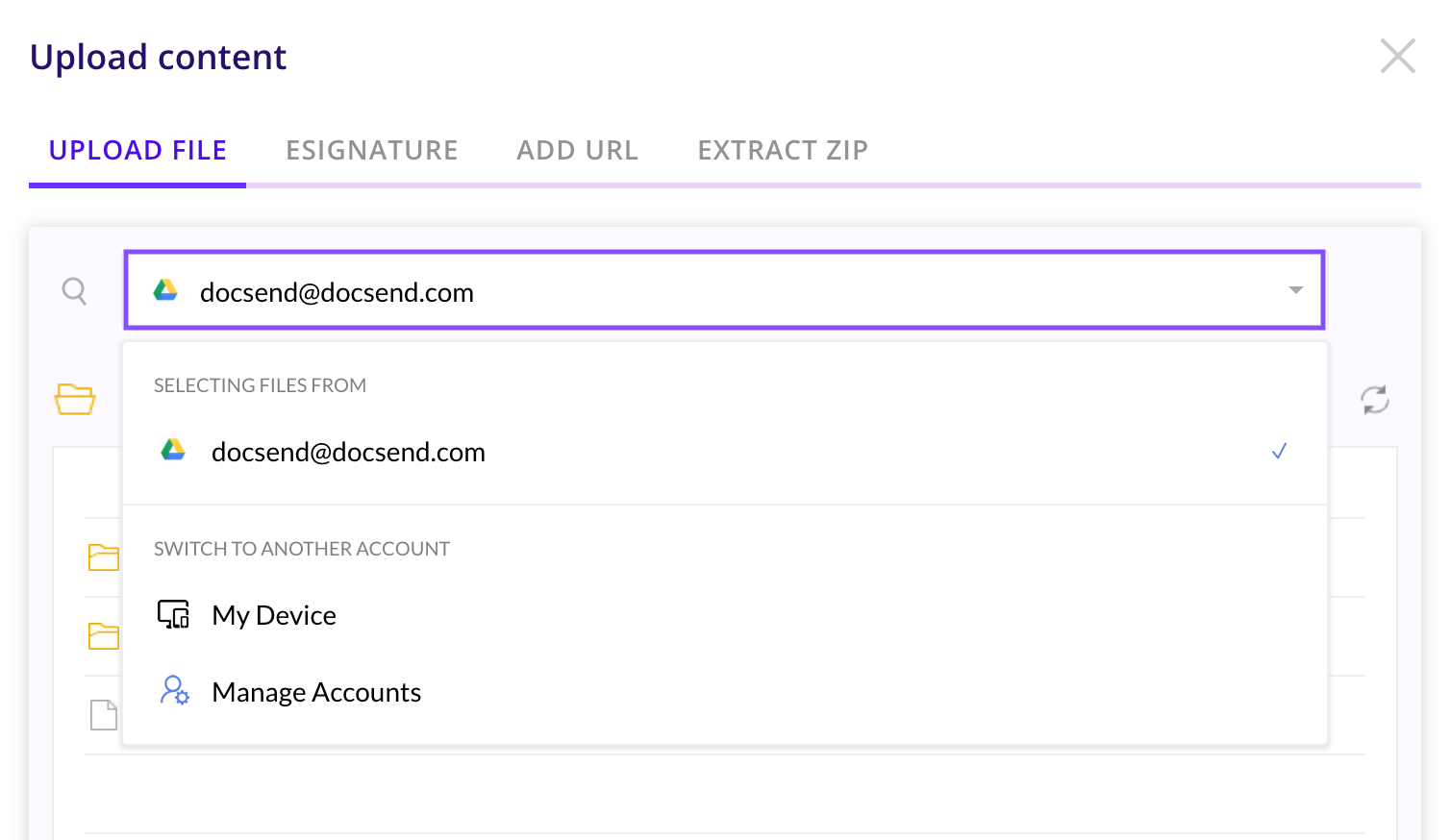 Multi-asset Uploads
With multi-asset uploading, you can queue multiple assets to be uploaded from your device or any of the cloud-based services listed above. To upload multiple assets:
Highlight the desired assets and click

Upload

.

While the upload progresses, you can also choose to upload more by clicking

Add Files

.

As each asset is uploaded, a progress bar will show the status of the overall asset upload.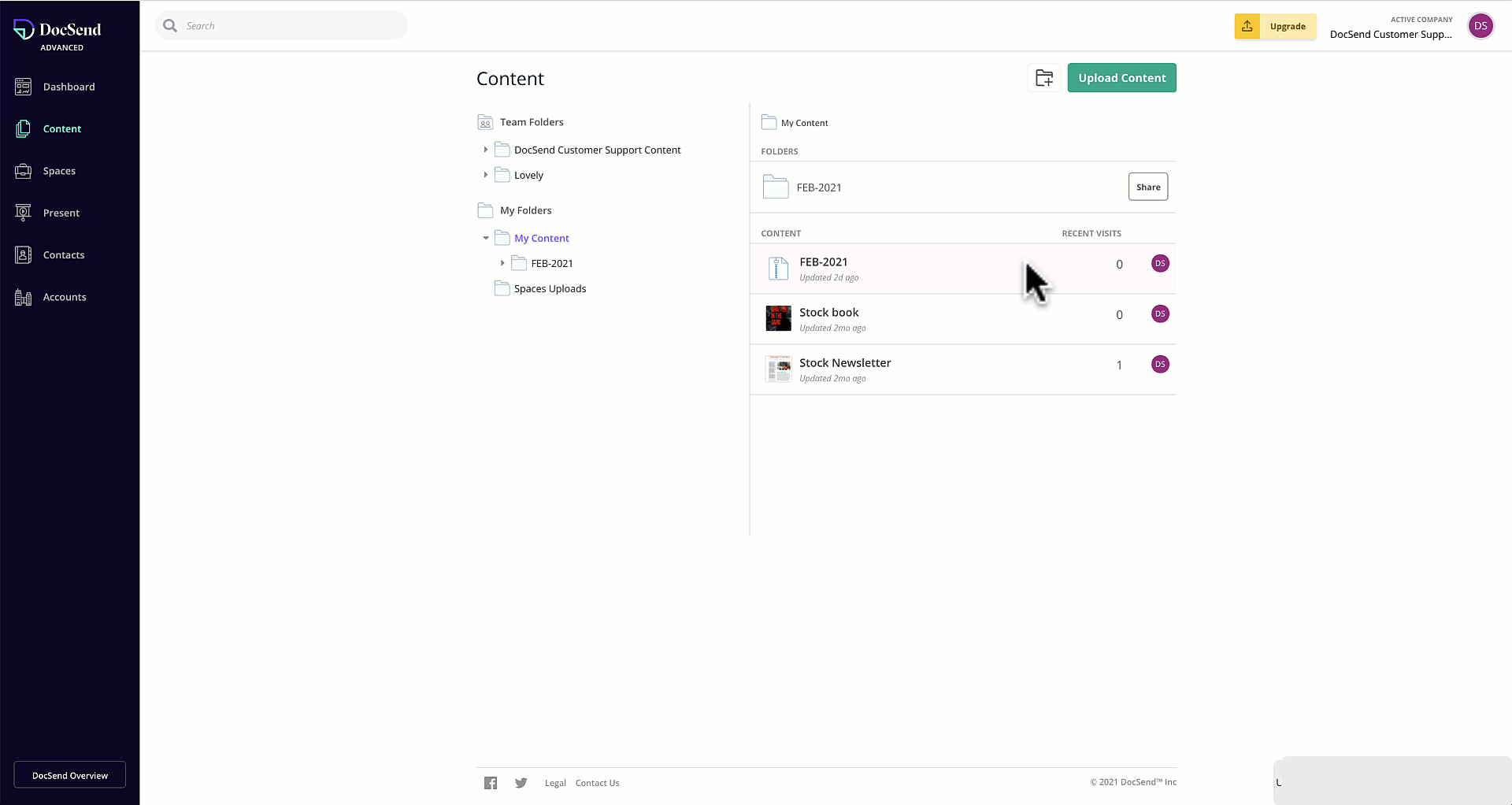 Things to Consider
Users can upload multiple assets within a folder by dragging and dropping them onto the uploader. Folder structures are not preserved when uploading folders.

Users can upload multiple files into a Space using the 'Add content' button when accessing a Space. See

Managing Files in Spaces.

Visitors will see the name of your documents if you create a link that allows the document to be downloaded. In that case, the document name shown on DocSend will be used as the name of the downloaded file.

You can change this name at any time by clicking on the document name from the document details page.
Related Reading
___
Still need help? Reach out to support@docsend.com!