Getting Started
Welcome to the first and most important step of using DocSend -- uploading content! Users can begin this process by going to the Content tab where content can be dragged and uploaded directly from a device or through other cloud-based services such as:
Box
Dropbox
Google Drive
OneDrive
OneDrive Business
SharePoint Online
Note: All services can be disconnected by selecting manage accounts from the dropdown and clicking the "x" once connected
Accepted Document File Types
DocSend accepts many document file types. Below are the document file types and extension that can be uploaded:
PDF
Microsoft PowerPoint (.pptx, .ppt)
Microsoft Word (.docx, .doc)
Keynote (.key)
Here's how to upload a document

Access the Content tab
Select Upload Content at the top right to access the content upload modal
Select My device or choose from the Cloud Upload Providers listed.
Choose how you want to upload your content. You can upload documents and folders, a signable document, or zipped content.
The document will begin to upload and let you know once it is completed

You can modify the name of the upload at this point or users can add a note
Multi-asset upload
With multi-asset uploading, users can queue multiple pieces of content to be uploaded from their device or any of the cloud-based content services listed above. See File upload limitations for more details on upload capacity. Here's how:
To upload multiple assets, highlight the files and press the upload button on the bottom right of the uploader. Users can also choose to upload more by selecting the upload more button

located

on the bottom right next to the upload button or by selecting a folder.
As each asset is uploaded, a progress bar will be visible showing the status of the asset upload. Here's how it works:
Users can then move content within folders easily by dragging and dropping them. See Organizing content within folders for more information.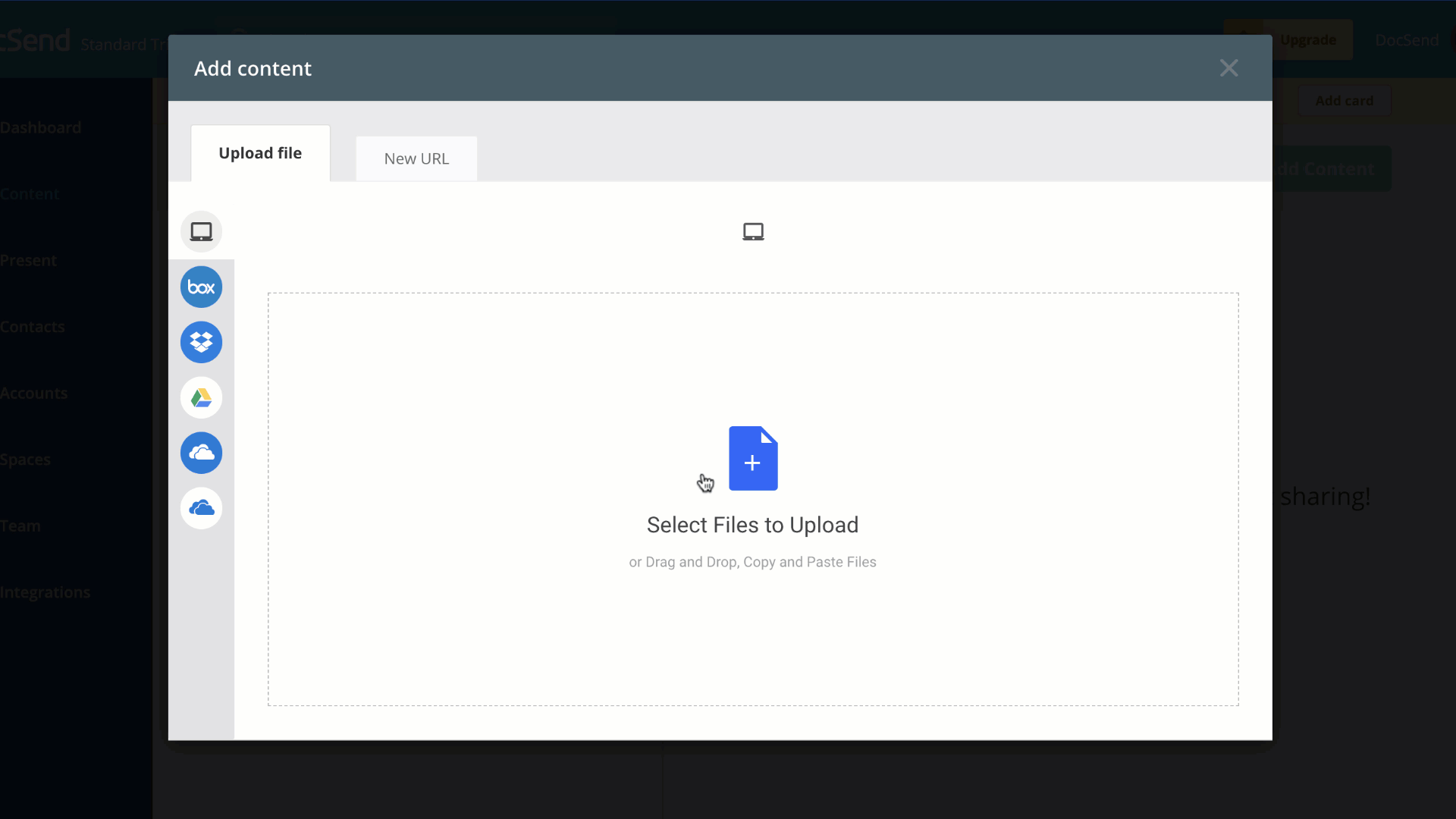 Multi-asset upload FAQ
Q: Can I upload whole folders into DocSend?

A: Yes, users can upload multiple assets within a folder by dragging and dropping them onto the uploader. Folder structures are not preserved when uploading folders.

Q: Can I upload multiple files within a Space?

A: Yes, users can upload multiple files into a Space using the 'Add content' button when accessing a Space. See managing content in a Space.




Q: Can I upload multiple files through the Gmail or Outlook extension?
Uploading Zip Files (Standard, Advanced, Enterprise)
With ZIP uploads, users are able to upload and extract multiple assets with fully-formed folder structures into the content tab. Uploading content through ZIP files can help you get started quickly by uploading entire content folders with a few button presses giving you more time to spend elsewhere like creating Spaces.
Here's how to upload content through ZIP files:
Navigate to the Content upload modal and choose Upload and extract ZIP option

Select My device or from the Cloud providers listed
Drag or select your ZIP file into the content uploader.
Once uploaded, review the ZIP upload in your content folders.

ZIP upload FAQ:
Q: Can I upload multiple ZIP files at the same time?

A: You can upload one ZIP file at a time.



Q: How large can my ZIP files be?

A: ZIP files can be no larger than 1gb and extracted folders can total 10gb.



Q: What happens if my ZIP is greater than the upload limit?

A: If any of the files within the zip file exceeds the file size limit, they will be excluded from the upload and you will receive an error message.


Q: Is ZIP upload available for Spaces?

A: ZIP upload is not available for Spaces, but you are able to upload and extract a ZIP file into your content section and then create a Space from the extracted folder.



Q: Can I ZIP upload in the Chrome extension or Outlook add-in

A: Zip Upload is not available for either integrations.
What about other file types?
Users on Standard, Advanced, or Enterprise will have the opportunity to upload a variety of file types that can be shared as download-only such as:
Video
Audio
Images
Text
Archive
Spreadsheets
Check out our help center article on Download-only content and File Upload Limitations to know more about different content types and limitations.
Next Steps
Check out our article on Creating Links to learn how to create and share content with potential visitors.