Overview
Now that you've created a Space, it's time to add some content! Depending on which plan you're on, you can add up to 2000 assets to a single Space. If you're on the Advanced or Enterprise plan, you can use Space folders to further organize your content–see File Upload Limitations for more details. Keep reading to learn more about how to manage content in Spaces!
Pro tip : You can notify your visitors whenever you update content, keeping them in the know of any changes to the Space you'd like to share. For more information, see Space Notifications.
Skipping Ahead
Add Content to a Space
New content can be added to a Space both before and after the Space has been shared with external visitors. To add content to a Space, follow these steps:
Important: Your Home library is also a folder that can only hold up to 200 files.
Navigate to the

Spaces

page.

Create or select an existing Space.

Click

Add content

to choose an entire folder, existing individual files, or upload new content.

Then, click

Add to Space

.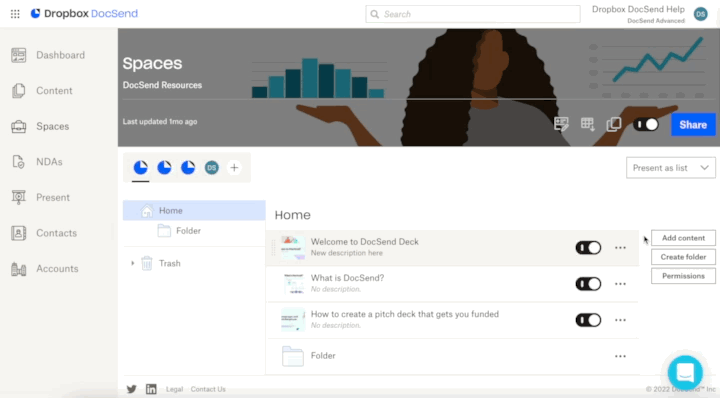 Important: By default, all Spaces and content added from personal folders are visible as read-only content to your teammates. To allow other users to share and manage files in your Space, add them as collaborators. See Collaborate in a Space to learn more!
Request Files in a Space
You can set up a file request in your Space so that your visitors can upload files directly into your Space. Any uploaded files will be immediately visible to anyone with access to your Space. Visit our File requests article for more information.
Note: A Space File request doesn't have its own link as it's directly tied to the Space. Space File requests can be removed from the Space and placed in the Space trash folder.
Go to your

Spaces

page.

Select your desired Space.

Click

Request files

on the right panel.

Complete the

file

request

fields

.

Click

Continue.

Select from an available folder where the uploaded files will live.

Click

Create file request.

Share the Space link so you can start collecting uploads.
Once complete, you can manage your Space file requests directly from your Space or through the file requests page. To remove a Space file request from your Space, you can follow the steps listed in Remove Content from Spaces. If you'd like to delete the request, you can do that through the file requests page. Please note, deleting a file request can't be undone.
Update Content in a Space
Content in Spaces can be disabled or updated even after the Space link has been shared. Here's how it works:
To turn the Space accessibility on/off, locate the toggle next to the Share button.

Similarly, individual content can also be disabled by toggling on/off.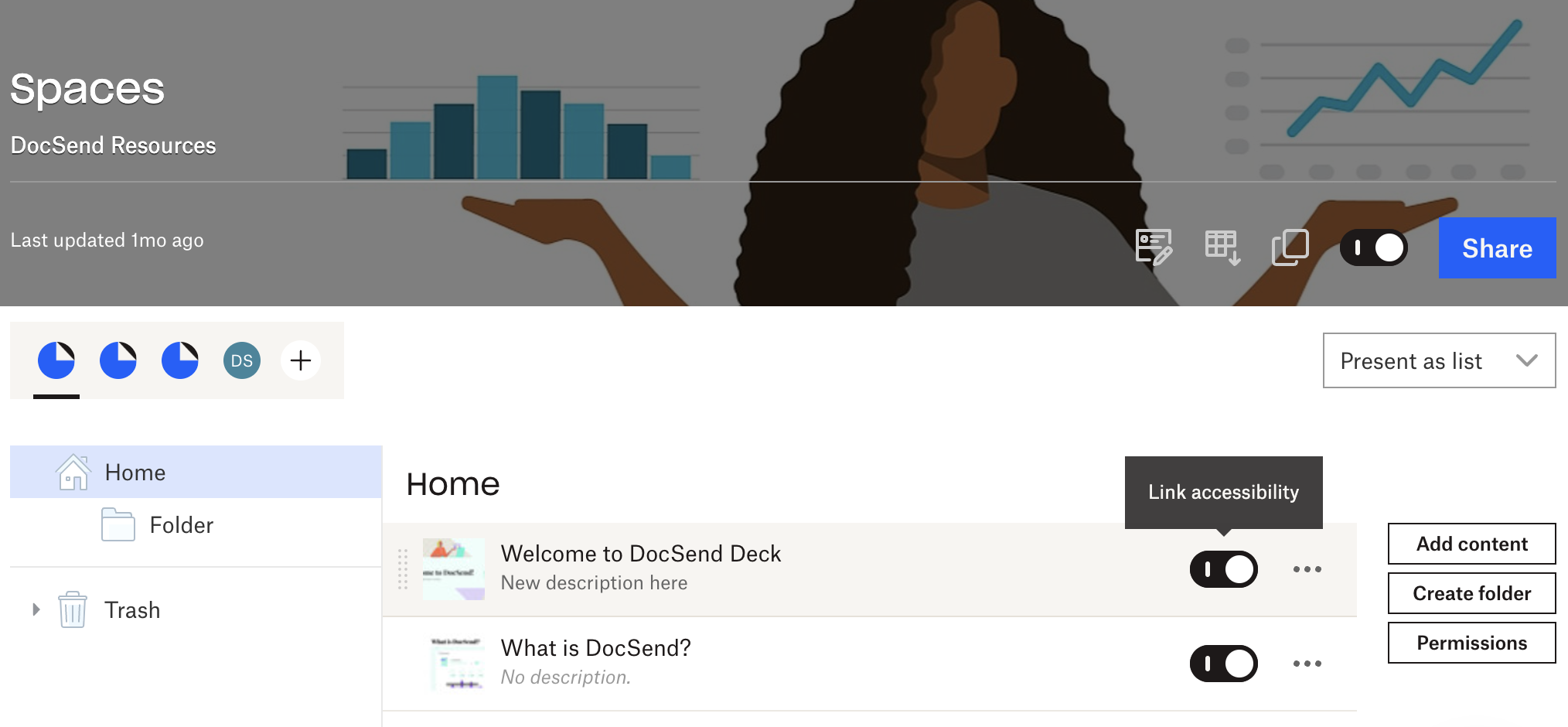 You can also expand the "…" (ellipsis) to the right of the Space name to preview the content, edit the description, creation sections, or move the content to the trash folder.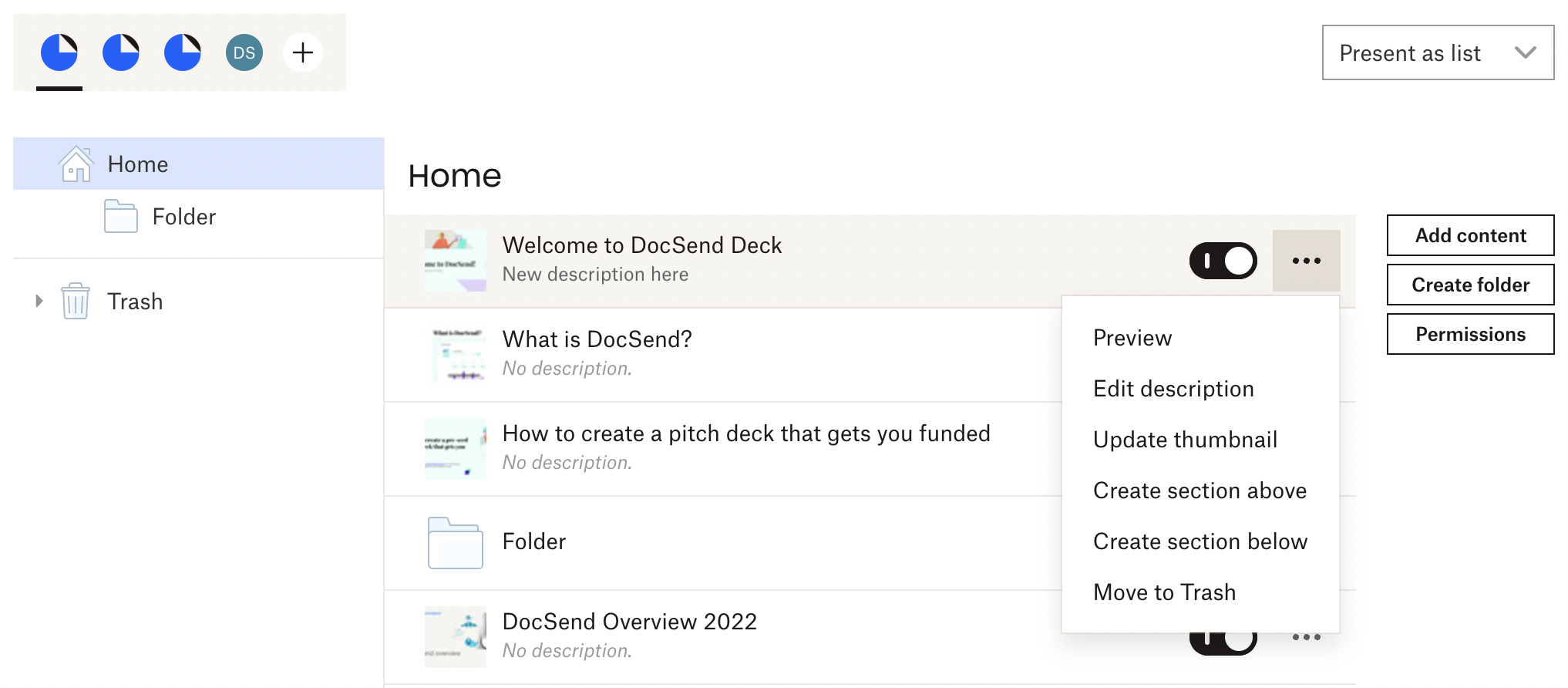 You can update existing content in the Space with a new version by updating it from the Content page. When you update content, all associated links will automatically update to reflect the latest version. Check out Update an Existing Document to learn more.
Remove Content from a Space
You can remove content and folders from a Space by moving them into the trash folder. The trash folder is designed to help you easily manage and streamline content within a Space.
Important: Content moved into the trash folder is archived, not deleted, and can be restored to its original state in the Space at any time. The trash folder isn't visible or accessible to visitors.
You can move content to the trash folder in two ways:
Drag and drop the file into the trash folder.


Expand the "more options" menu and select

Move to Trash.

Restoring Content
Similarly, content from the trash folder can be moved back to the Space by drag and drop, or by expanding the "more options" menu and selecting Restore to Home.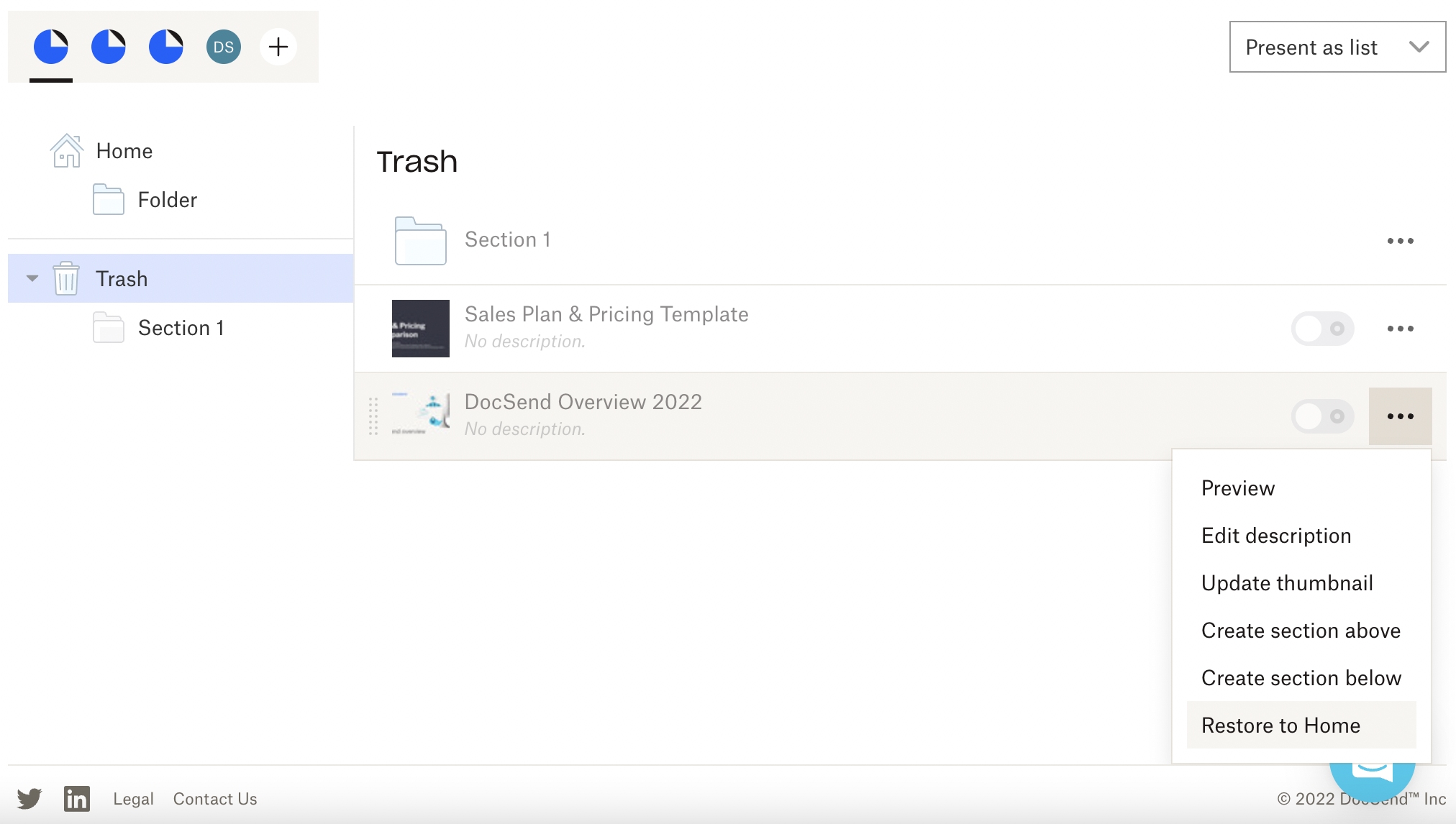 Visitors aren't actively notified when changes, such as adding or removing content, are made within a Space.

Content in the trash folder won't be searchable when using the search bar. However, content recovered from the trash folder will be searchable again.

Contents of the trash folder won't carry over when duplicating a Space.

Space Owners and collaborators can manage and edit content in the trash folder - such as reordering and editing text fields.

New content can't be added directly to the trash folder.

Content and folders in the trash folder don't count toward the Space asset limit. See

File Upload Limitations

for more details.

Removing content from a Space won't impact historical visit data. However, deleting content from the Content page is permanent and . See Deleting Content

to learn more.
Organize Content with Space Folders
(on
Advanced
&
Enterprise
only)
Similar to Space sections, Space folders allow you to organize content into subfolders. This can also be used to highlight documents throughout different stages or topics and provides a more navigable viewing experience for visitors.
Each Space can hold up to 2000 assets in total. Each Space Folder counts toward the total asset limit for that Space, and can hold up to 200 assets
Here's how it works:
Click an existing Space or create a new Space.

Click Create Folder

to add a new folder.

From here, you can add content and subfolders by selecting Add content

or

Create folder, or by dragging and dropping existing Space content into your new folder

.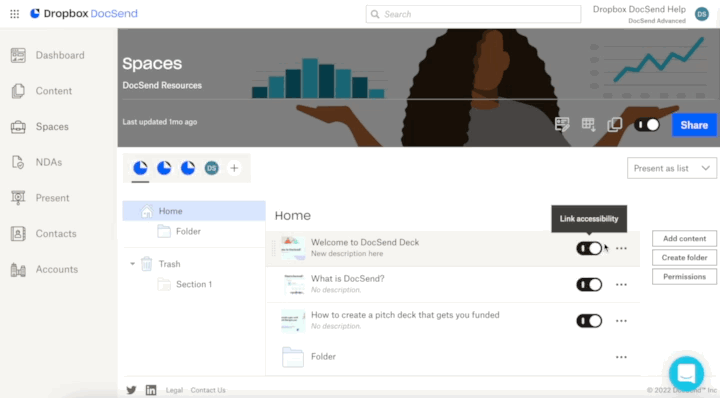 Space folder names can be edited anytime. You can edit the name by expanding the "more options" menu and selecting Edit name.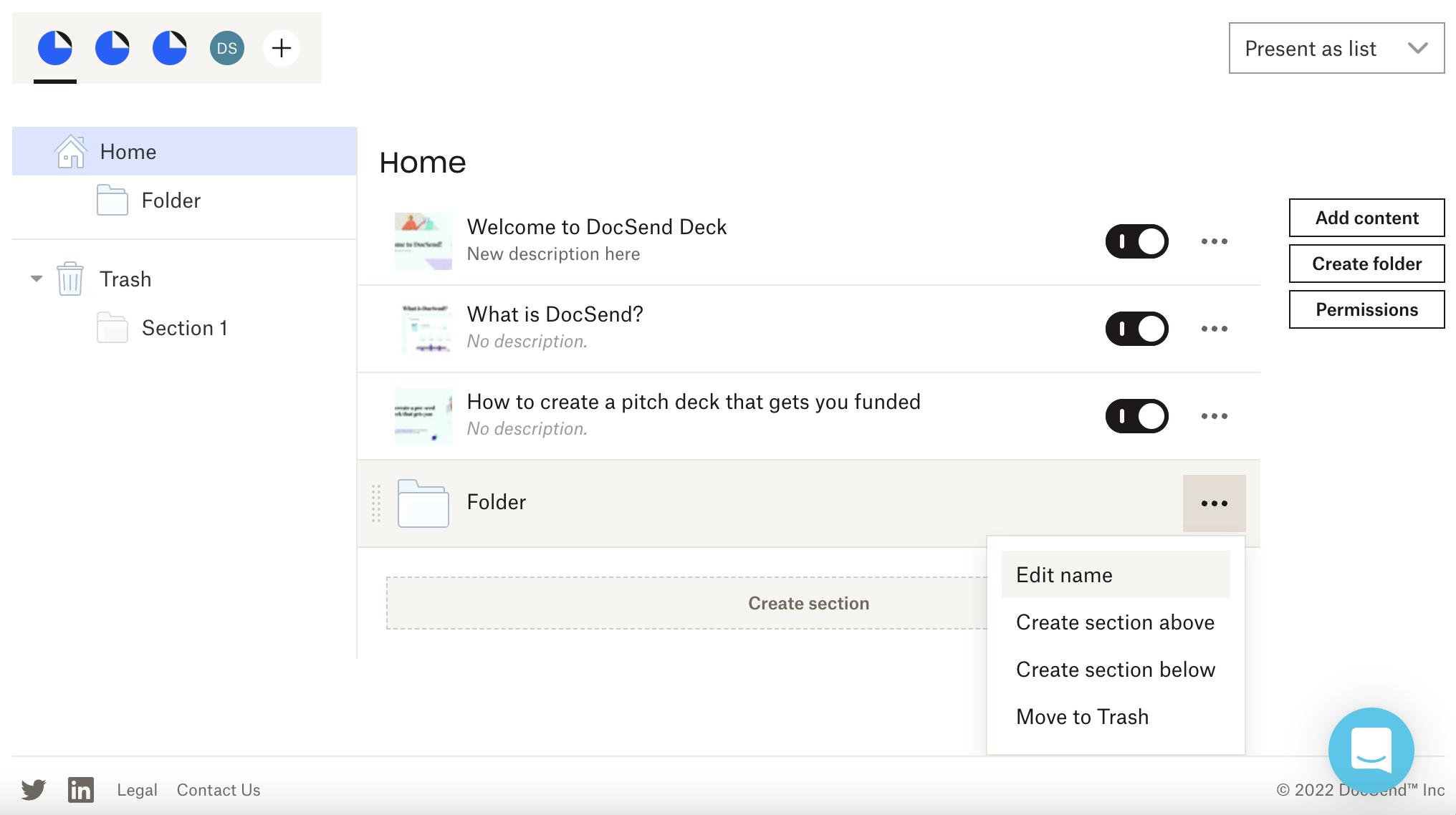 Note: the "Home" section name can't be edited.
Space folders can't be directly linked at this time; only general Space links can be shared.

Duplicating a Space carries over existing content and folders.

You can move documents and folders to different folders within a Space. However, this does

not

apply to Space sections.

Folders aren't searchable within a Space. However, grouping folders into sections can help improve the visitor's viewing navigation.

Space collaborators can manage settings, documents, and folders within a Space.

A subfolder within a Space folder counts as a Space asset; we recommend creating Space folders before adding content.
Downgrading from Advanced to Standard will disable any Spaces utilizing Spaces folders. To reactivate the Space:
Move the Space folder into the trash folder, or

Move content from the Space folder into the Home section first, then move the Space folder into the trash folder.
Important: You can't move a Space folder if it contains 200 assets since this exceeds the Space asset limit.
Related Reading
---
Still need help? Reach out to support@docsend.com!