Overview
Space collaborators have the ability to manage a Space on behalf of the Space owner. Having additional collaborators allows others to help manage your content and keep it up to date!
Skipping Ahead
Add a Space Collaborator
Any DocSend user at your company can be a Space collaborator, even if they are not on the same sub team as the Space owner. Space collaborators can also be removed from a Space at any time.
To add a Space collaborator, click the plus (+) icon under the Space header.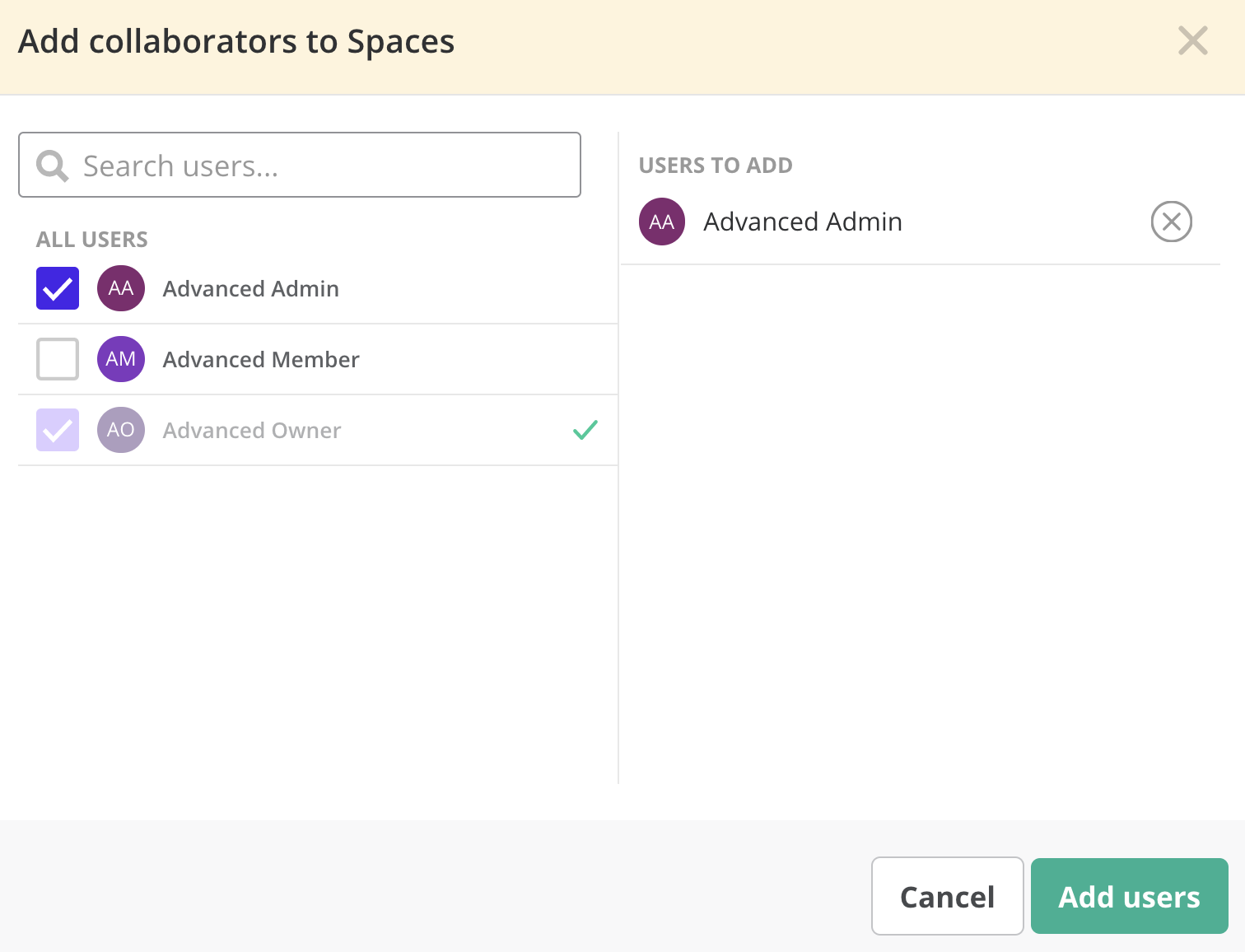 To remove a Space collaborator, select the user, click Remove collaborators, and then Yes, remove as collaborator to confirm.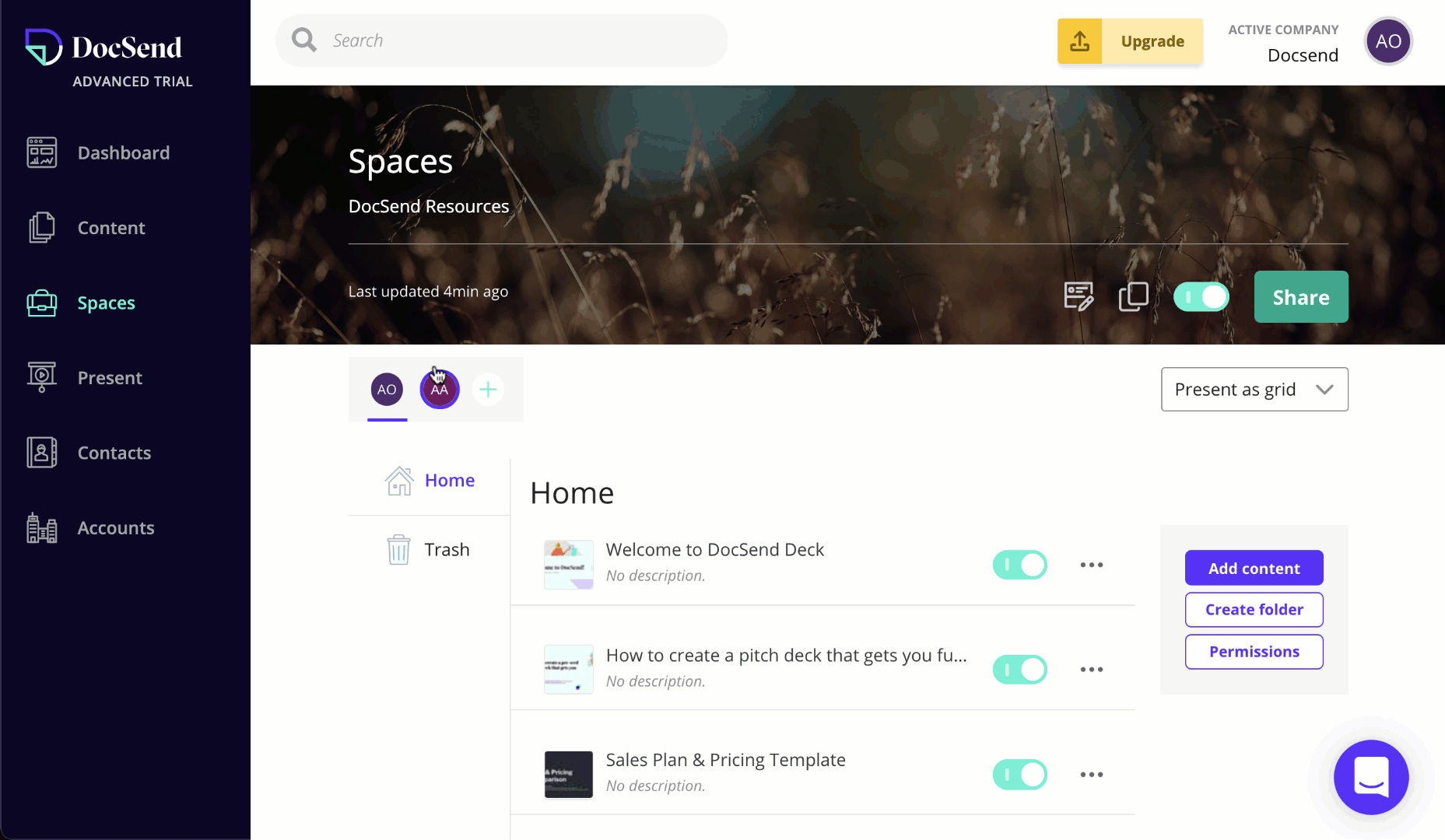 Note: Ownership of a Space cannot be transferred to other Space collaborators. 
Add Content to a Space
Space owners can add any content to a Space, even if the content is inaccessible to other collaborators. Meanwhile, Space collaborators can only add content that the Space owner has access to. Content from personal and possibly sub-team folders may not be available to use in the Space. 
Not sure which content can be added? A warning message and lock symbol will indicate if the Space owner has access to the content or folder.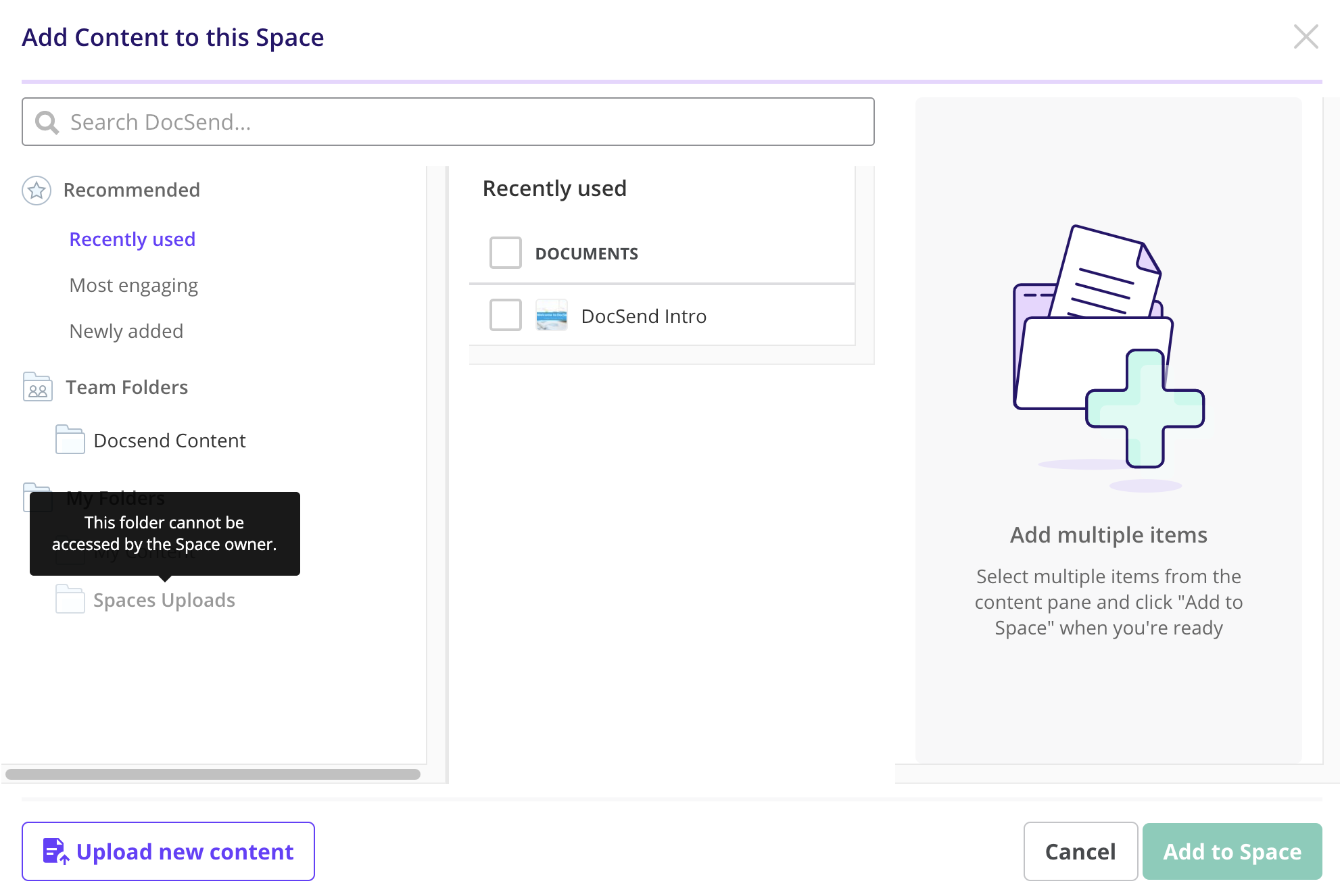 To ensure content is accessible for everyone, Space owners and collaborators can add content from a shared team folder. You can select content from an existing team folder or add new content and map it to a team folder before uploading. 
To map new content to a team folder:
From the content uploader, click

Change to change the folder destination.



Select a team folder, then click

Upload to this folder to confirm the change.


Content Privacy & Visibility
Space Owners can still add personal content into a Space, but it may not be accessible for everyone. It will also be indicated by a lock symbol.


Space owners and collaborators can view all content titles within a Space, even if they do not have access to that content elsewhere in DocSend. However, collaborators will not be able to click into any locked, personal content.
To resolve this, the content owner can go to the Content page and move the content from a personal folder to a team folder. For more information on this, check out our article on Content Folders.
Permissions and Notifications
Space owners and collaborators can do the following:
Add, remove, edit, reorder content.

Add, remove, edit, reorder

Space Folders.

Edit the Space link settings.

Edit the Space title, subtitle, and header image.

Add and remove collaborators.

Delete the space.

Send Space Notifications.

Receive notifications emails when someone visits a Space.
Space owners have sole access to the following:
Receive desktop notifications.

Receive notification emails when someone visits a disabled Space.

Sync Salesforce, IFTTT, and Zapier visitor data.
Note: Visits to a Space are currently only tracked on the document level. When a visitor opens a Space and views a document, the visit is logged on the document and attributed to the Space. Space visits are also owned by the Space owner.
Collaborators will not be able to see Space visits on their Dashboard or on the document details page.

Note: If you're on a DocSend Advanced+ Beta plan, your collaborators will be able to view visit data for files via the new Space analytics and audit log, even if they can't access the file itself.

You can see all Space visits associated with a specific account by going to the Accounts page, selecting an account, and clicking the Links tab.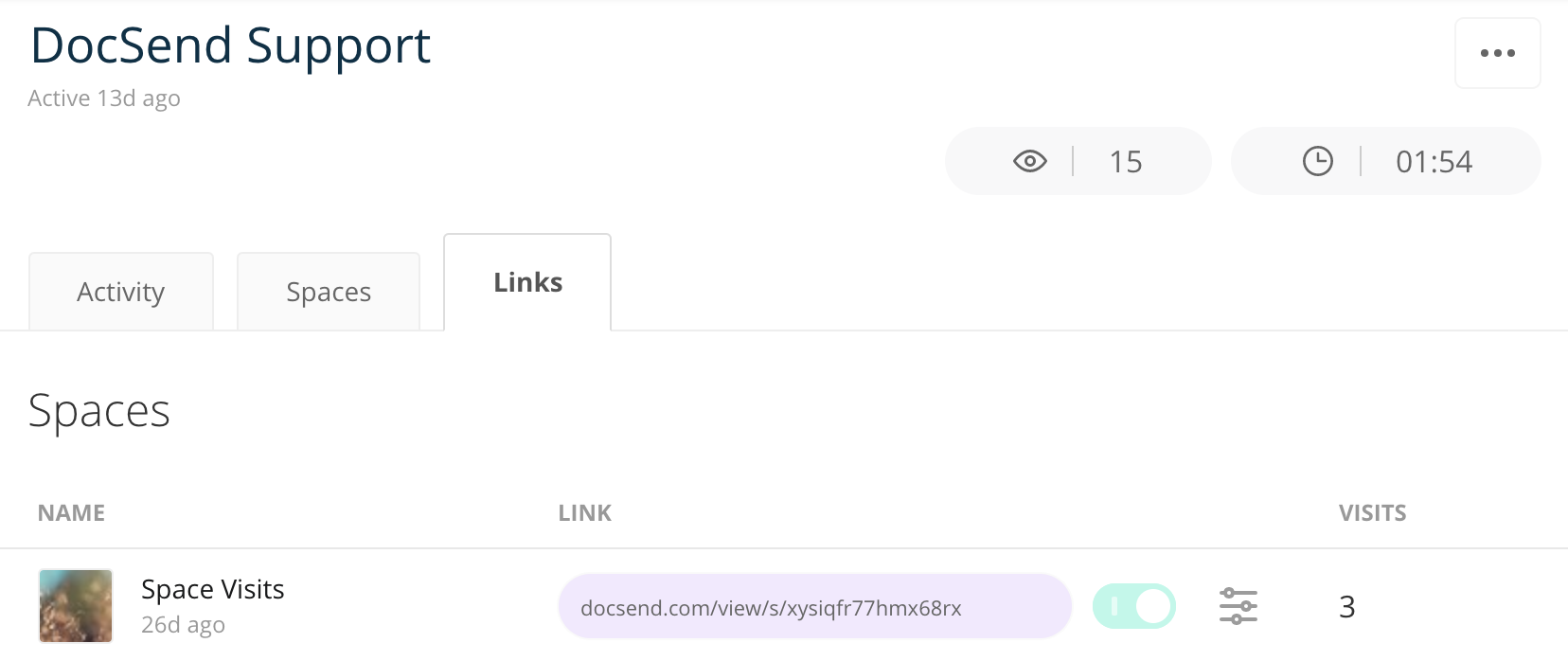 Related Reading
__
Still need help? Reach out to support@docsend.com!