Available on: Standard Advanced Enterprise
Why have collaborators in a Space?
Space collaborators have the ability to manage a Space on behalf of the owner. Having additional collaborators on a Space allows others to help manage your content and always keep it up to date.

Note: You are unable to transfer ownership of Spaces to other collaborators.
Who can be added as a Collaborator?
Anyone in your company can be made a Space collaborator, even if they do not share the same team as the owner of the Space. Collaborators can also be removed from a Space at any time.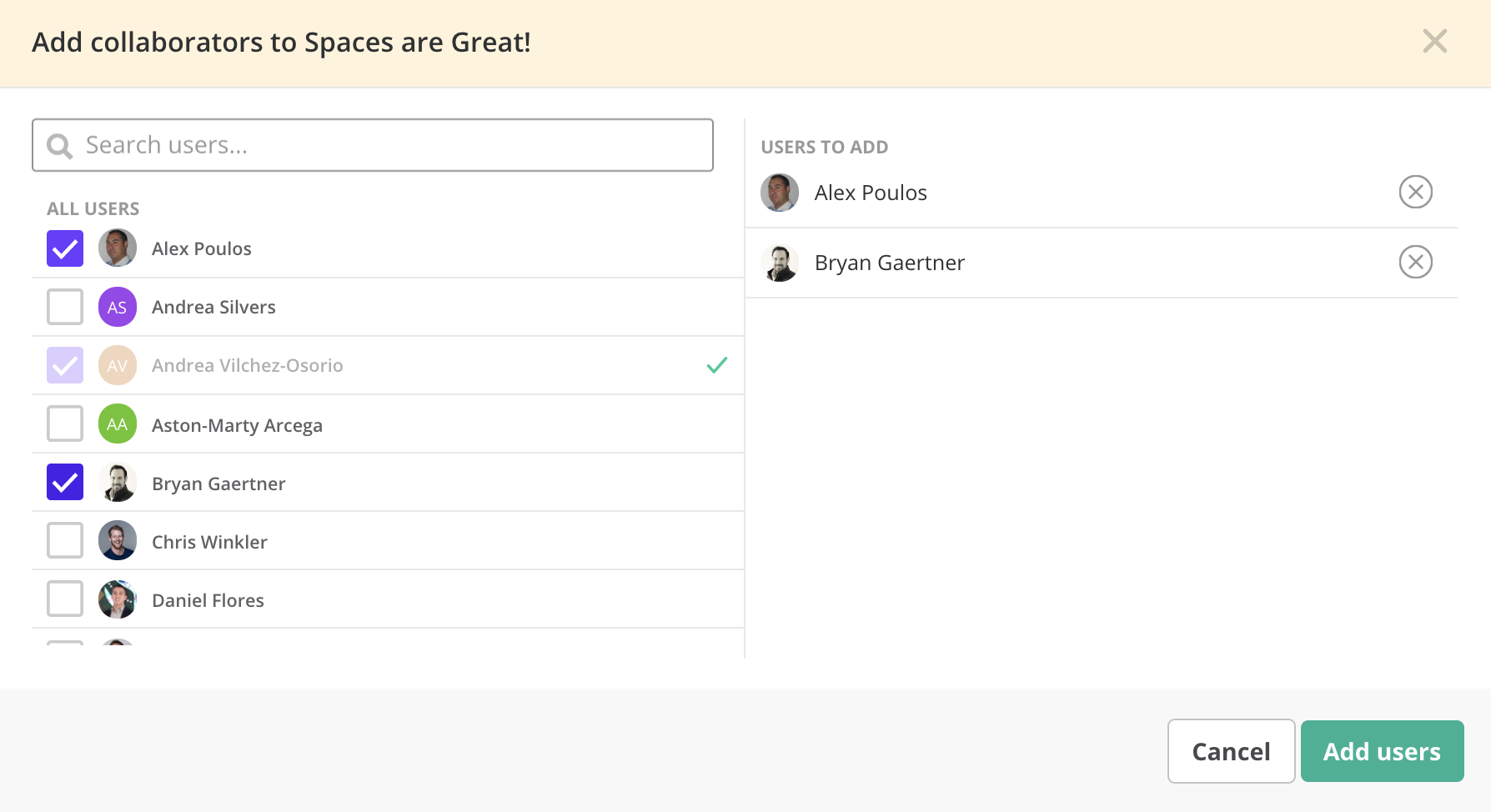 What privileges do collaborators have in a Space?
Space Owners can
Receive desktop notifications

Receive notification emails when someone visits a disabled Space

Sync Salesforce, IFTTT, and Zapier visitor data
Space Owners & Collaborators can
Add, remove, edit, reorder content

Add, remove, edit, reorder Space folders

Edit the Space link settings

Edit the Space title, subtitle, and header image

Add and remove collaborators

Delete the space

Receive notifications emails when someone visits a Space
What content can I add to a Collaborative Space?
Owners can add any content to a Space they have access to, even if the content is inaccessible to other collaborators.

Collaborators

can add any content that the owner has access to. Content not shared with the owner such as content in sub-team folders or personal folders will not be available to use in the Space.

Collaborators can also add new content directly into the Space that is accessible to the Space owner by mapping it to a Team folder before uploading.





Space collaborators can make move content into team folders or sub-team folders that the Space owner has access to to make the documents accessible and addable in the Space. See Organizing content for more details and Sub-team folders.
Document privacy & visibility
Space collaborators can view all content within a Space, even if they do not have access to that content elsewhere in DocSend. Collaborators can see content titles, thumbnails, and preview the documents from the Space edit page.

The below screenshot displays the lock symbol for a file that was added from the Space owner's "My Folder" section of the Content tab. Including files from the My Folder section will make them inaccessible for collaborators within the Space.



Can Space Collaborators receive visit Notifications?
The visits are owned by the owner of the Space, and Collaborators will not be able to see Space visits in their dashboard or on the document details page. However, they can see the visit in the Account or Contact page of your DocSend account.