Available on: Standard  Finance  Enterprise
Adding content to a Space
The next step after creating a Space is to add content to it. Users on Standard can have 100 assets added to a Space, and users on Finance or Enterprise can have 500 total assets added. For more information, see File upload limitations.

Steps to add content to a Space

1. Go to the Spaces tab.
2. Create or select an existing Space.
3. Select Add content.
4. From here you can choose content from your Team or personal folders, or upload new content.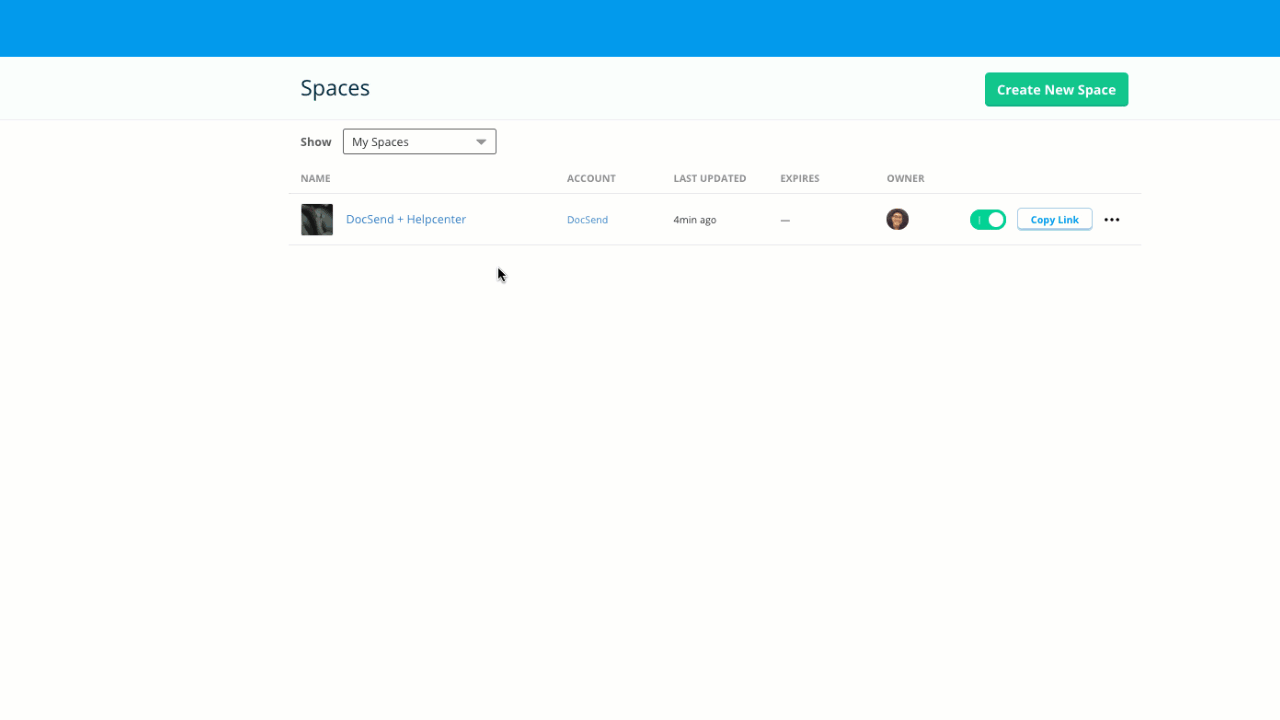 Updating content in a Space
Much like any DocSend link, content in Spaces can be disabled or updated even after the link has been sent.
Steps to update content in a Space
Go to the Space.

Selecting the top toggle will disable the entire Space.

Individual pieces of content can be disabled within a Space by using the toggles next to each individual piece of content.

Additional content can be added to a Space by clicking the add content button and following the steps outlined above.

Note: New versions of content can be updated in the content tab.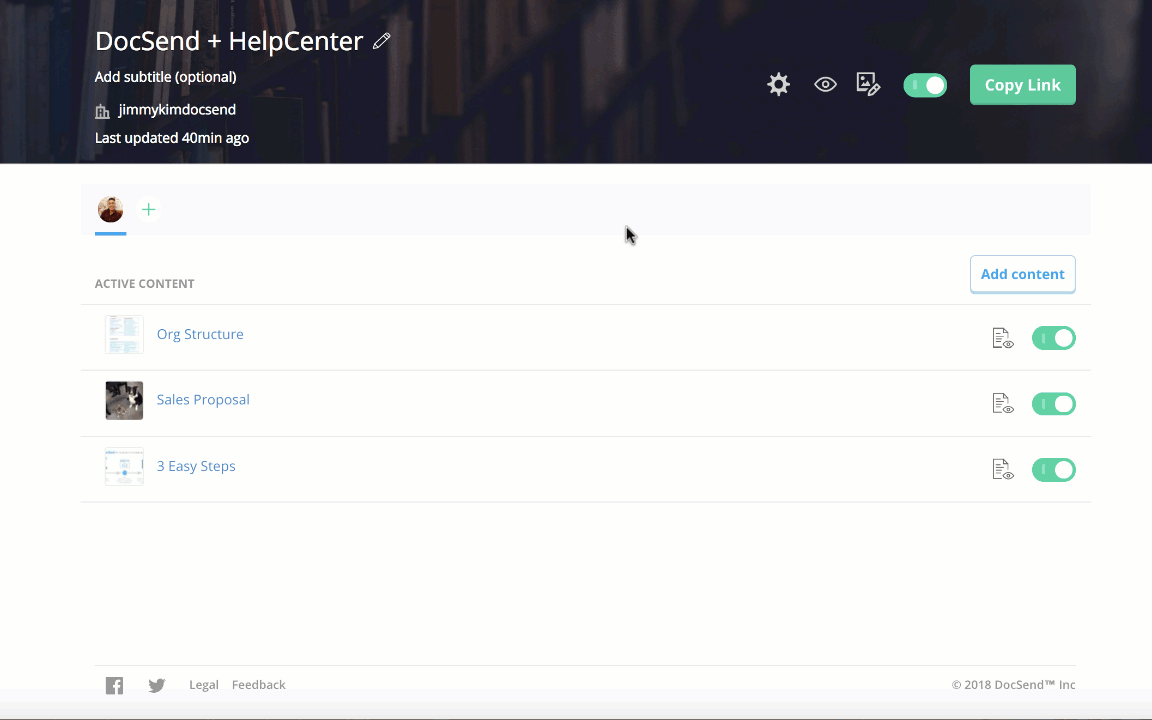 Visibility of content in a Space
By default, all personal Spaces and content added from a Personal folder are read-only. By being added to a team or Space, you'll have the ability to share and collaborate within that Space.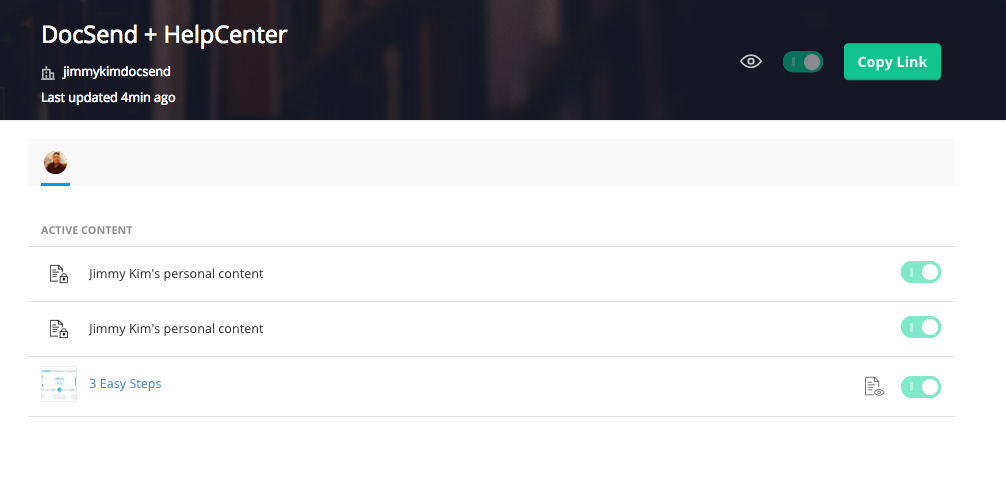 Space Folders [Finance, Enterprise only]
With Space folders, users can group documents into organizable folders within Spaces. Combined with Space sections, Space folders can be used to highlight documents through different stages or topics, while providing a more navigable viewing experience for visitors. Users can manage their folders within a Space on the left hand pane after they have been created.
Space folders can have up to 100 assets added. Including the Home folder, Spaces can have a total of up to 500 assets added. In order to reach the total asset limit for Spaces, users will need to create additional folders. For more information on Space limits, please check out our article on File upload limitations. 

Here's how it works:
Select a Space - Choose an existing one or create a new Space


Create a Space folder - Select Add Folder and name the folder. Users can create and nest additional subfolders for additional documents. Each Subfolder will appear underneath the folder tree and can be reorganized into different sections and folders.

Choose or upload documents to add to the Space folder - Users can move existing documents already within the Space or upload new ones to add to a folder. Important: Each Space folder can only hold 100 assets.


Organize folders & documents  -

Folders

can be moved between all folder levels on the folder tree. However, Space sections in folders cannot be dragged or moved between folders. Documents can be moved between different sections within the same Space folder and also between all other folders.

Select a folder or document > Drag the file onto the left-hand pane where the folder tree is visible > The document or folder will automatically update and provide a message of the update.


Space Folders FAQ

Does a folder count as an asset towards the Space/folder capacity?

Yes. Each Space folder can have up to 100 assets. For example, creating a folder under the Home folder will count towards the 100 asset capacity. We recommend creating Space folders before adding documents. 

Can Space folders be deleted?

Space folders can only be deleted if there are no section headers or assets within them. Users will need to move assets to other folders, and also delete any existing section headers. Please note that if an asset or section header exists, the option to delete the Space folder will be unavailable until the requirements are met.




Can Space folder names be edited?

Yes, Space folders can be edited anytime. Users can edit a Space folder name by selecting the 'Edit name" icon, which is located next to the folder name on the right side. Note: The Home folder cannot be edited.


Are folders searchable within a Space?

At this time, you can not search for a specific folder in a Space.  Grouping folders into sections can be a way to improve viewer navigation.



Can you link directly to a specific Space folder?
Are folders carried over when a Space is duplicated?
Will Space collaborators be able to manage Space folders?

Yes, collaborators are able to manage settings, documents, and folders within a Space. See

Collaborating within a Space

for more information.
What happens to my Space if I downgrade from Finance to Standard?

Spaces utilizing Space folders will be disabled. However, users can remove the assets and delete the folder to reactivate the Space.  

NOTE:

If a user has more than 100 assets in a folder, they will not be able to do this as they will exceed the 100 asset limit on Standard.

 


Related Articles: 

Next Steps: Learn how to duplicate Spaces to create Templates