Overview
Hosting and sharing audio and video files on DocSend allows you to see who's viewed them and for how long. For those on DocSend Standard, Advanced, and Enterprise, you'll receive deeper insights into which parts of your audio and video files visitors engage with the most by leveraging DocSend's engagement score. This score will help you determine what parts of your audio and video files keep visitors engaged and which don't.
Skipping Ahead
Requirements
Upload an Audio or Video File
Configure Engagement Settings on an Audio or Video Link (Standard, Advanced, Enterprise)
Analytics
DocSend offers analytics, providing insights into who's listened or viewed by diving deep into specific behaviors to learn how engaged visitors are with your files.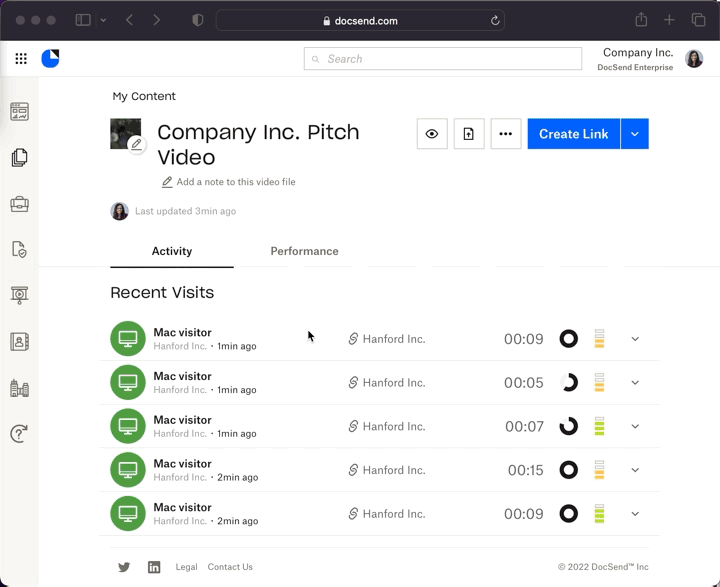 Activity tab
Playback Time (time in seconds)
To the right of the visit log, you can see the total time during a visit that an audio or video file was played.
Playback Percentage (donut graph)
This represents the percentage of the file that the visitor listened to or viewed. This can be different from playback time if the playback speed is modified in any way or when seeking is involved.

Visit Engagement Score (Standard, Advanced, Enterprise)
Visit Count and View Duration Graph
Visit Rows:

When a file is paused, that'll end the current row on the graph. When the file is played again, a new row will begin. The same will occur when you

Video timestamps:
Engagement Visit Graph (Standard, Advanced, Enterprise)
Performance tab
Visitor Experience
Visitors can use the player bar or keyboard shortcuts listed below to interact with an audio or video file.
Audio and Video Player Bar

Keyboard Controls
Audio and Video Header Bar
If enabled, download and contact buttons will reflect on the header bar.

Things to consider
Related Reading
---
Still need help? Reach out to support@docsend.com!