Getting Started
Welcome to the first and most important step of using DocSend -- uploading content! Users can begin this process by going to the Content tab where content can be dragged and uploaded directly from a device or through other cloud-based services such as:
Box
Dropbox
Google Drive
OneDrive
OneDrive Business
Note: All services can be disconnected by selecting the signout option on the right after connecting. DocSend only supports with personals accounts on Onedrive or Google Drive.
Accepted Document File Types
DocSend accepts many document file types. Below are the document file types and extension that can be uploaded:
PDF
Microsoft PowerPoint (.pptx, .ppt)
Microsoft Word (.docx, .doc)
Keynote (.key)
Here's how to upload a document

Access the Content tab
Select 'Add Content' at the top right
Choose a file from a device or any of the above listed services
The document will begin to upload and let you know once it is completed

You can modify the name of the upload at this point or users can add a note

Downloading Documents from your Account
Interested in downloading your document from DocSend? You are welcome to do so by visiting the document's page from the Content tab. After doing so, you will have an option to download next to the Create Link button in the top right.

Multi-asset upload
With multi-asset uploading, users can queue multiple pieces of content to be uploaded from their device or any of the cloud-based content services listed above. See File upload limitations for more details on upload capacity. Here's how:
To upload multiple assets, highlight the files and press the upload button on the bottom right of the uploader. Users can also choose to upload more by selecting the upload more button

located

on the bottom right next to the upload button or by selecting a folder.
As each asset is uploaded, a progress bar will be visible showing the status of the asset upload. Here's how it works:
Users can then move content within folders easily by dragging and dropping them. See Organizing content within folders for more information.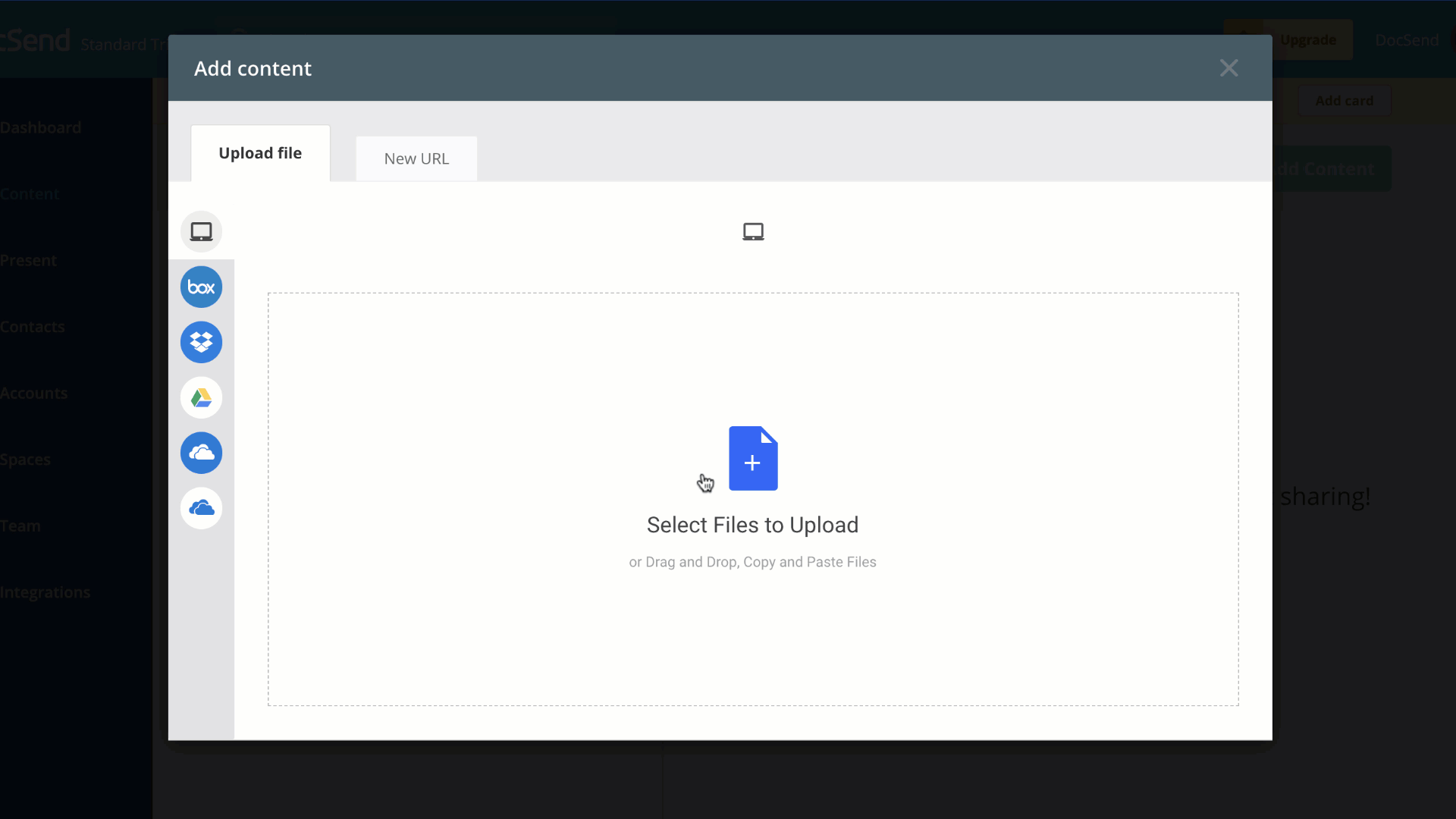 Multi-asset upload FAQ
Q: Can I upload whole folders into DocSend?

A: Yes, users can upload multiple assets within a folder by dragging and dropping them onto the uploader. Folder structures are not preserved when uploading folders.

Q: Can I upload multiple files within a Space?

A: Yes, users can upload multiple files into a Space using the 'Add content' button when accessing a Space. See managing content in a Space.




Q: Can I upload multiple files through the Gmail or Outlook extension?
What about other file types?
Users on Standard, Advanced, or Enterprise will have the opportunity to upload a variety of file types that can be shared as download-only such as:
Video
Audio
Images
Text
Archive
Spreadsheets
Check out our help center article on Download-only content and File Upload Limitations to know more about different content types and limitations.
Animations & Transitions
DocSend does not support animations and transitions in powerpoint presentations. Users can add gif animations in powerpoint presentations as an alternative. Gifs will automatically play within a powerpoint and is a great way to enrich the visitor's experience. Here's how it works:
Edit and create a Gif image
Open a powerpoint and add the gif image into any slide.
Save the file and upload the file into DocSend.
Users can preview the presentation and see the gif animation play within the presentation.
Here's how it looks in DocSend's document viewer: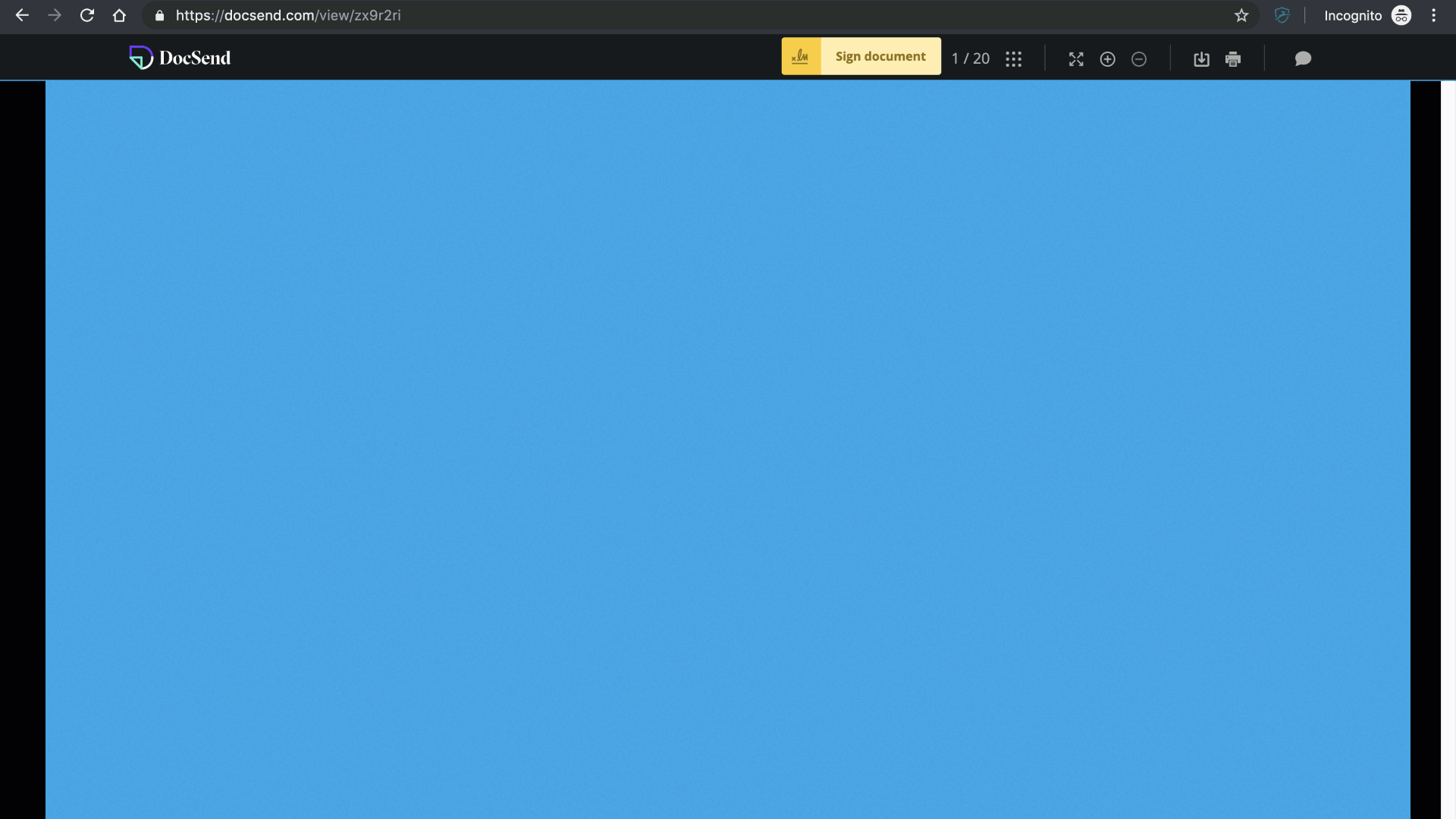 Reference Links (Table of Contents)
Users are now able to include reference links within uploaded documents to their account! This will allow users within a presentation to select a hyperlink from a document's Table of Contents that will redirect viewers to the given page of the presentation. Also, outside of presentations, when a visitor has been shared a link to view a document, they are able to interact with the referenced links within the document to quickly navigate to a given page.
Presentation View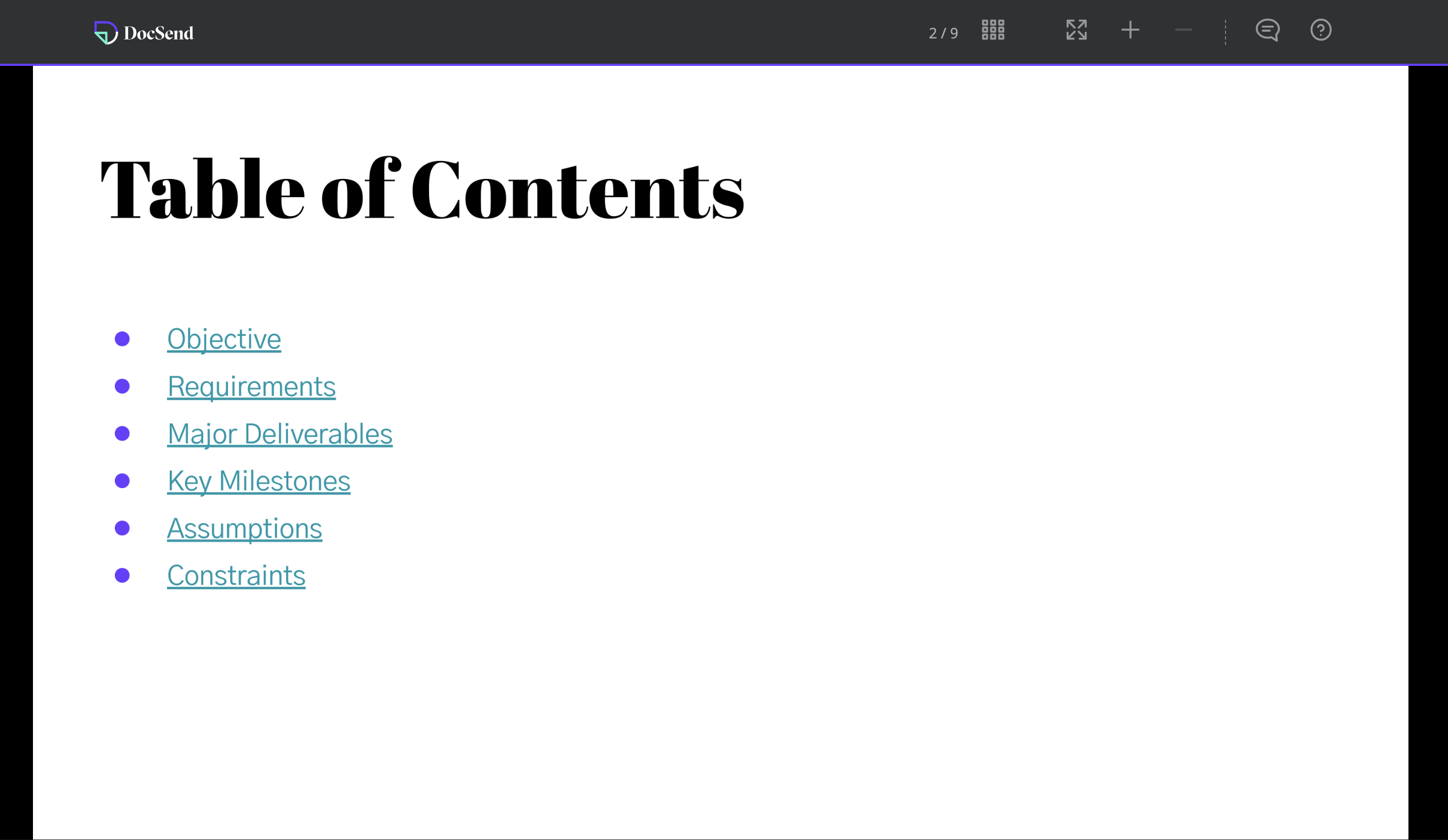 Document View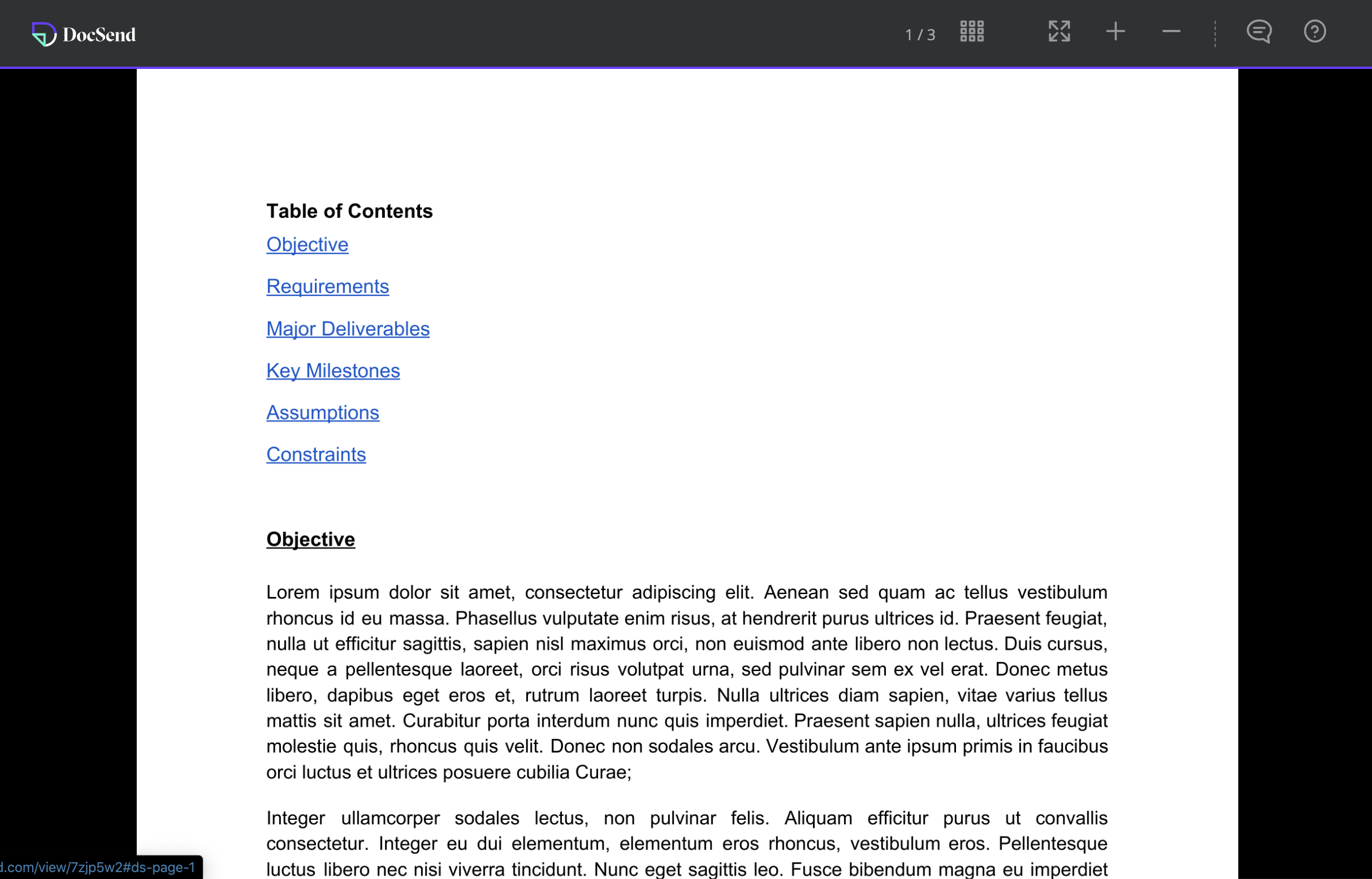 For more information on how to create reference links within common document programs, please visit the links below:
Table of Contents with Google Docs
Table of Contents with Powerpoint
Next Steps
Check out our article on Creating Links to learn how to create and share content with potential visitors.