Overview
The Activity Tab gives you an overview of how your visitors are interacting with your shared content. Located on the document page, this tab highlights the page-by-page analytics, details of the visitor such as their name, location and device, and much more!
Recent Visits
The Recent Visits section is a list of all the visits for the document, across all links.
In this section you can:
Click the

visitor's name

or email address to open the

Contact

page.

Note:

To identify your visitor,

Require email to view

must be enabled. Without this enabled, the visit will only capture the visitor's operating system and geolocation. See

Link Settings Explained

to learn more.

Hover over the

"device" icon

to see the viewing device.

Hover over the

"operating system" icon

to see the operating system.

Click the

location

to open an interactive map view.

Click the

account name

to open the related

Account

page.

See the total

duration

of the visit.

Hover over the Total Time Spent Per Page

chart

to see a preview of the page, page number, and time spent on the page.

Hover over the

circle icon

to see the percentage of the document viewed.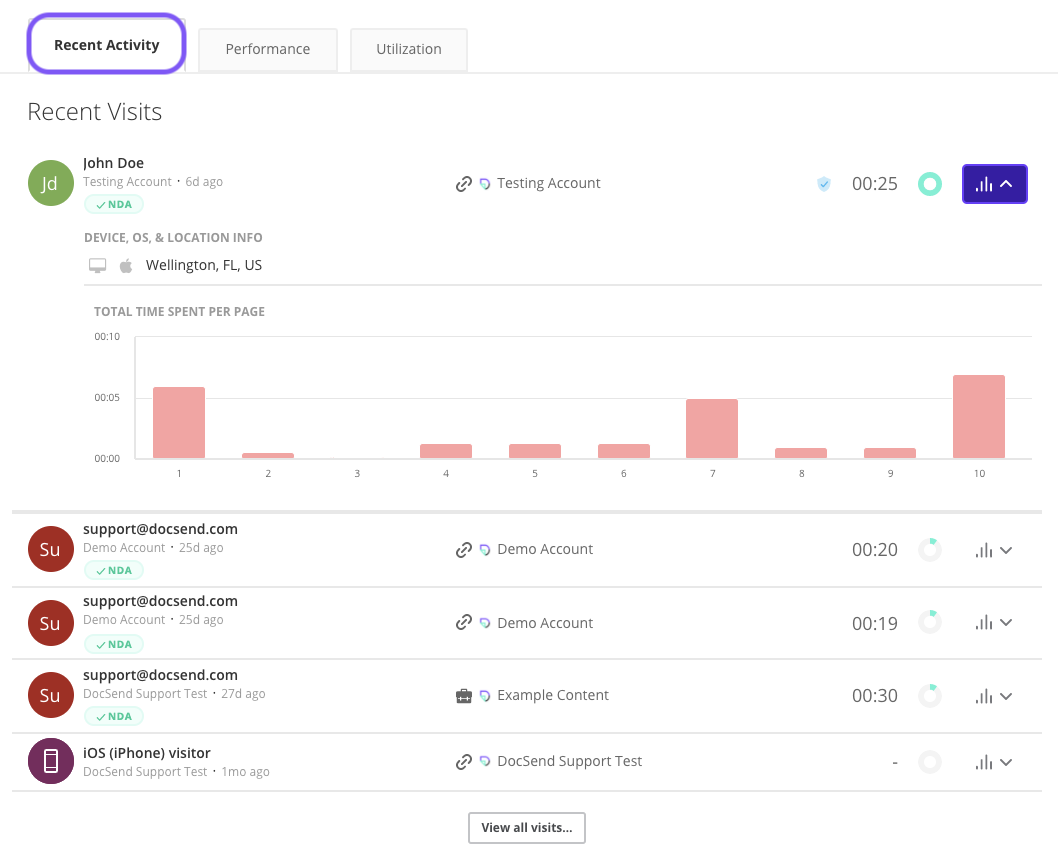 Note: Clicking "View all visits" will provide a list of all the visits for the document, across all links.
All Links
The All Links section lists all links created for the document.
Note: Depending on your user role in DocSend, you may only see links that you have created here.
In this section, you can:
See the account associated with each link.

Copy a link to your clipboard.

Toggle a link's accessibility on or off.

Update the link settings for a specific link.

Click the carrot icon to the right of a link to view additional visit details for that link.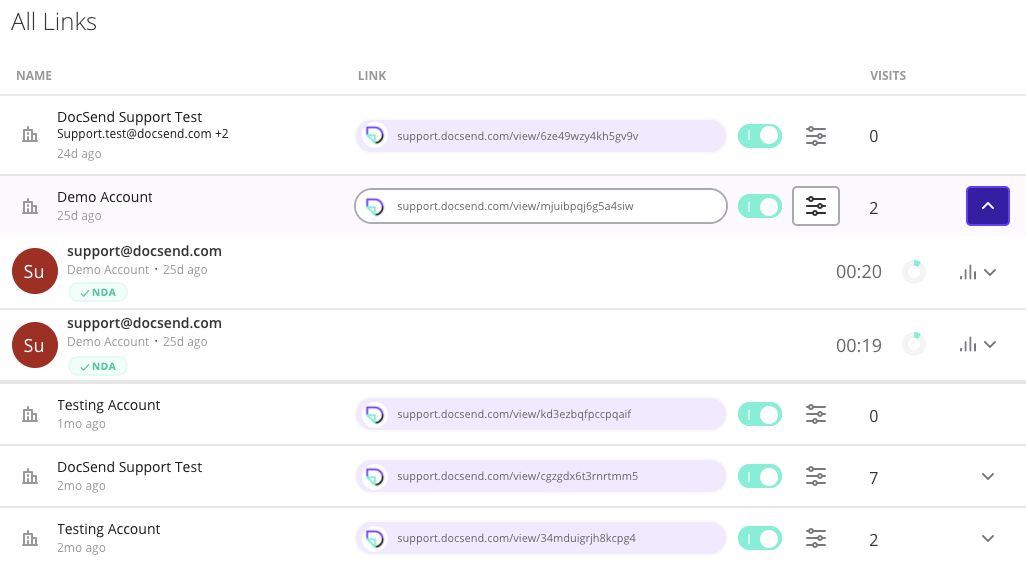 Things to Consider
Clicked hyperlinks will be listed under the Total Time Spent Per Page chart as "In-document link clicks".

Other visit attributes are also shown on this page; this includes downloads, signatures, an NDA badge (if the visitor signed an NDA), and a verification badge (if the visitor verified their email address).

Exception

: Download-only content will show

partial

tracking data; take a look at

Download-only Content

for more information.

Only the Owner and Admins can view other team members' links and visitor activity.

While the location information provided is generally correct there may be situations where a document visitor's listed location will be different than what is expected. This may occur if a visitor is using a VPN then their IP address will be listed as coming from the location of their company's VPN server.

Visitor activity can be exported on the document level if you're on Standard and higher-tiered plans. See our article below for more details!
Related Reading
__
Still need help? Reach out to support@docsend.com!