Analyzing Visitor Data
The performance tab summarizes a document's visit activity through various reports, offering different ways to interpret your visit data. This article will detail each report and help you better understand and manage your document in DocSend. You can access the Performance tab for a document on your Content tab.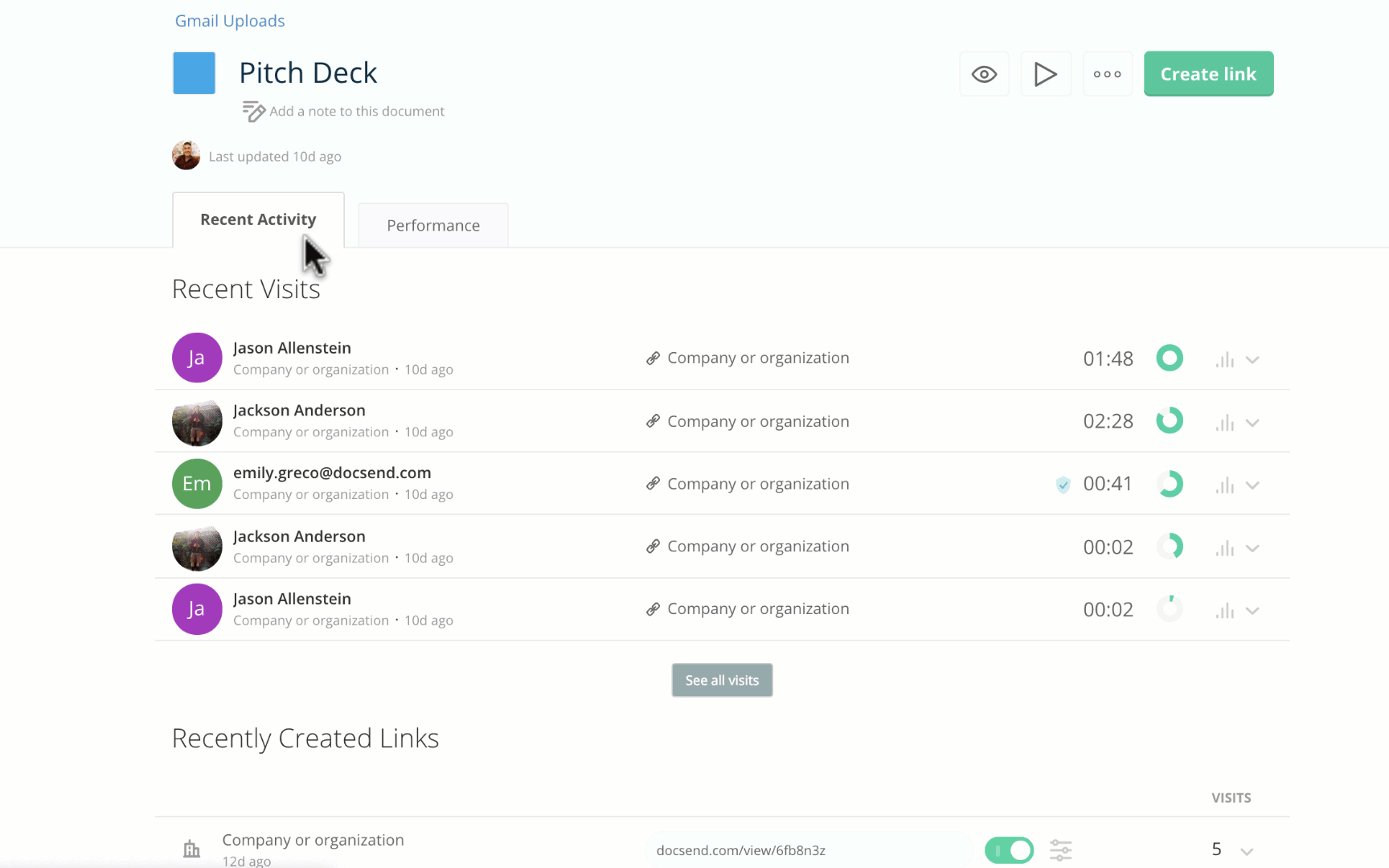 Note: The performance tab is not available for URL content.  


Latest Version Highlights
This report will highlight and summarize your document's most recent version and its performance (see Updating a New version of a Document) by detailing your: 

Core Metrics provides an overview of how the latest version is performing:
        Avg Viewed (%) - Average percentage viewed
        Visits -

Total visits gathered

 for the most recent version


 Top Pages shows your most actively visited page(s) and the average time spent
          Time - Average time spent per page
          Page - The page number (#) in the document
          Visits

- Total visits to the page

Comparative Stats & Previous versions
The Comparative Stats report helps delineate between document versions, illustrating where your content is strongest and weakest. You'll be able to compare all previous iterations of your document by selecting the toggle located on the right of the report.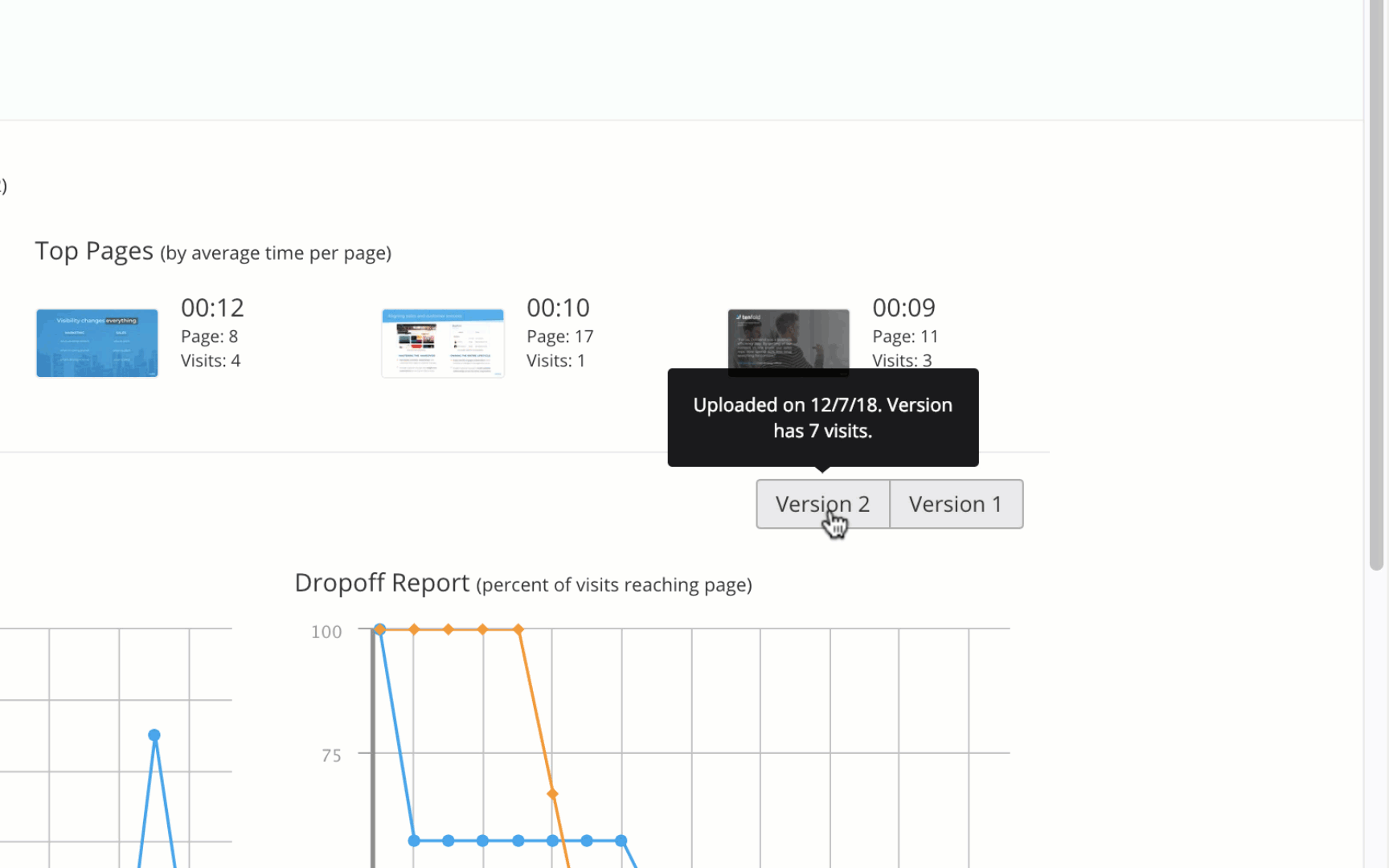 Time per page (average seconds per visit): You can see the average time spent along each page by hovering on any of the graph points. Similar to the latest version highlights, you can see which pages has the most visit activity based on total visits and visit duration. Users will also be able to layer versions together by selecting the toggle button, which are color coded.



Dropoff Report (percent of visits reaching page): The Dropoff report shows the percentage of visits who reach each page in your document. This report can be help you determine where visitors tune out, allowing you to make crucial updates or act as needed.



 Note: You can export visitor data. See Exporting visitor data for more.
Visit Map
Users can see the geolocation of each visitor to see where your document is most active. The visit map is interactive and can be focused down to the city level as you zoom in. The Recent Activity tab will correspond to the visits noted on the Visit Map portion of the performance tab and will present more details about the visit such as: 
Name, if available
Email address
Operating system
Device used
Geolocation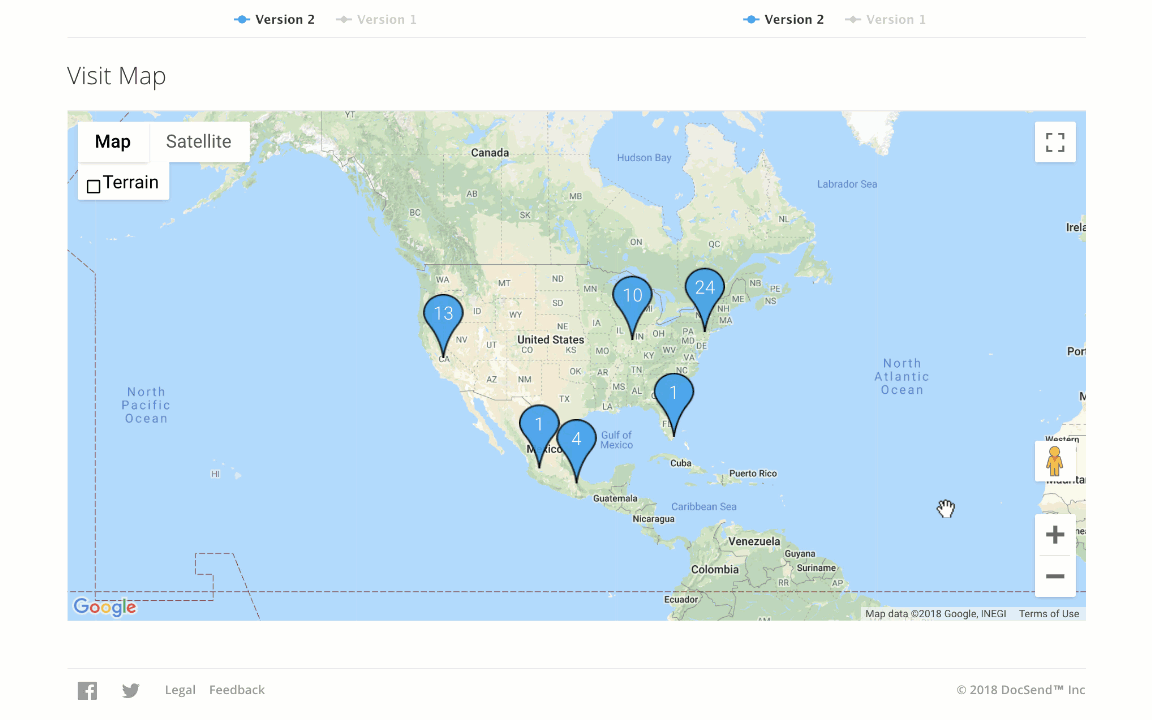 Note: Visitors with VPN connections may show the location of the server instead.