To give you more information on the source and nature of visits your content receives, DocSend will mark visits coming from atypical sources. This article will detail what those visits may mean and what actions you can take if you suspect your data has been compromised. Currently, we are flagging visits that originate from data centers, but we will continue to provide more information on visits coming from additional atypical sources in the future here in this article. Seeing a visit from a data center may indicate:
The visit was generated by (email) security scanning software.

The visit was generated by screen grabbing software used by your intended recipient

The location data for the visit may not be accurate.

The visit may be coming from a Virtual Private Network (VPN).
How atypical visits are flagged in your DocSend account
Visits coming from atypical sources such as data centers are indicated in your user account under the Recent Activity section in a document's detail page. Navigate to any document and select expand any visit with a [?]* notification to see a visit coming from a data center. There will be red text describing which data center the atypical visit came from.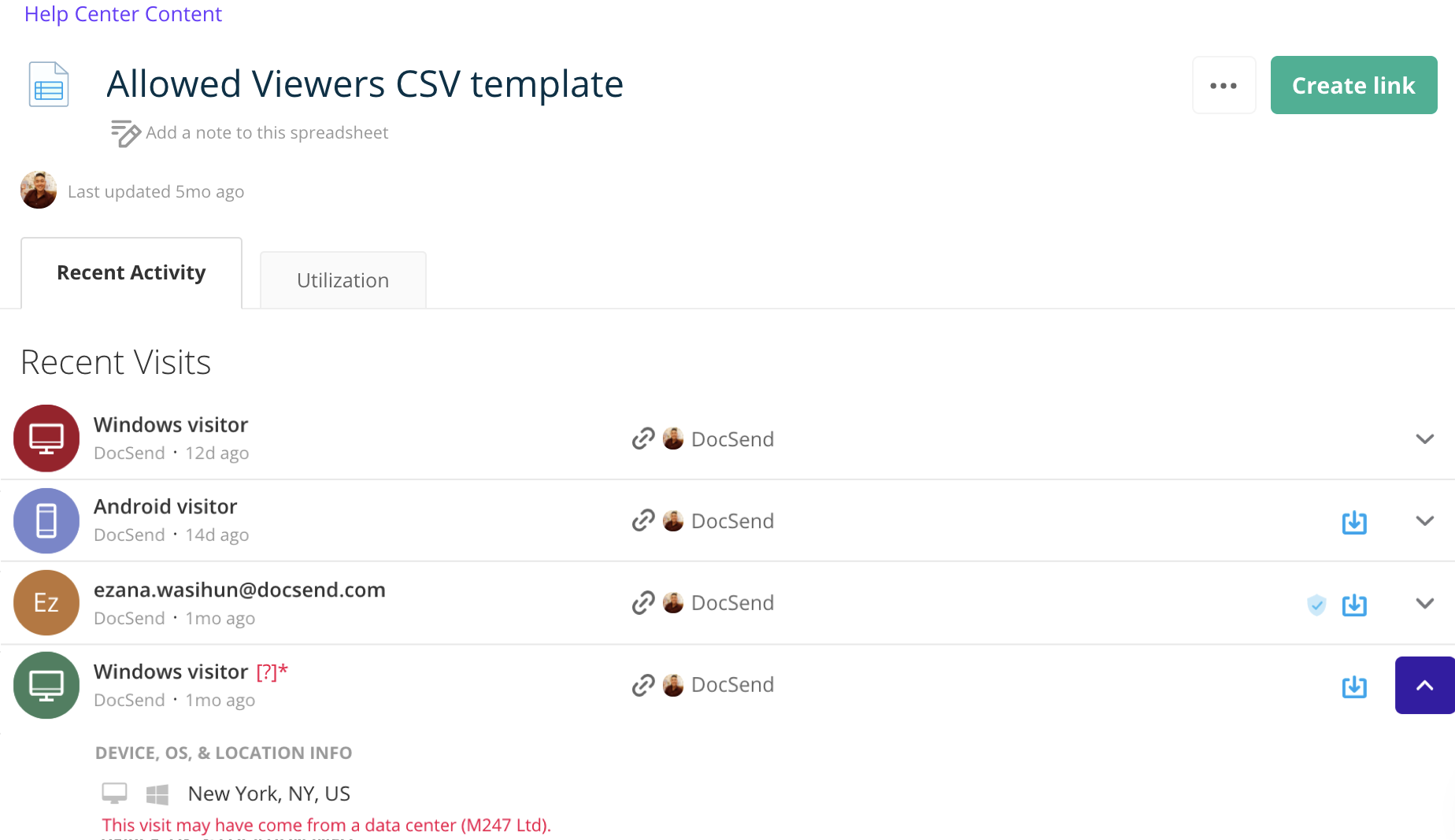 What to do if you see atypical visits

Disable/edit access to existing links - Marking atypical visits is intended to give you more information about how your content is being accessed. If you believe your data has been compromised, you can make adjustments to your link settings or disable them all together. Doing so can help prevent additional visits from those potentially unintended visitors. This article explains how to do that: Updating link setting.


Creating separate links - In addition to disabling or editing links, you can create separate, individual links for recipients. Doing so will provide better separate in-line control for each link along with better tracking on how your visits are received. This article explains how to create separate links: Creating multiple links.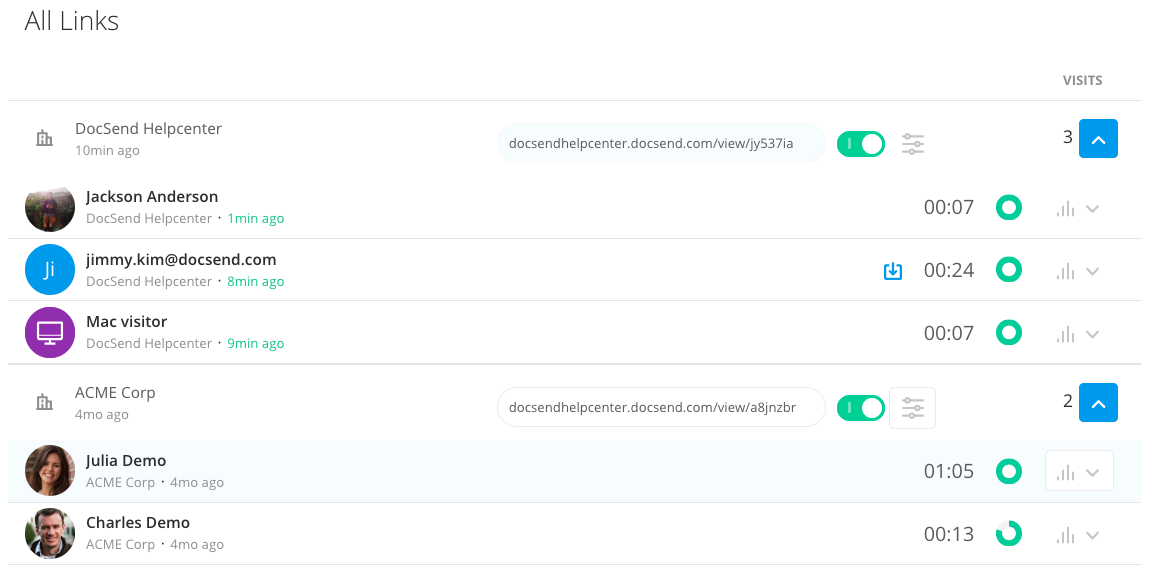 Enhanced Security Features - Utilizing the advanced security features such as allowed viewing and email authentication can help minimize visits from software designed to circumvent protections from accessing your content such as screen grabbing software used by your intended recipient. While enabling the following features may not prevent visits from data centers, configuring a list of approved visitors and authenticating them can significantly improve the accuracy of your visitors. For more details, please visit our pricing page on the Advanced plan.

Allowed Viewing: With this feature, you can set a list of emails or domains that visitors will be required to match exactly in order to view the content. Visitors who are not a part of the list will be denied access and you will be notified of the attempt. Configuring a list of allowed viewers can help prevent scrapers or scanners from automatically accessing and viewing your content.



Email Authentication: Enabling email authentication can validate the identity of your visitors ensuring that the intended recipient is viewing your content. Like allowed viewing, authenticating your visitors can also prevent scrapers or scanners from automatically accessing and viewing your content.


If you have any questions about atypical sources or any of the enhanced security features, please feel free to reach out to our support team <support@docsend.com>.