Overview
DocSend will flag visits initiated by data centers as atypical source visits. This article will detail what those visits may mean and what actions you can take if you suspect your data has been compromised.
Skipping Ahead
Atypical Visit Sources
Currently, we are flagging visits that originate from data centers, but we will continue to provide more information on visits coming from additional atypical sources in the future. Seeing a visit from a data center may indicate:
The visit was generated by (email) security scanning software.

The visit was generated by screen grabbing software used by your intended recipient

The location data for the visit may not be accurate.

The visit may be coming from a Virtual Private Network (VPN).
Atypical Visits In-App
DocSend considers visits coming from sources such as data centers, bots, or scrappers to be atypical visits. You can locate these visits under your document's Recent Activity tab. Simply expand any visit with a [?]* notification to see a visit coming from a data center. There will be red text describing which data center the atypical visit came from.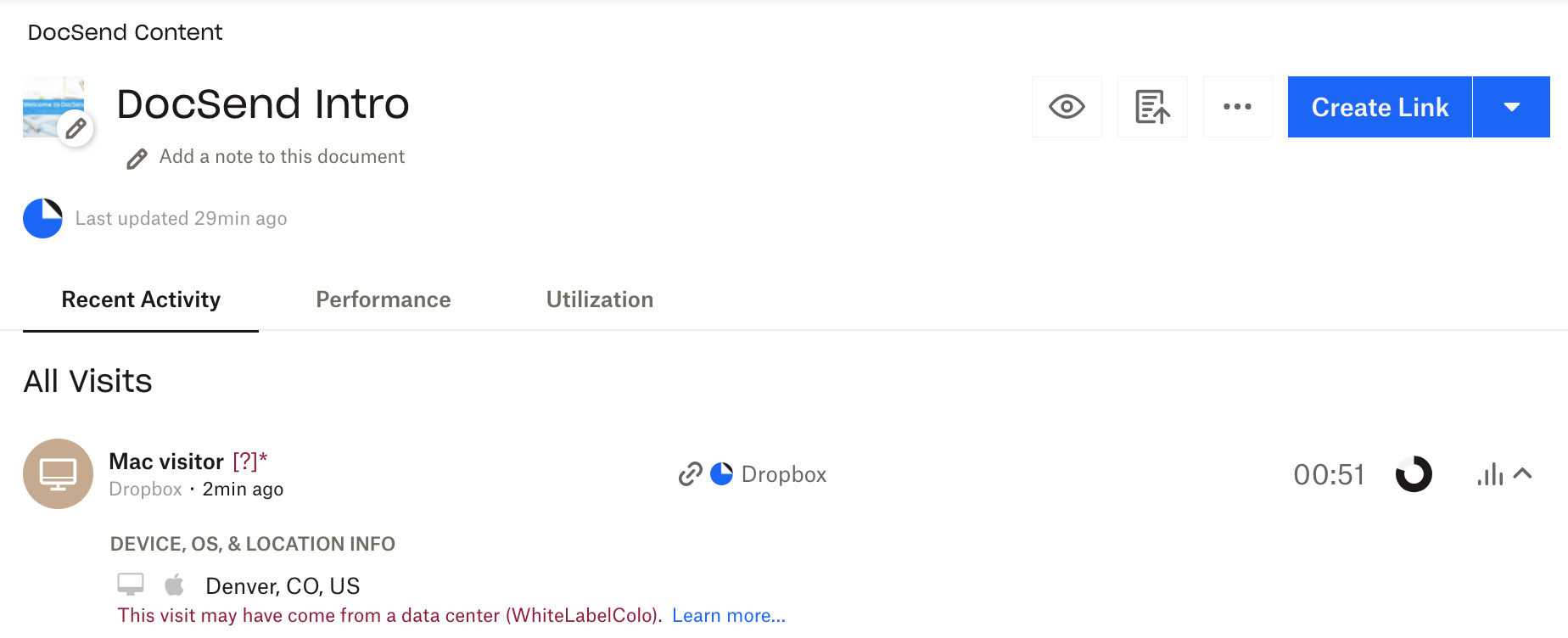 Best Practices
To help prevent data centers from accessing your shared content or If you believe your data has been compromised, we recommend trying some of the following best practices:
Update your link settings

: A link can be updated at any time even after it's been created. Enabling a passcode and setting an expiration date can help prevent additional visits from unintended visitors.

Create multiple links

: When you create multiple links, you'll gain separate in-line control for each link along with better tracking on how your visits are received. This way, you can disable links associated with an atypical source without interrupting every visitor's access.

Advanced security features

: Utilize Advanced security features such as

Allowed Viewing

and

Email Authentication

, available on the Advanced plan, which can help reduce atypical visits. For more information about the Advanced Plan take a look at the

pricing

page.

Disable your link so it is no longer accessible to the unintended visitor.
Things to Consider
Atypical visits can trigger a 0 second visit time. For more information, see our FAQ on visit times reflecting 0 seconds.
Related Reading
___
Still need help? Reach out to support@docsend.com!