Overview
Being able to transfer content and data is an important step in properly managing your account. With our Transfer User Data feature, DocSend Owners and Admins can transfer all of a suspended or deactivated user's data to another active user, ensuring that the inactive user's DocSend links and documents remain accessible. This article will provide a step-by-step guide on how to transfer user data and detail what is retained during this process.
Important: The data transfer process is permanent and cannot be undone.
What data gets transferred?
Transfer User Data
To begin the transfer process, access the Company User Settings to view all suspended and deactivated users. Only inactive user data can be transferred to an active user. If the user is still active, you will need to deactivate or suspend them before beginning the data transfer.

Important: Deactivating a user will temporarily disable access to their links during the transfer process. See User Management for more information.
Select the "more options" menu next to an inactive user to access the Transfer user data option.

Once selected, search for an active user to transfer the data to by typing their name or email address.


After selecting an active user, type in

"TRANSFER"

Click Transfer user data to complete the process.


Once confirmed, the transfer process can take up to 3 minutes to complete.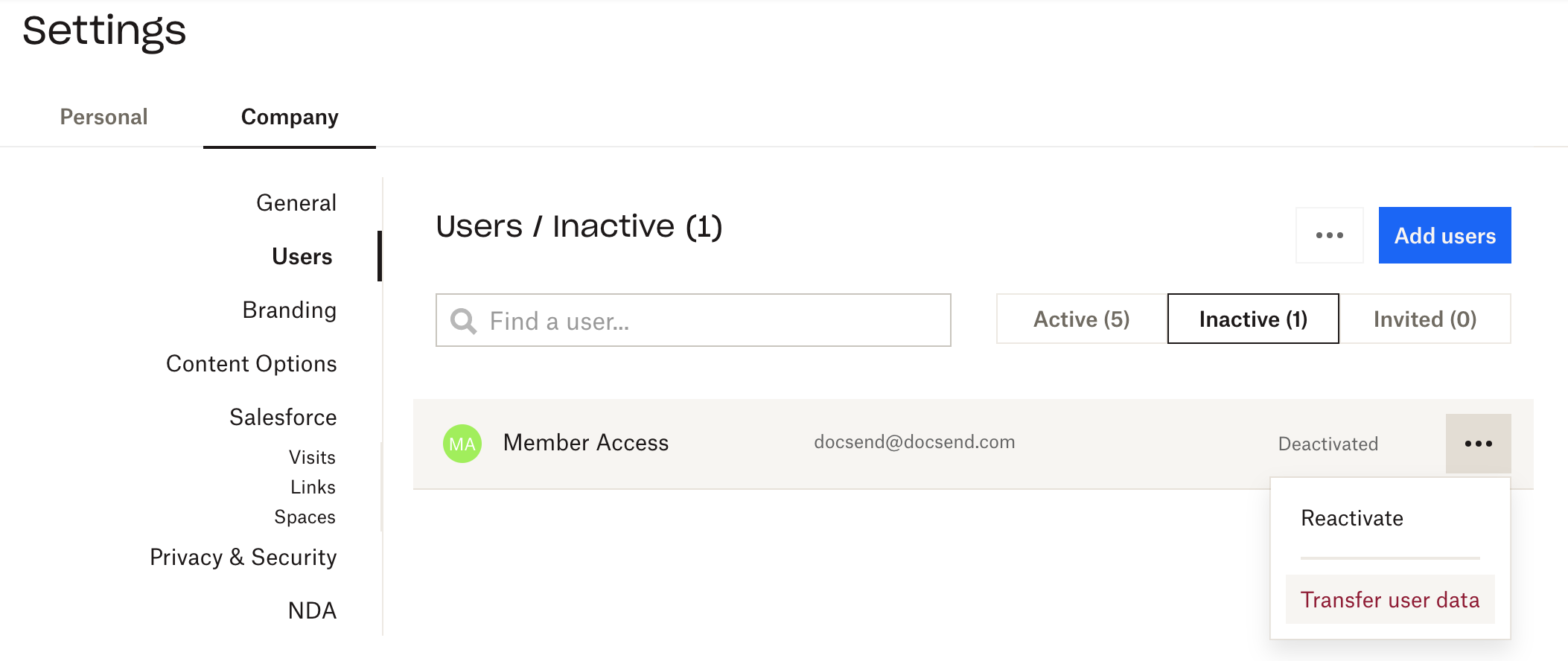 After the data transfer is complete, the active user will now own all aspects of the inactive user's:
Files from the suspended or deactivated user's personal folder will be available in the new active user's personal folder named "[Inactive User]'s My Content".
Team content uploaded previously by the deactivated user will remain in the same team folder.
Transferred links will remain in the same state that they were in prior to the transfer. For example, links that were disabled prior to transferring will continue to remain in a disabled state.
Related Reading
__
Still need help? Reach out to support@docsend.com!