Overview
Not to be confused with setting up user accounts, setting account names when creating links allows you to aggregate contacts and visitor data across documents into organized reports for each company or organization. This article will show you how account-based reporting can improve your understanding of your visitor data.
Skipping Ahead
Account names
When creating a link, you can select a name to input to help differentiate between your DocSend links. Typically, the account names are the name of the company or organization you are working with, but you are welcome to input whatever naming convention that makes most sense.
For example, you might input 'DocSend' for one link and 'DropBox' for another. Alternatively, you can also input something like 'March 2021 Campaign' to denote non-specific accounts.
As you receive visits, you'll be able to review them later under the Accounts tab.

Edit Account Names
If you have not selected an account name when creating a link, we'll default the link name to 'Example Account' for you so that you can come back and edit the account name for that individual account name.
To edit an account name for an individual link
Locate your document or Space link.

Select

more options (...)

Click

Edit Link Settings

Change the account name and select

Update Link

.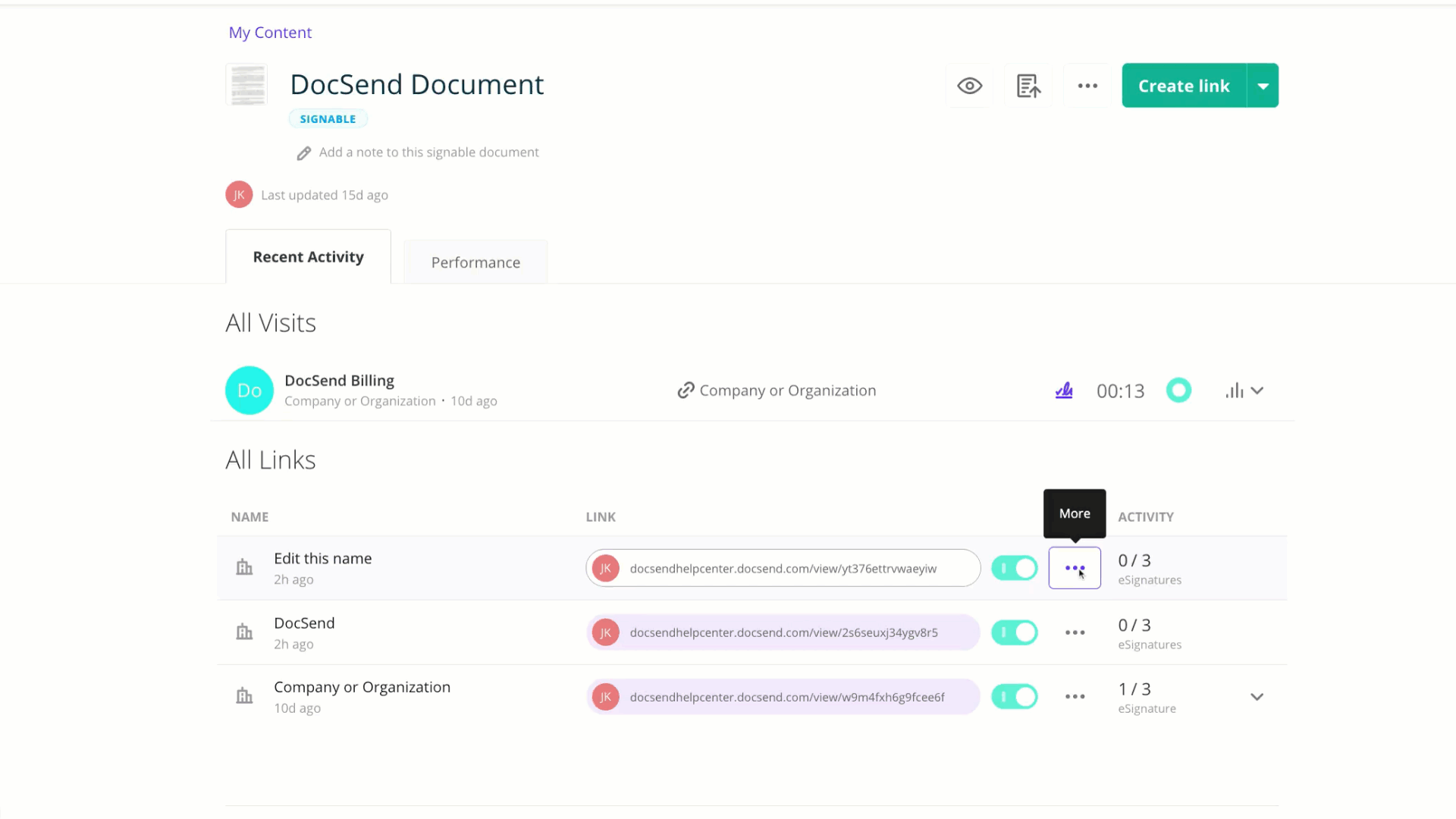 Note: Existing account names will be prefilled as you type an account name.

You can change the name of an account entirely which will automatically update across all documents and Space links.
To edit an account name for all links
Go to the

Account

tab

Select an Account

Edit the name at the top

You will not need to save to confirm.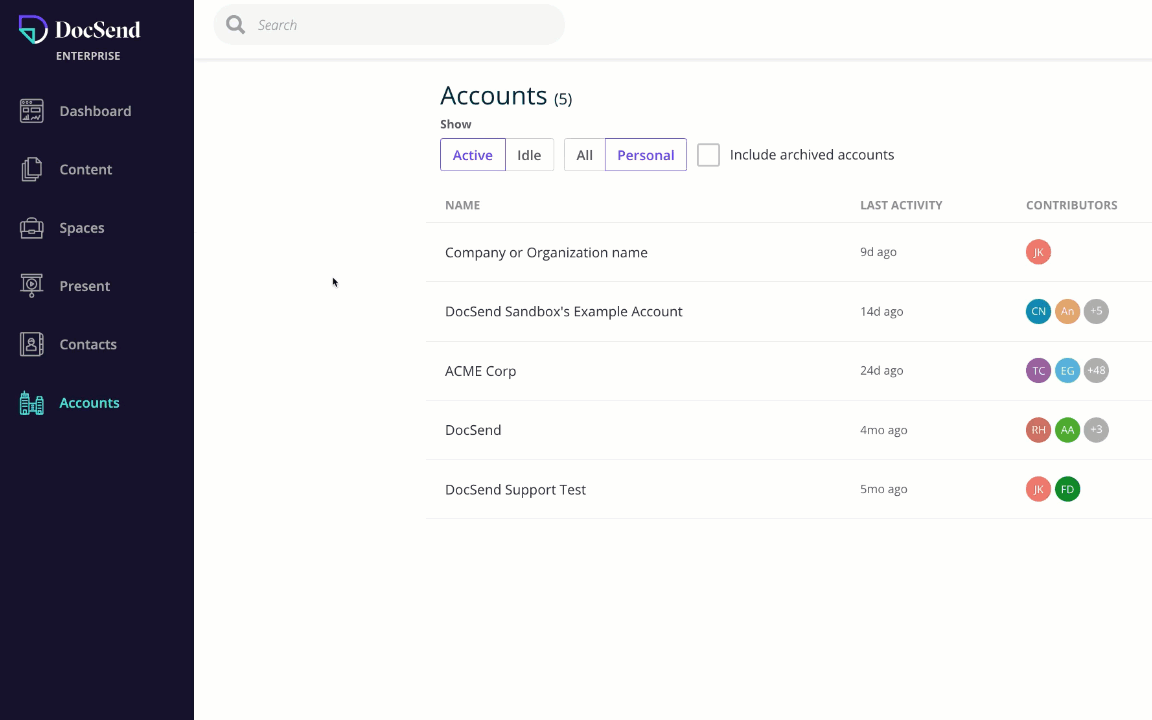 Links Tab Layout
You'll be able to see all the links with your account names under the content section. Aside from reviewing the visitor stats, you'll also be able to manage your link settings and also click on the company name to view documents and visits on the account level.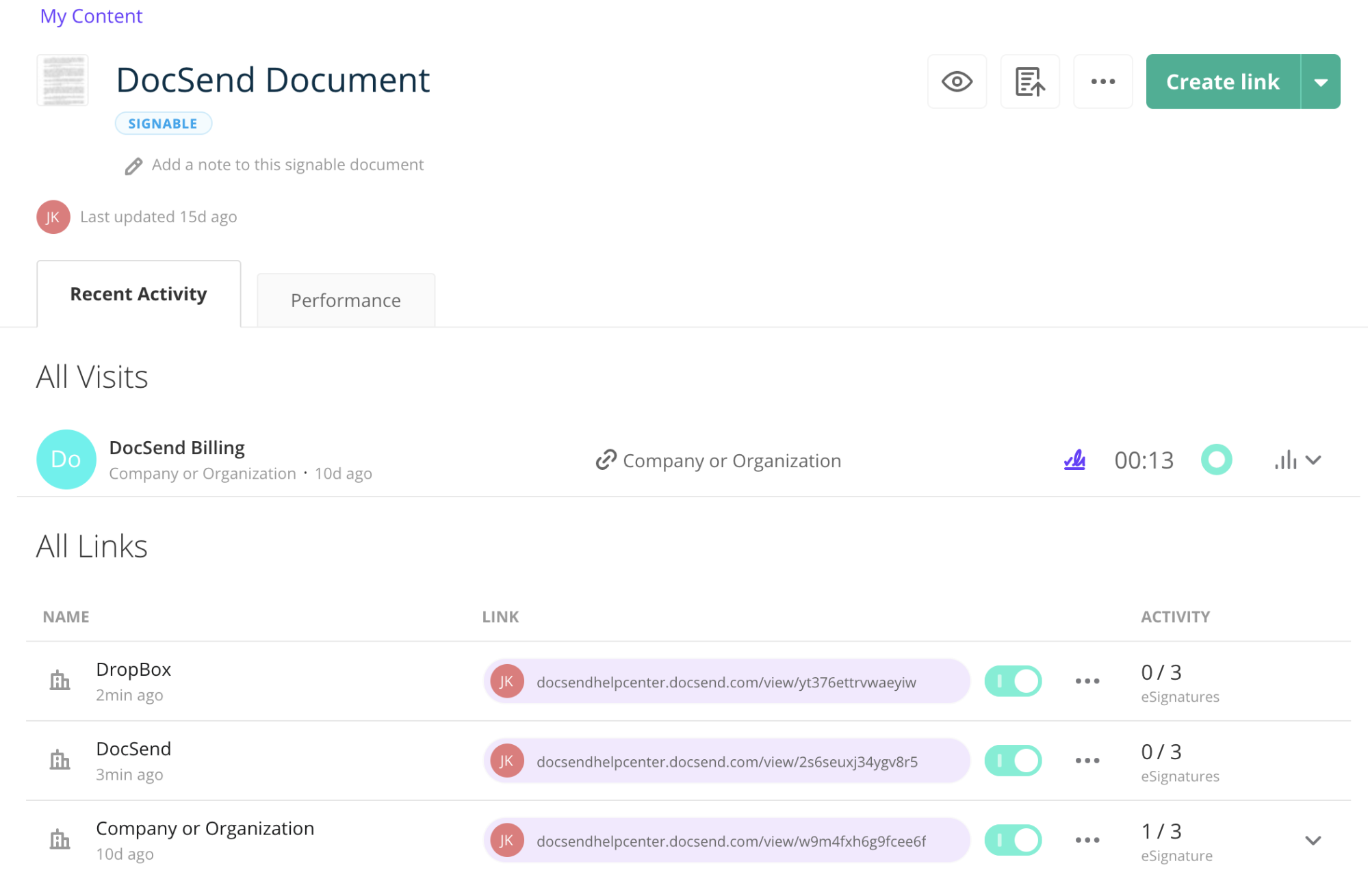 Accounts Page Layout
As you begin to receive visits, the accounts tab will show the total number of accounts your team created and will list all the activity under each target account. By clicking on the account name, you'll be able to review the account in more detail.
Filtering Accounts
Active vs. Idle:

You'll be able to filter between

active

accounts, accounts that have recently received visits, and

idle

accounts that have not received any visits recently.

All vs. Personal:

You can also filter between all accounts across all internal DocSend users or just your own personal accounts.


Activity
This section will show an overview of all activities.
Visitors: you'll be able to see individual contacts and their most recent visit, location, and visit duration/count.
Content: you'll be able to see the most active documents and the total number of visits and duration.
Spaces
This tab gives you a snapshot of all Spaces being utilized for your account. Links: The links tab shows all document and Space links associated with your account.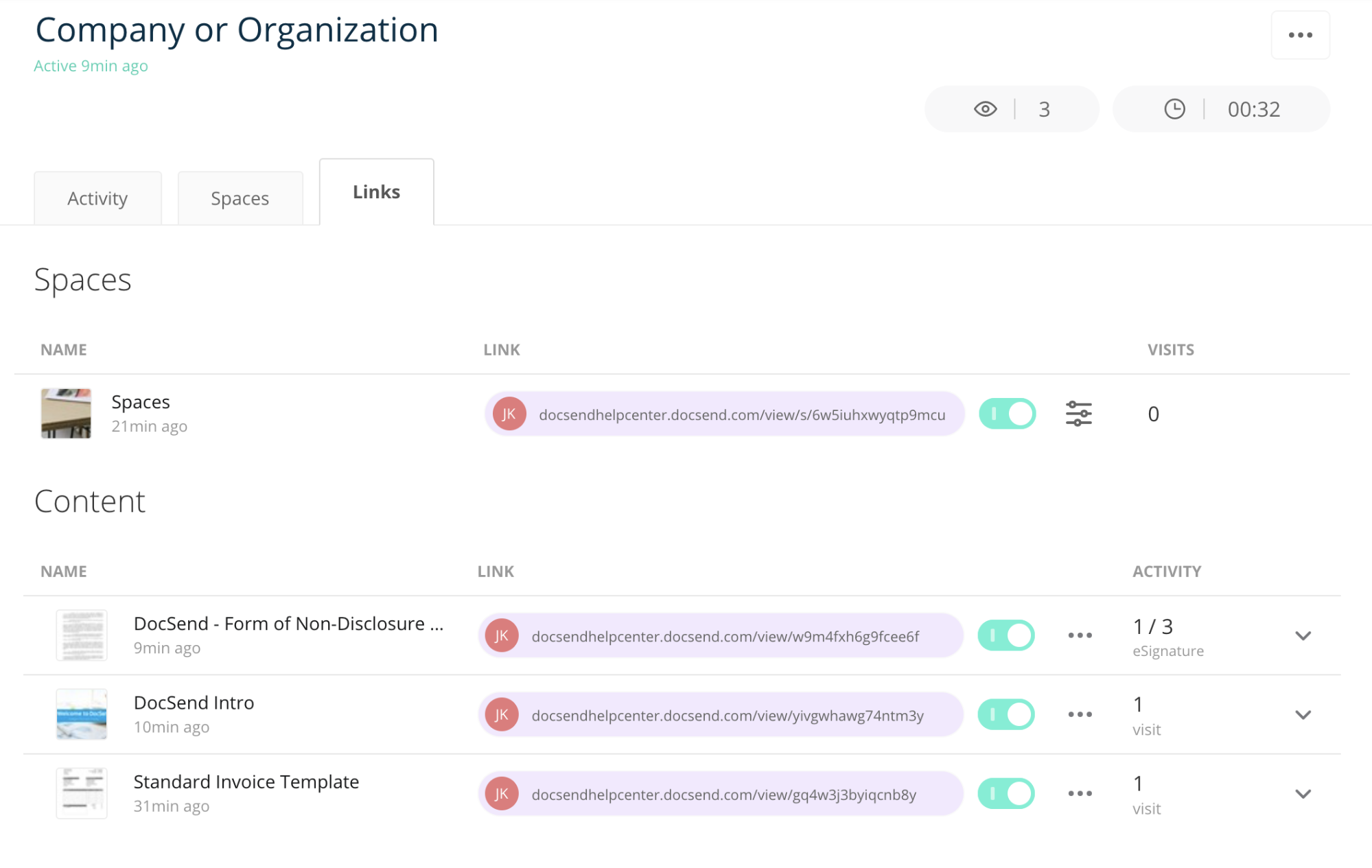 Archive Accounts
You can archive accounts anytime from the accounts tab. Archiving accounts can help remove stale or old accounts to help streamline your link creation process while improving the legibility of your accounts and visitor data.
Here's how to archive an account:
Go to the

accounts

tab.

Select the more options menu to select Archive account.

Once archived, the account will no longer be visible.
To unarchive, select 'Include Archived accounts' to locate the account. Select the more options menu to see the Unarchive account option.


Creating a new link or Space to an archived account will unarchive that account and link to archived accounts.
Merge Accounts
You are also able to merge existing accounts together. Merging accounts will tie all document and link activity together under a single account name. Merging an account is permanent.
To merge an account:
go to the Accounts tab

Select an Account

Select the more options menu to 'Merge'

Select the name of the account to complete

Related Reading
–––
Still need help? Reach out to support@docsend.com!