Overview
Account Owners have sole access to the Billing page for reviewing and updating any billing settings. As the Owner, the Billing page is where you can review your transaction history, access past invoices, and make general updates to your subscription.
Billing Page Layout
On the Billing page, you'll see two main sections: Plan Information and Payment History.
Plan Information
The Plan Information section is a high-level overview of your subscription, which outlines the price, number of active seats, and renewal date among other fields listed below:
Account credit: If applicable, the amount of credit currently applied to your account
Seats

: The number of active users (including suspended users) and price per user on your account.

Billing cycle

: The billing term you're subscribed to (E.g., monthly, annual)

Next bill date

: The date of your next renewal charge. Your bill date is the day you subscribed to DocSend; any proration (if applicable) will be based on this date.

Card on file

: The last 4 digits and expiration date of your default payment method

Billing Contact Email: Additional email address configured to receive Invoices.
Invoice billing info

: The option to add or update billing information (E.g., address, tax ID, etc.) on future invoices.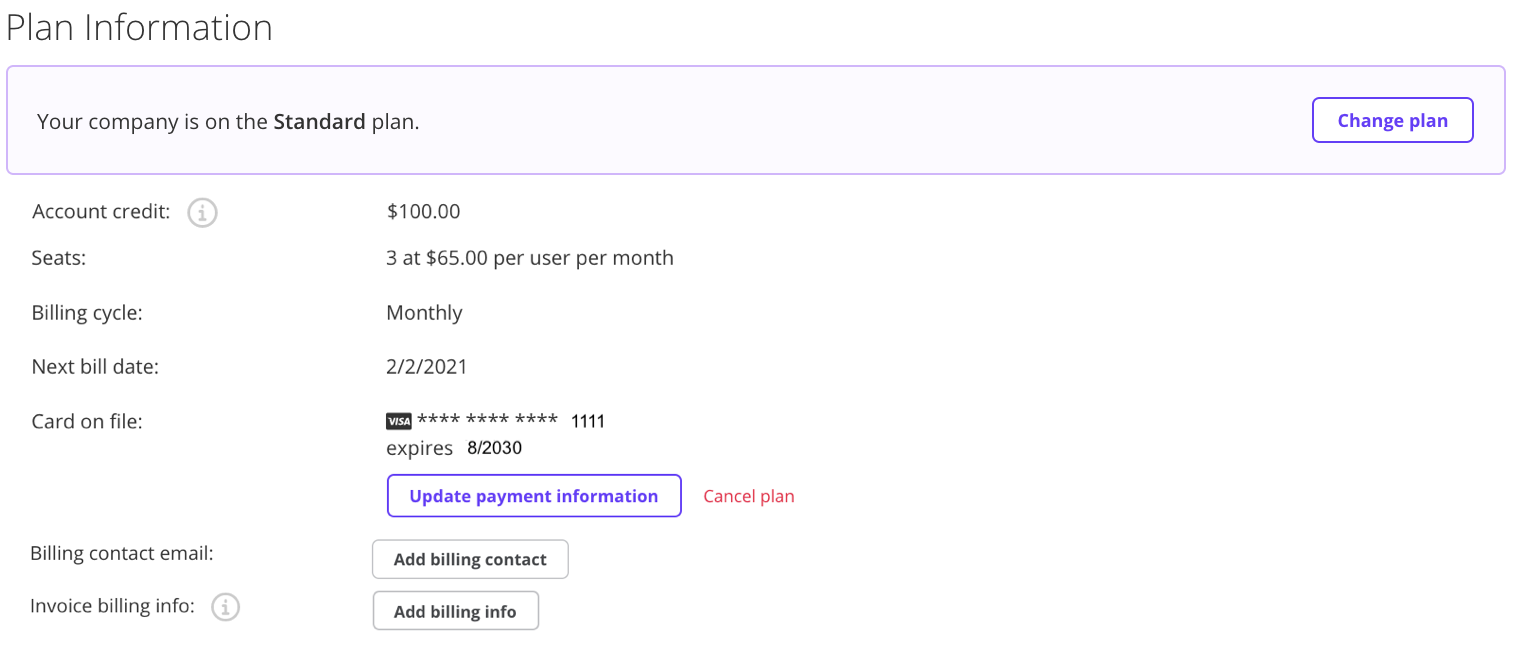 Payment History
In this section, you can review historical transactions on your account.
Transaction Date

: Date the transaction took place

Item

: Plan type and billing cycle

Amount

: Price of the subscription; this is not to be confused with the total.

Total

: Total amount paid on the transaction date; totals may differ from the amount column if any credits or discounts were applied.

Status

: The result of the transaction

Paid: The transaction was successful.

Failed: The transaction was

not

successful.

Credited: The transaction resulted in account credit.

Related Reading
–––
Still need help? Reach out to support@docsend.com!