Available on: Standard Advanced Enterprise
Creating a new Space
Users can create Spaces by going to the Spaces tab available to any Standard, Advanced, or Enterprise user. You can create individual links pointing to the same Space to speed up the experience and also offer flexibility when sharing Spaces.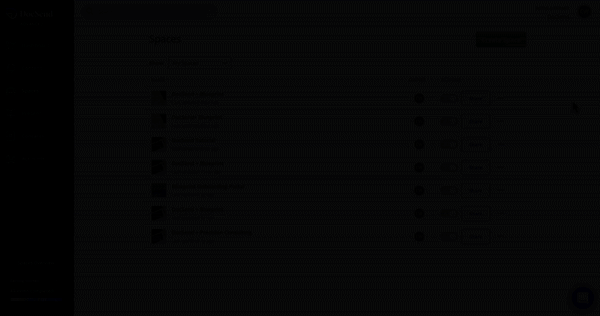 Steps to create a Space
1. Select Create new Space by visiting the Spaces page
2. Name your Space and add a subtitle.
Note: The name of the Space will be the name of the Space applied to all Space links and will be Untitled but can be easily edited.
3. Choose or upload existing content to add to your Space. Changes to the content will be made centrally and will affect all links that users create to share. This allows users to make quick changes without having to manually go into each Space to make content changes. For users wanting to individualized, customized Spaces for an account, users can continue to duplicate Spaces.
Note:: We recommend creating Space folders [Advanced, Enterprise] for additional customization of your Space. Check out Managing content in a Space for more details.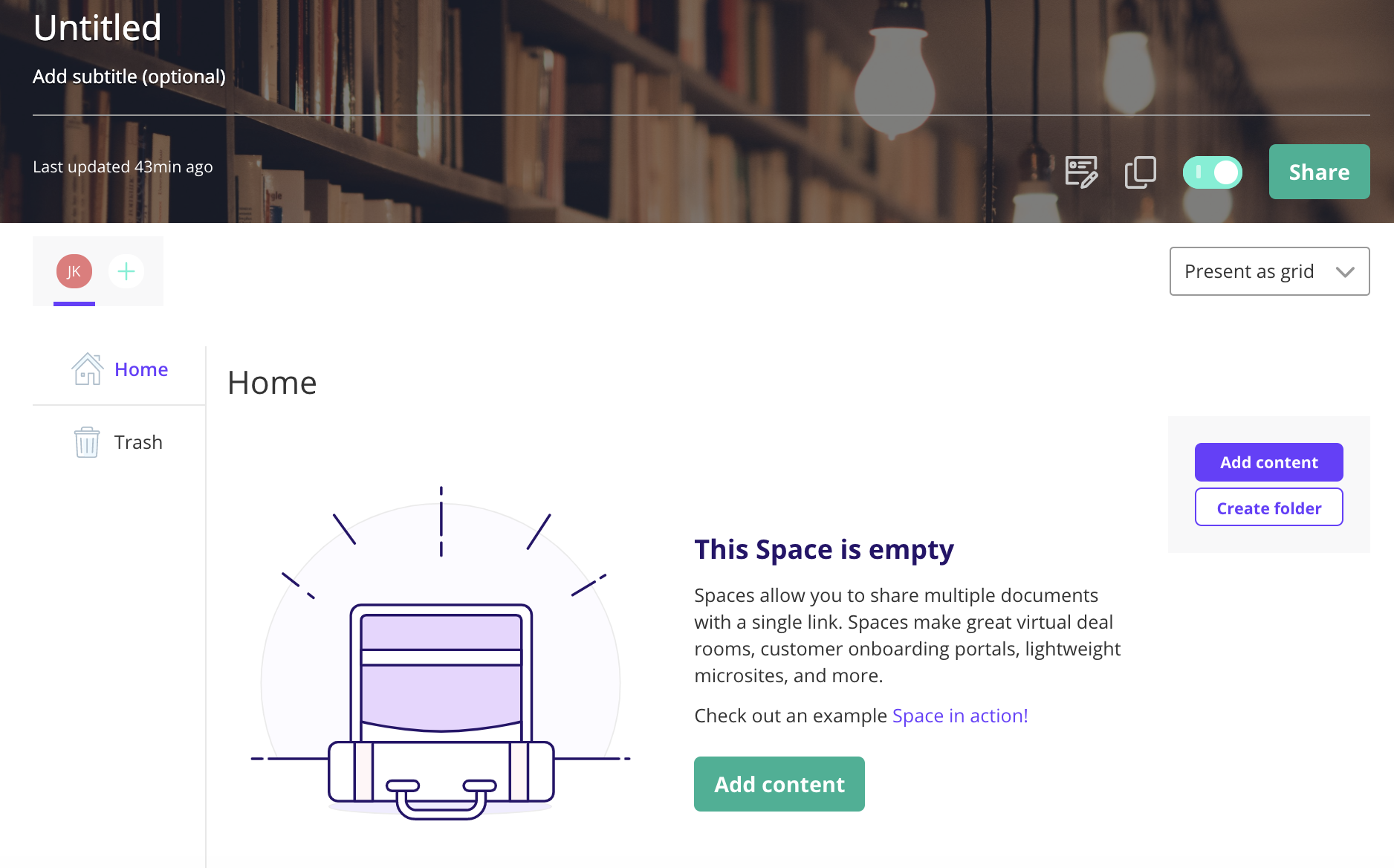 4. Select 'Share' to access the link page. Here, users can select Create new link to create a link for the Space and specific target account. Users can configure link settings and permissions separately, while maintaining the content of the Space centrally.

Require an email address

Allow downloading

Note: Users can enable the entire Space to be downloadable using the Mass download option

Set expiration date
Passcode protect
For more details check out the Link settings explained help center article,.
For Advanced users, the enhanced security access controls can be enabled such as: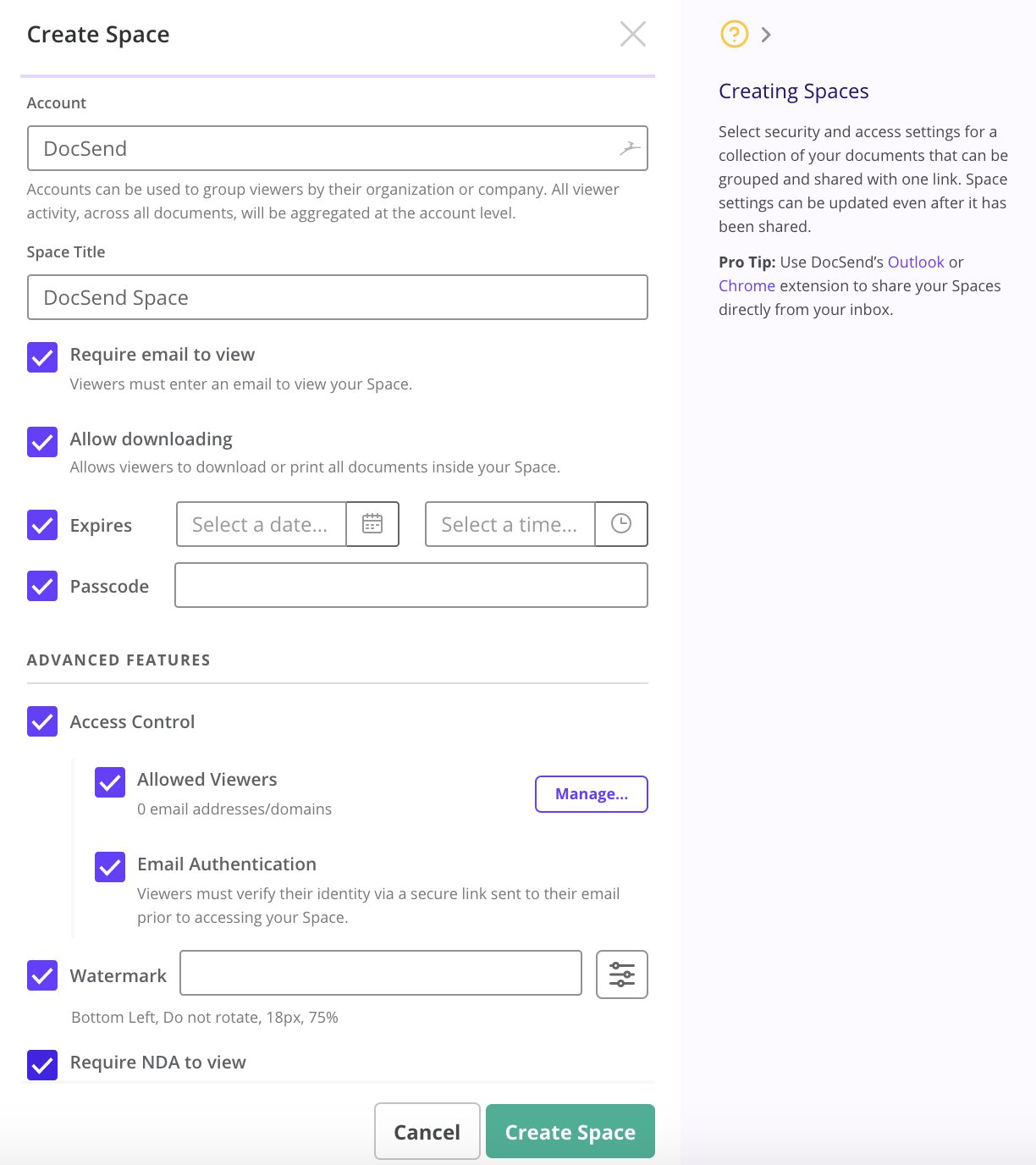 Editing Space Permissions
Users can edit Space link settings by accessing the Share button. Users can manage settings for individual Space links without affecting the experience of other links, in real-time.
Go to Share
Select the More options Menu (...)
Select Edit Link settings to change link settings.


Creating Spaces from content folders
Users can also create Spaces from existing content folders making it easer to manage content and more quickly create Spaces from existing assets. This portion of the article will show you how to easily migrate content folders into new Spaces.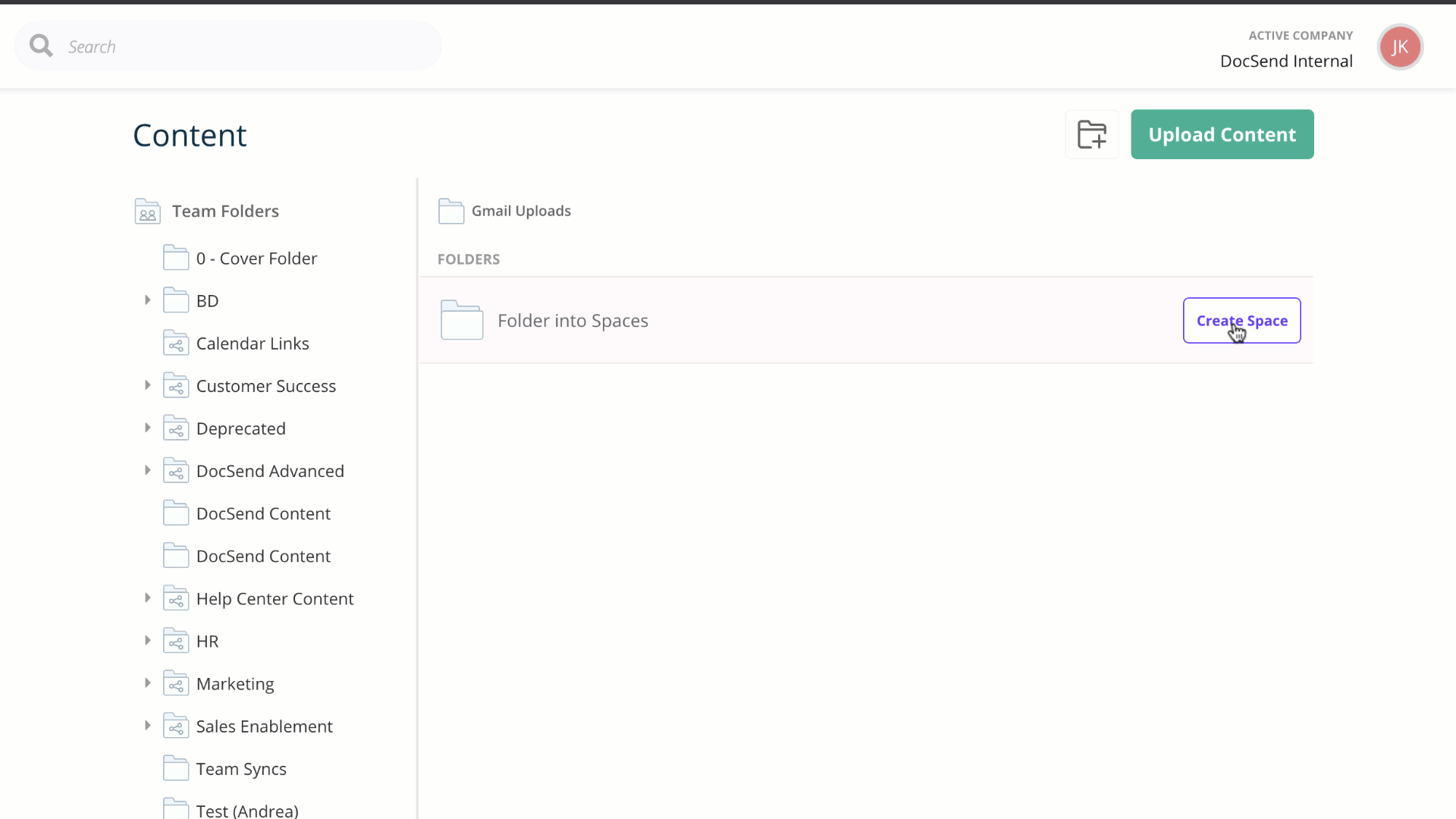 Setting up content folders into Spaces:
Go to a content folder and select the 'Create Space' button located next to each folder.
Alternatively, users can create Space folders from the parent folders by selecting the more options menu.

Selecting the option will immediately bring up the Space link creation modal where users can choose link settings for the newly created Space. Here are more details around link settings.


Once you've selected the link settings, select 'Create Space' to see your Space configured with the folder content.


You can then manage the Space and customize the content and look of it easily. Check out our other articles on Customizing a Space or Managing content in a Space for more details.
Space Sections
Users can create sections in Spaces allowing the owner or a collaborator to help organize and manage content more effectively. Users will see the option to add a section located at the bottom of a Space. By default, newly added sections will be untitled but can be renamed by clicking on the edit button. Content must already be uploaded to the Space to add sections.

Space Section requirements & limitations:
Each section title has a 100 character limit.
Each Space can have up to 100 sections.
Space section titles cannot be left blank.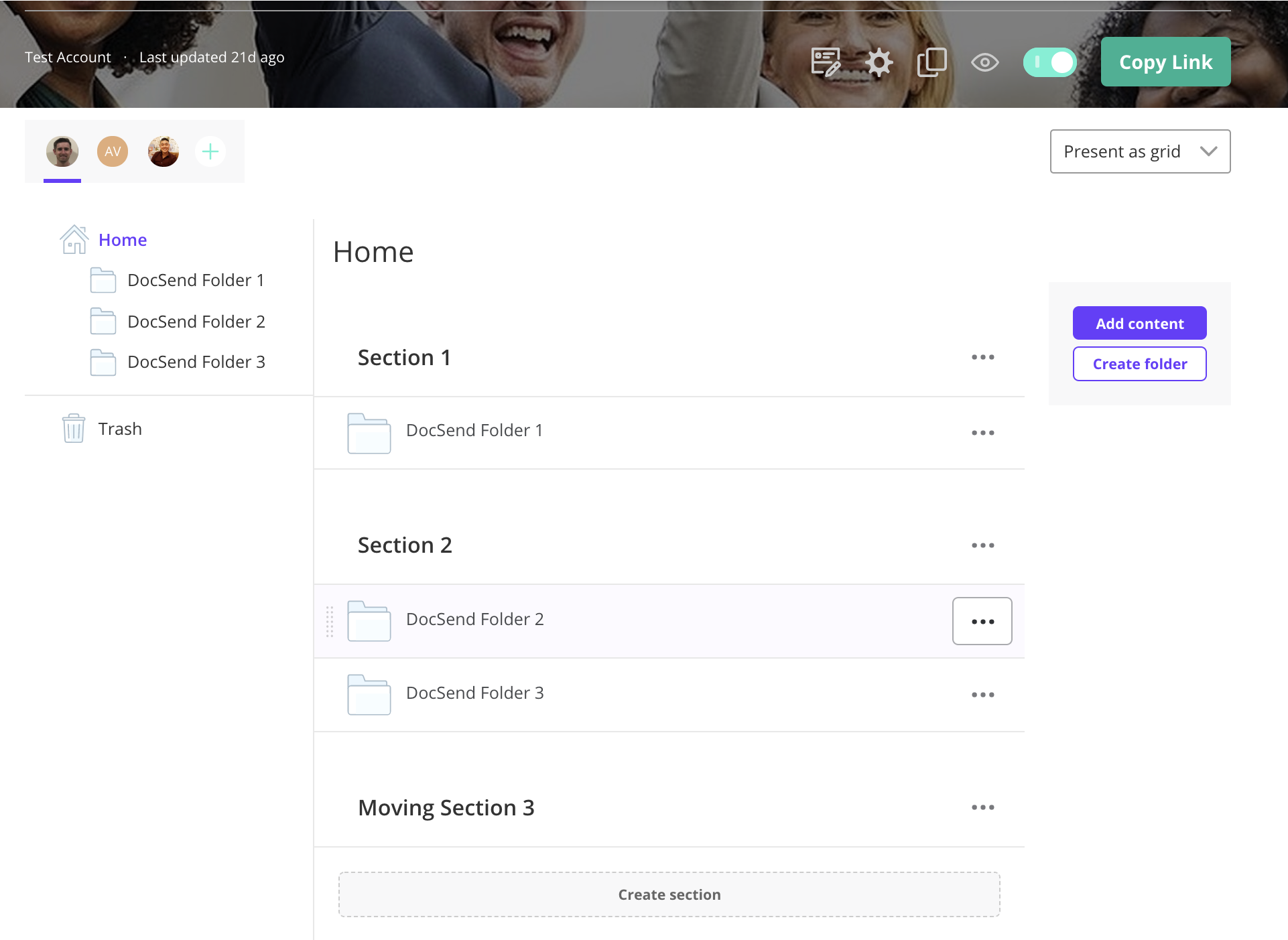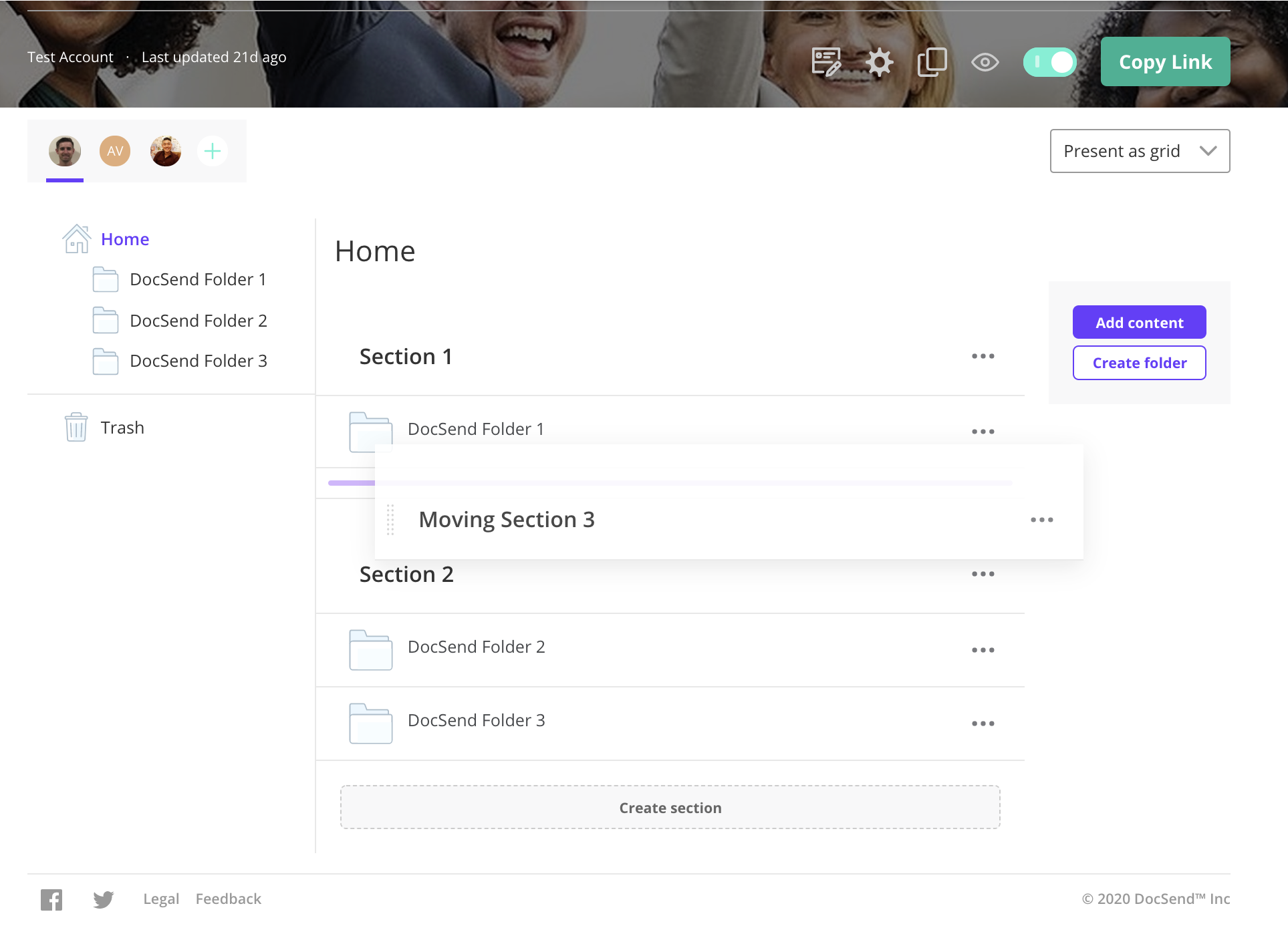 Users can choose to drag content from uncategorized or existing sections into new ones. Uncategorized content will appear at the top of the Space with no section header. Sections themselves can also be reorganized by dragging and dropping the section header name to a new area of the Space (see screenshots above). Note: Deleting a section will remove the section header and move the content into the uncategorized section of the Space.

Compact List view
Users can configure Spaces to be in a grid or list view allowing for further customization and control of what a Space looks like, further tailoring the viewing experience. You can configure the view when adding content to a Space by selecting the option located on the top-right of the Space settings. Toggling the option will automatically update the view for all visitors.
Note: Users can toggle between the list or grid view anytime by visiting the Space dropdown.
In List view: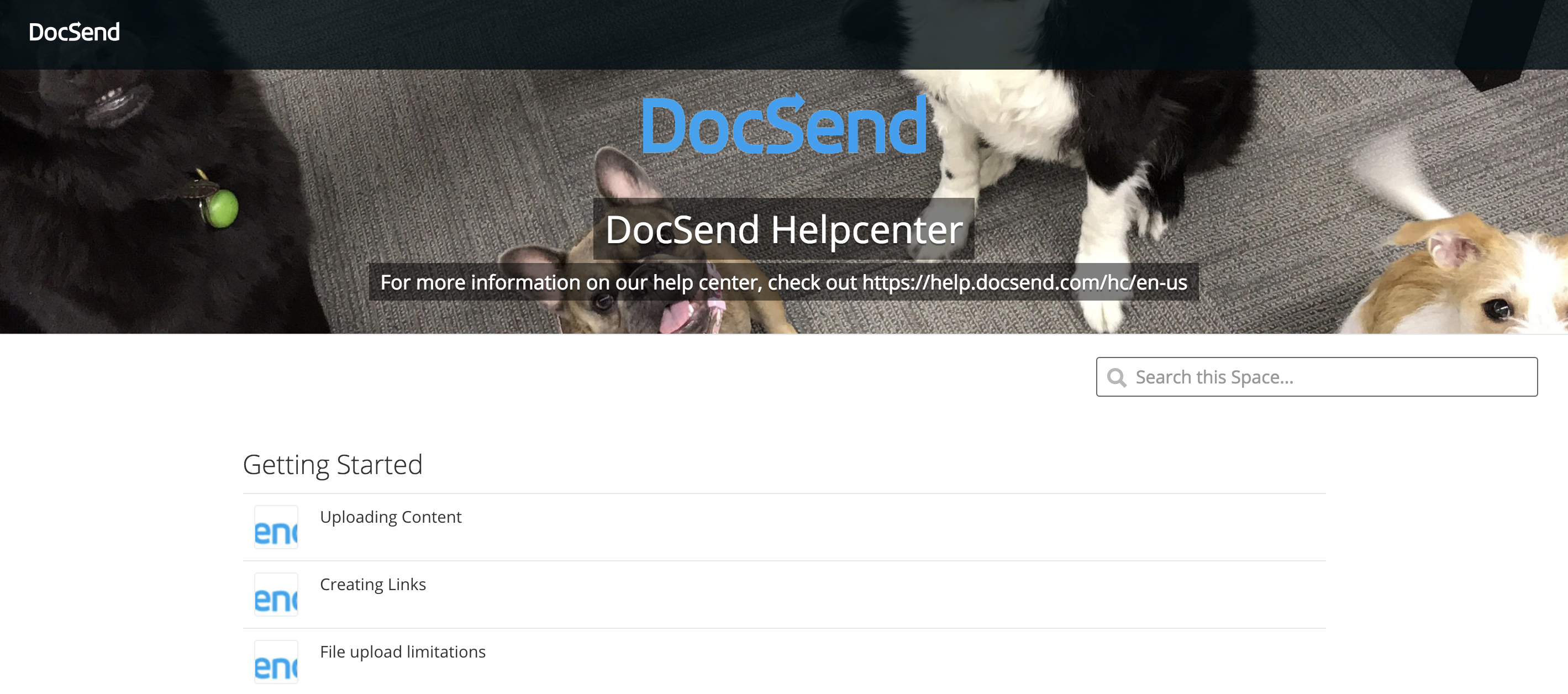 In Grid View: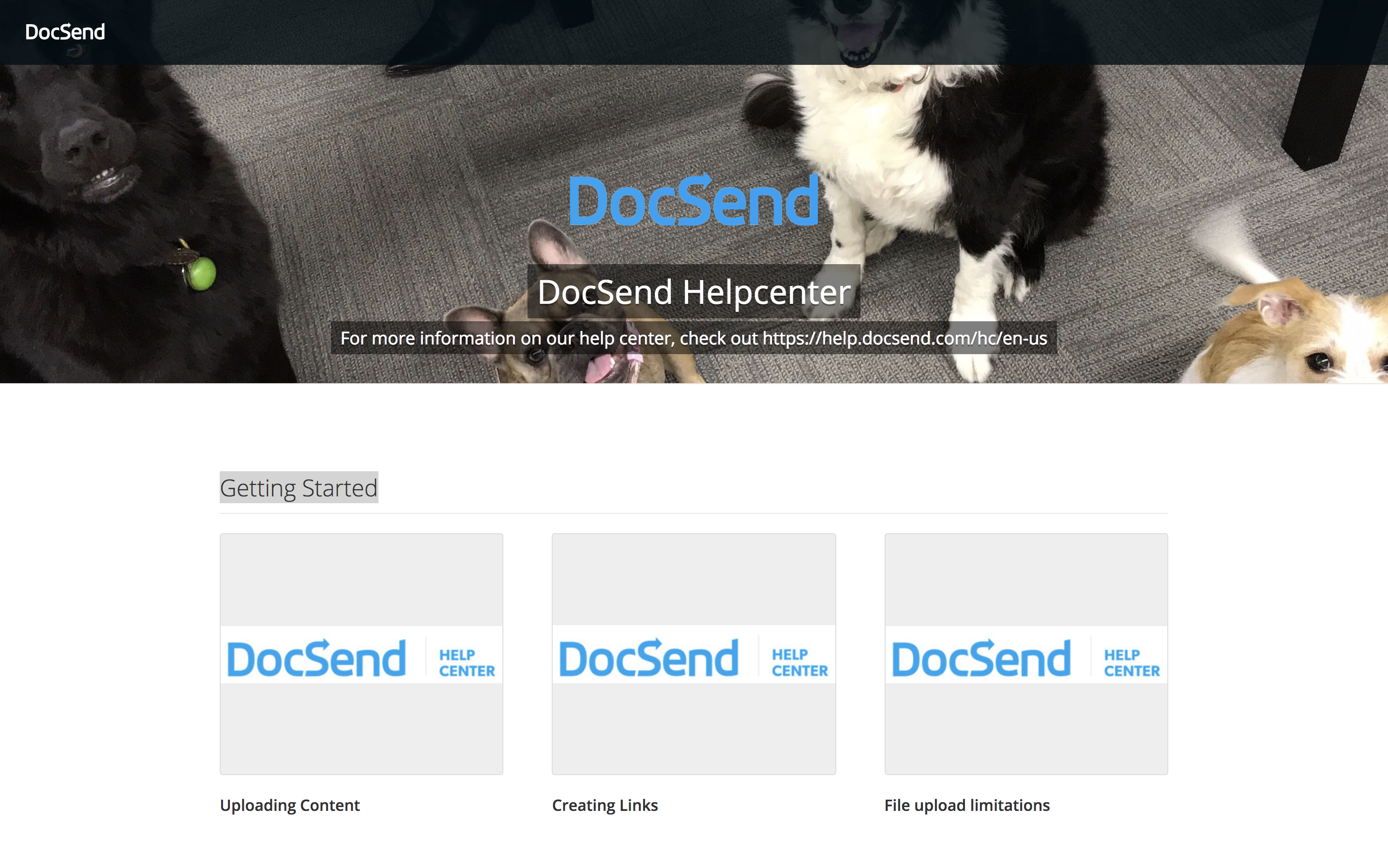 Changing between views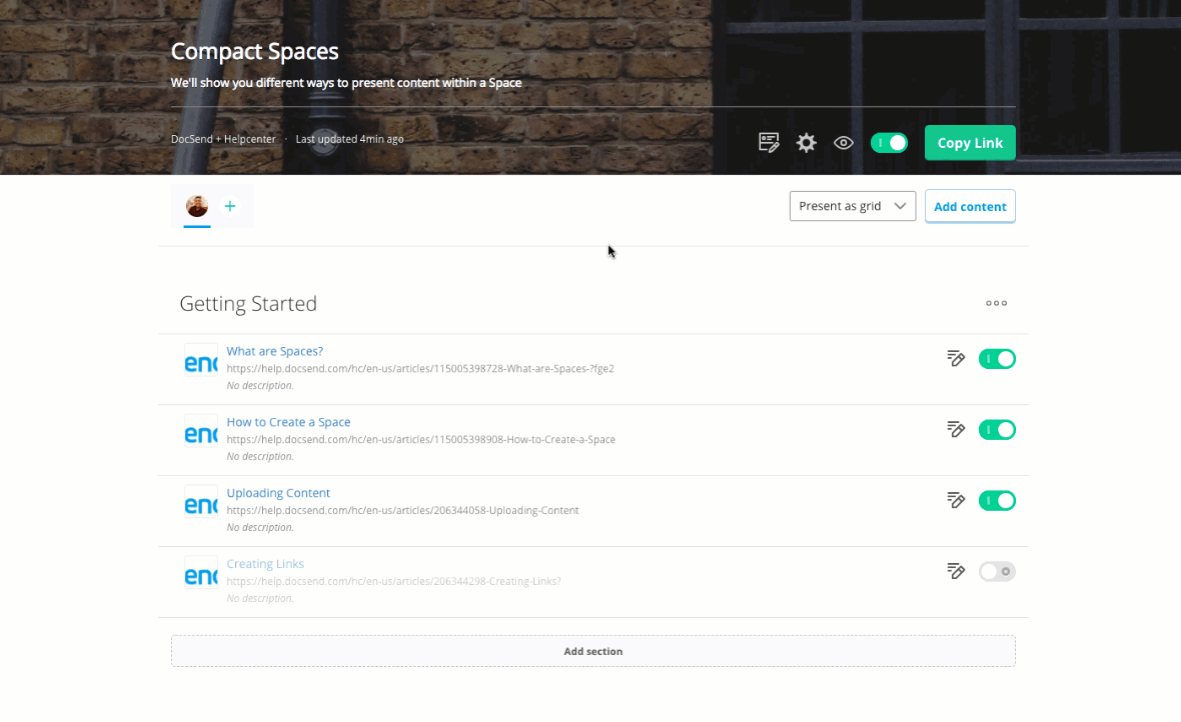 Related Articles:

Next Steps: Learn how to customize a Space