Overview
A Space can easily be created from the Spaces page or from existing folders on the Content page! You can create a Space for each of your accounts, or create multiple links on the same Space which provides flexibility and control over how content is shared with each individual account. Keep reading to learn more!
Skipping Ahead
Create a New Space
From the Spaces page, select Create Space to create a new Space – it's that easy!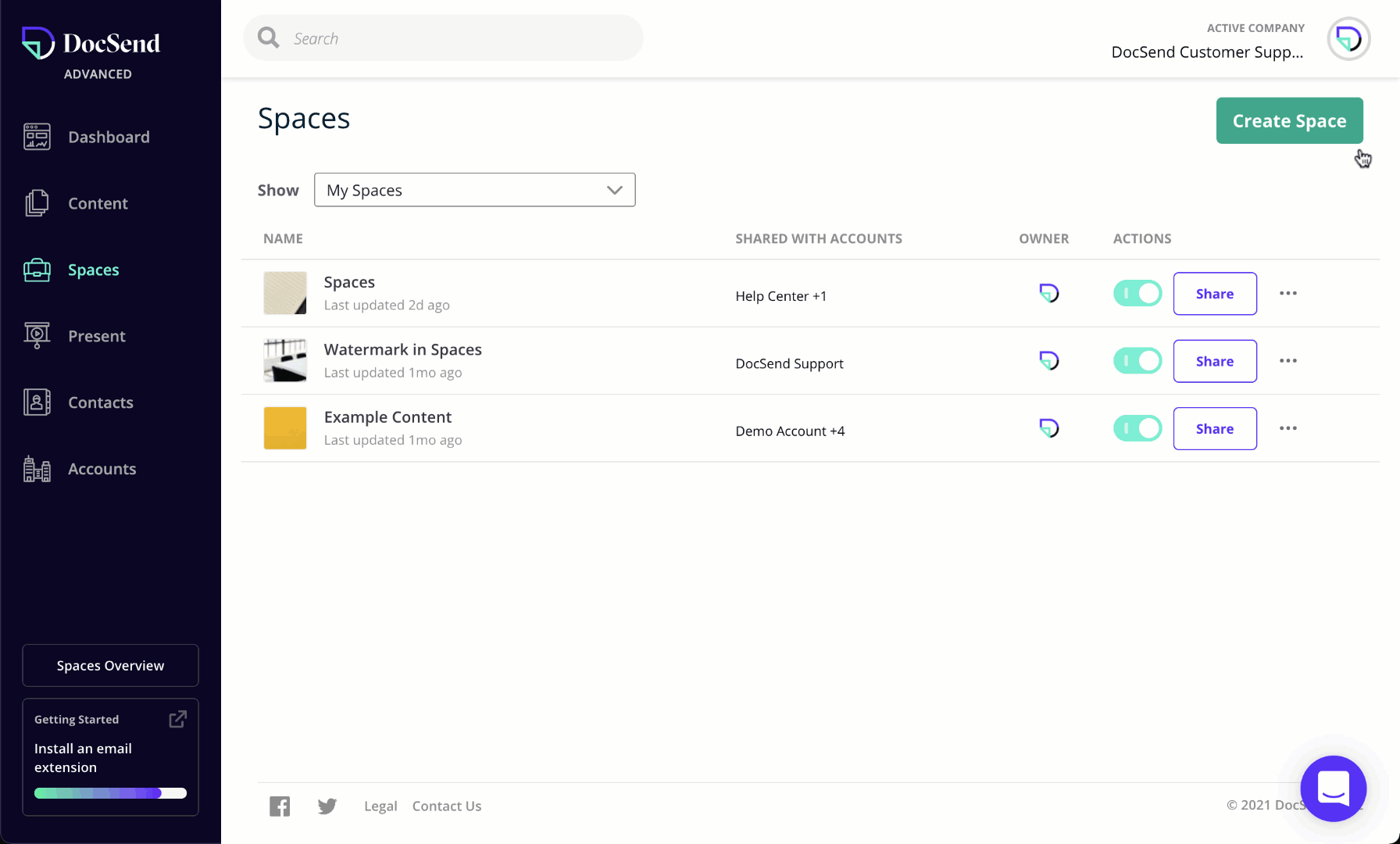 By default, the Space is named "Untitled", but you can edit this any time by clicking into the title field. You can also add a subtitle!
Note: the Space name will be the same for all links created for the Space.
Now that your Space is created, you can add content, customize the background and logo, and more! Check out our articles Manage Content in a Space and Customize a Space to learn how.
Create a Space using Share Content
Save time by creating Spaces straight from your content library! Simply click share files, pick your content, and your Space link is ready to be shared with others.
Important: When subscribed to the Standard plan, you can only select content, not folders.
Click the

Share Content

button.

From the file uploader, select the content you wish to share.

Configure your preferred link settings.

Click

Create Link.

Copy and paste to start sharing.
Note: Don't forget to customize your Space to add a professional look!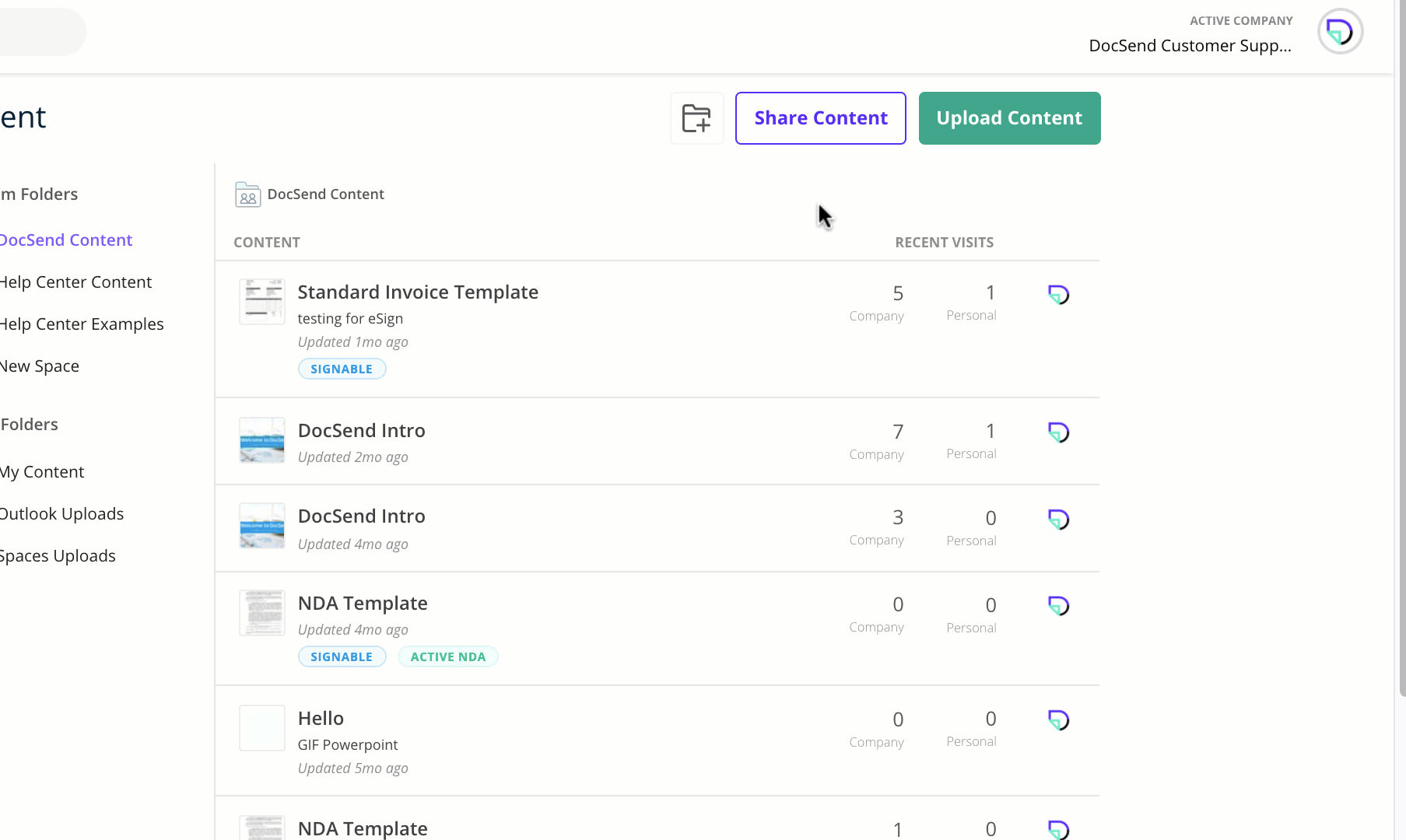 Create Spaces from Folders
Alternatively, you can create a Space from uploaded folders on the Content page, making it even easier to create a Space and manage existing content!
From the Content page, you can create a folder into a Space in two ways:
Select the folder, expand the "more options" menu, and select Share.


If the folder is within another folder, click the Share button to create a Space.


Important: For users on Standard, it is possible to create Spaces from folders that have subfolders. However, those subfolders will not carry over since Space Folders are only available on Advanced at this time. We recommend upgrading to leverage this feature!

Space Link & Settings
Once your Space is configured and ready to share, creating a link is just as simple! There are two ways to create a Space link:
From the Space itself, select Share to access the link page and click Create new link. Note: if this is your first time creating a link for the Space, you will need to select Create Shareable Link instead.


Alternatively, you can create a new link from the Spaces page. Find the Space you'd like to share, click Share to access the link page, and then click Create new link.


Link Settings
Similar to content links, you can edit the settings on a Space link any time by clicking Share to access the link page, then expanding the "more options" menu and selecting Edit link settings. You can also set different permissions both on the content and Space level - read our article on Granular Space Permissions below to learn more!

Space Visits
Visits to a Space are only tracked on the document level. When a visitor opens a Space and views a document, the visit is logged on the document and attributed to the Space. Space visits are also owned by the Space owner.
To see all visits to documents in a Space, you can do so in 2 ways:
Export your Space visitor data! See Export Visitor Data for more information.
You can see all Space visits associated with a specific account by going to the

Accounts

page, selecting an account, and clicking the Links tab.
Related Reading
__
Still need help? Reach out to support@docsend.com!