Overview
DocSend's Live Present feature allows you to present documents in real-time with a short, personalized URL that can be shared with anyone. You can maintain control over the deck and minimize bandwidth usage, lag, and preserving clarity while leading viewers through content since the feature transmits static documents.
Skipping Ahead
Configure a Presentation URL
Go to your Live Present Settings to choose and customize your live present link.
Click into the Presentation URL text box

Configure your custom presentation URL

Click Save changes

when complete.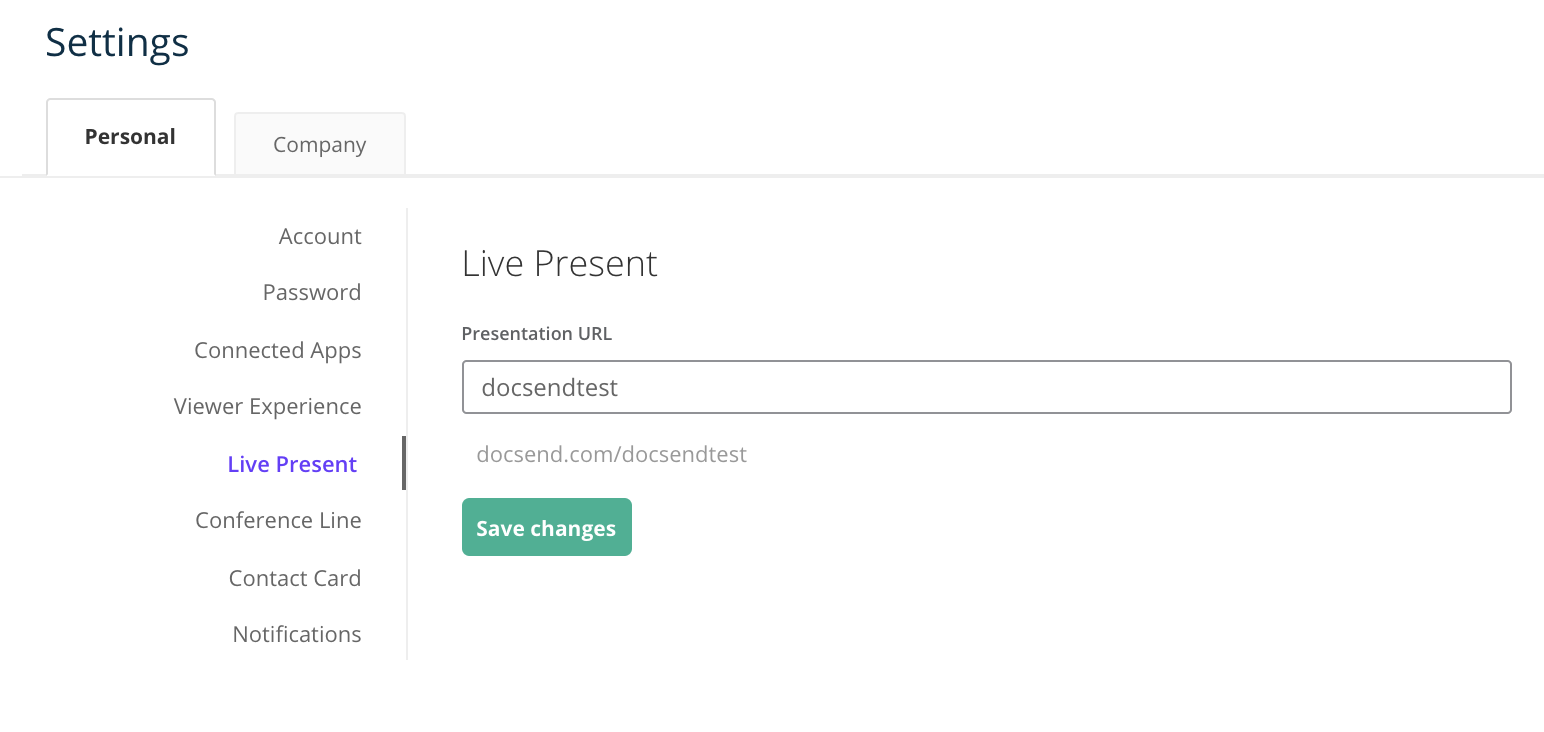 Configure a Conference Line Number (

Enterprise

)
If you are on the Enterprise plan and have a personal conference line number, you can add it to DocSend to give your visitors information on how to contact you during a Live Present. Here's how:
Go to your

Personal Settings page

.

Click on the

Conference Line tab

.

Input your Conference Number and Conference PIN (if applicable).

Click

Save Changes.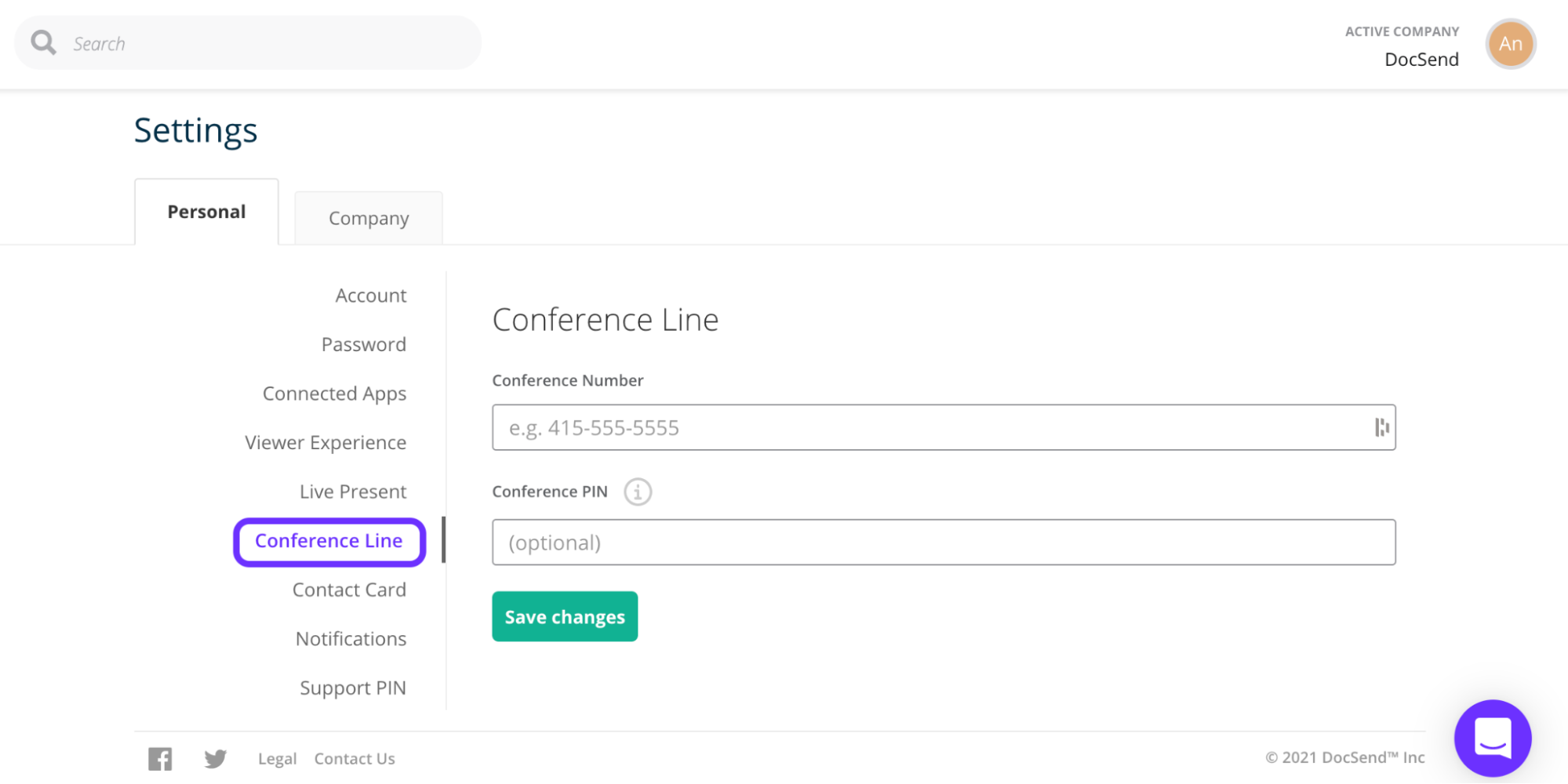 Present a Document
Go to the

Present page

.

In the search bar, locate the document you wish to present. Once located, select it.

Enable/Disable an

access code

if you'd like.

Click Present Now

to start presenting.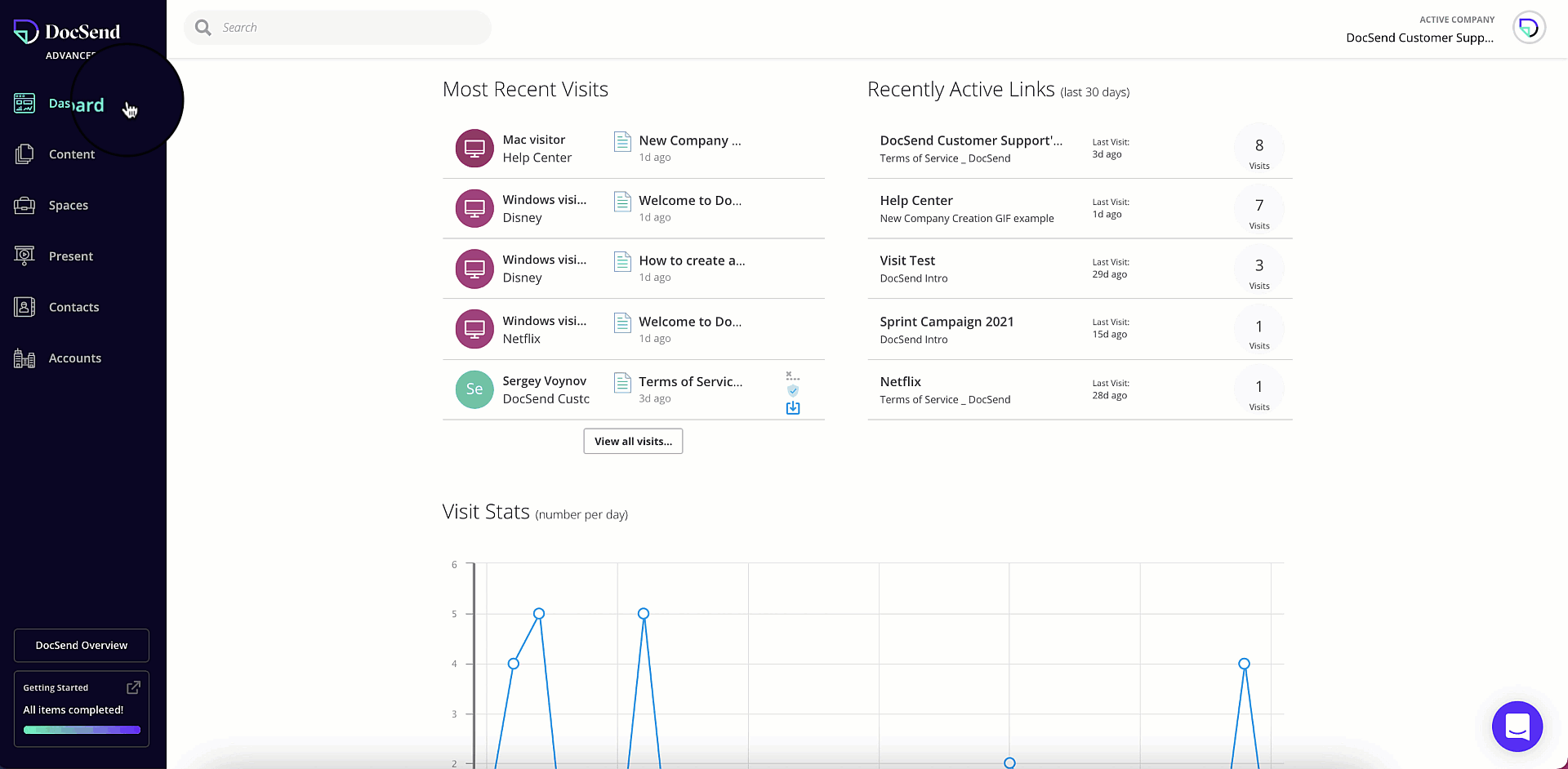 Present a Document from the Document Page
Go to your

Content library

.

Click on the document you wish to present.

Click on the "more options" menu and select

Present

.

Enable/Disable an

access code

if you'd like.

Click Present

Now

to start presenting.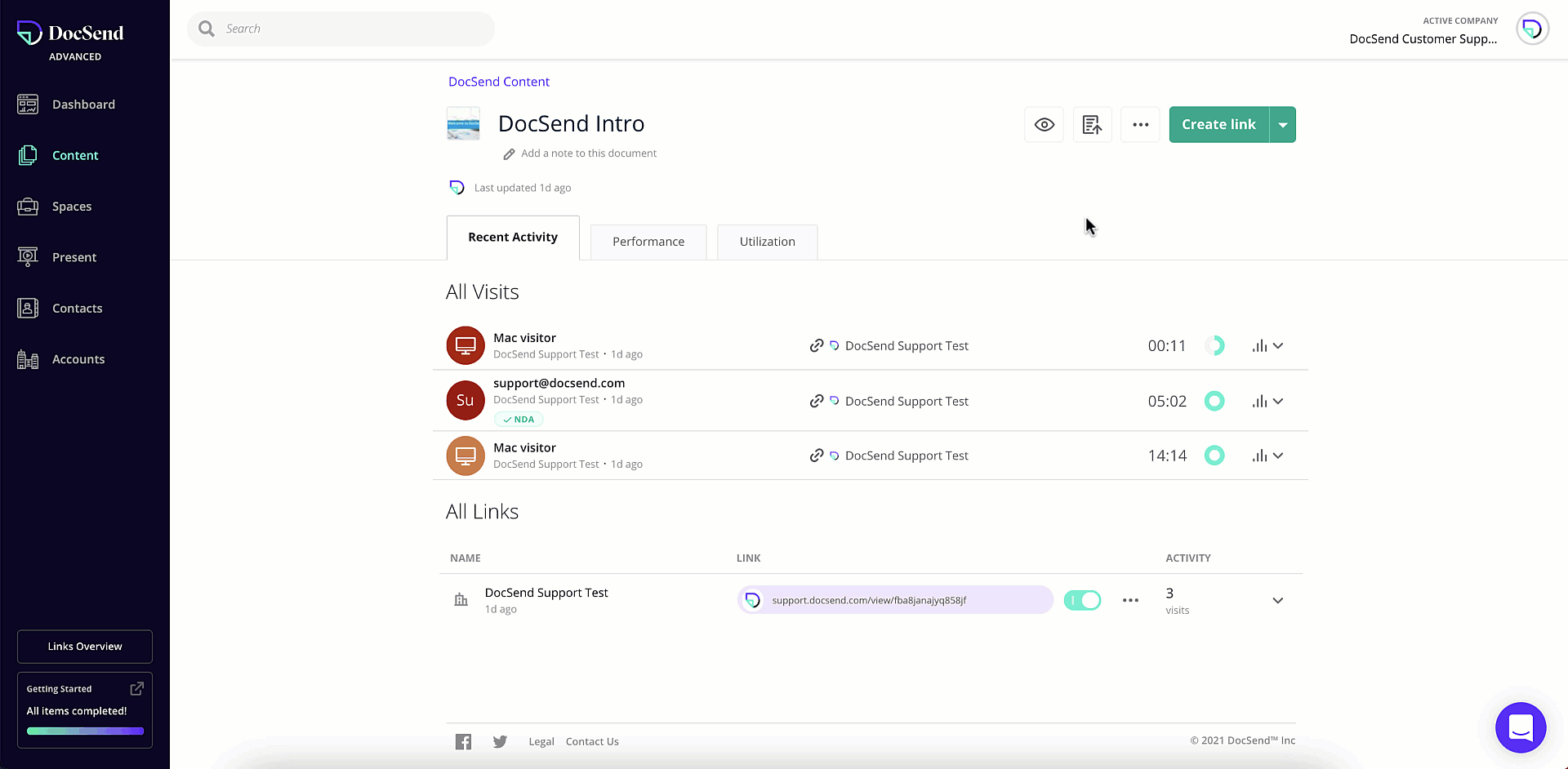 Enable an Access Code
With Live Present, you have the option of enabling a one-time access code that you can send to your viewers that will help add increased security around your presentations. This way, unintended individuals that have your presentation URL can't drop by unannounced.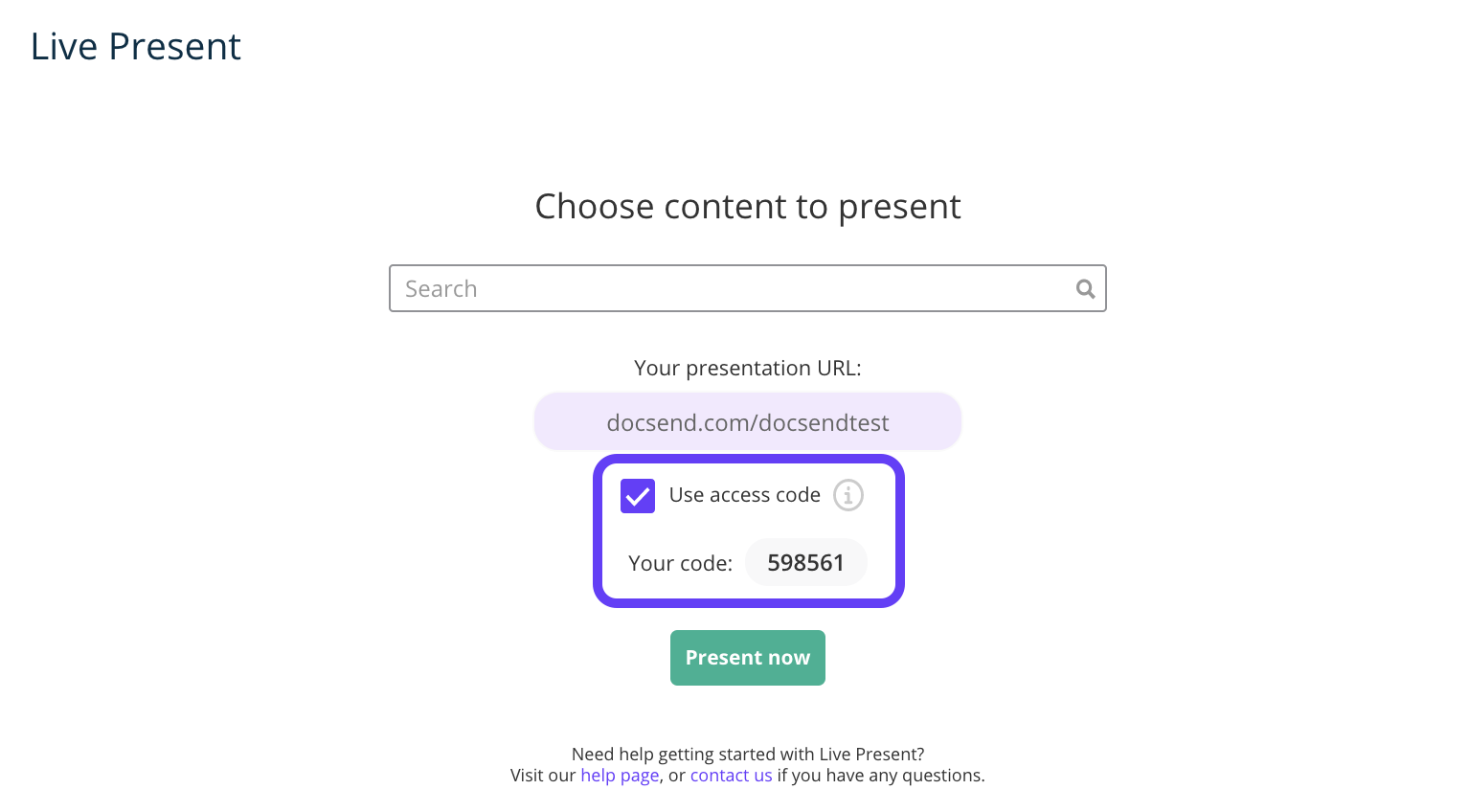 Live Present User Experience
While presenting your content using Live Present, you'll see all of your slides displayed on the left-hand side to make navigation simple. You can also use the arrow keys on your keyboard to navigate quickly.
Change Content
You can change the content you're presenting during a live presentation by clicking the Change Content button in the Live Present toolbar. Search for existing documents from your Content Library and select the next document you'd like to present.

End a Presentation
You can stop a live presentation anytime by clicking the End presentation button located at the top right of the Live Present toolbar. You can also end your presentation outside of the Live Present flow from your DocSend account.
Important: A presentation must be manually ended. Closing your browser will not end the presentation.
Live Present

DocSend Account

Pause a Presentation
If at any point during your presentation you would like to pause the presentation without ending it completely, simply click the pause button. You will see a message noting your presentation is paused and that you can resume whenever you'd like. Your visitor(s) will see your last presented slide until you resume.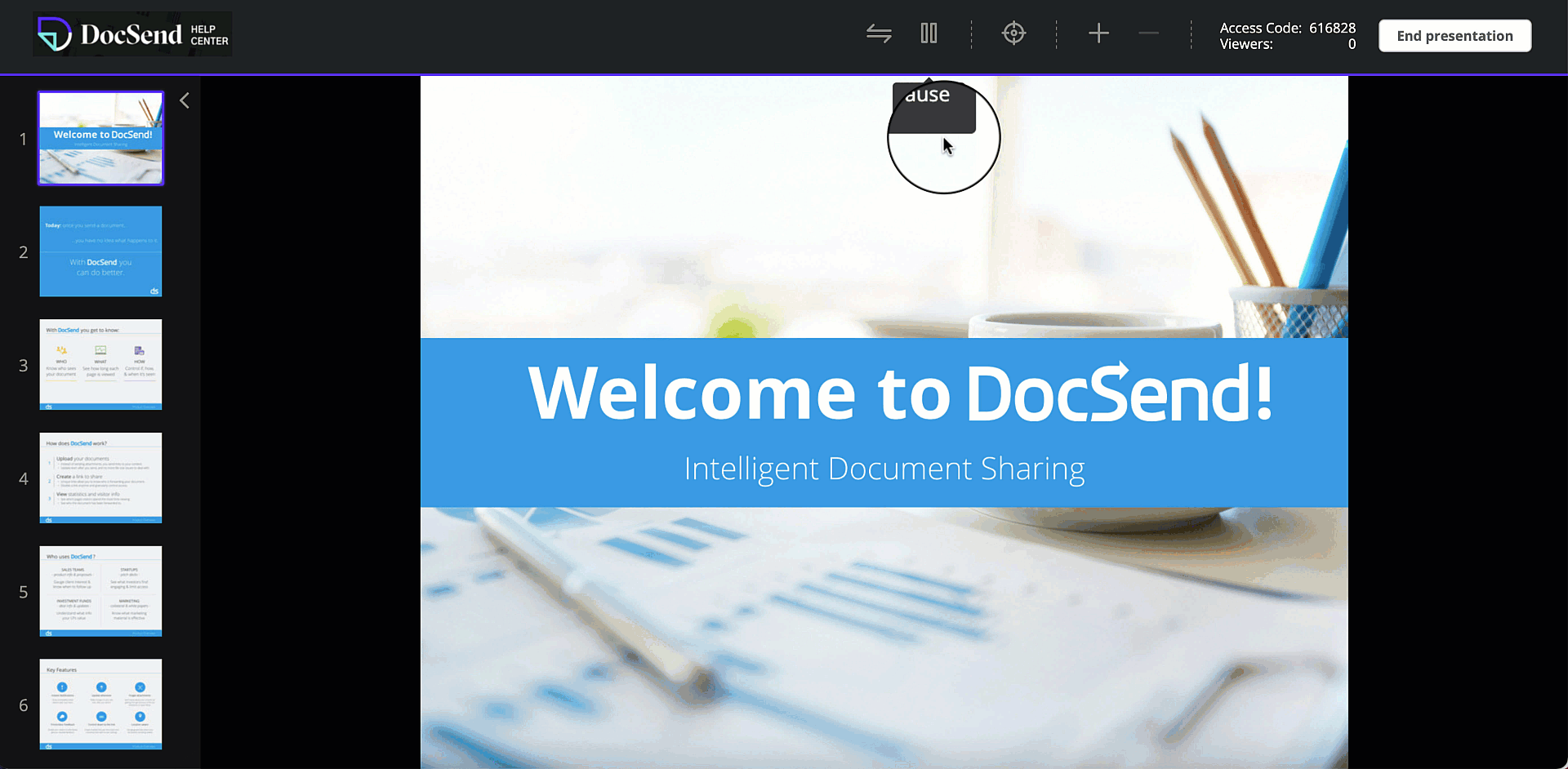 Zooming in on Presentations
In order to get content to a comfortable viewing size, both you and your visitor(s) can zoom in and out using the two zoom icons located on the Live Present toolbar.
Important: Changing your zoomed view does not impact the presenter or any other visitors' viewing experience.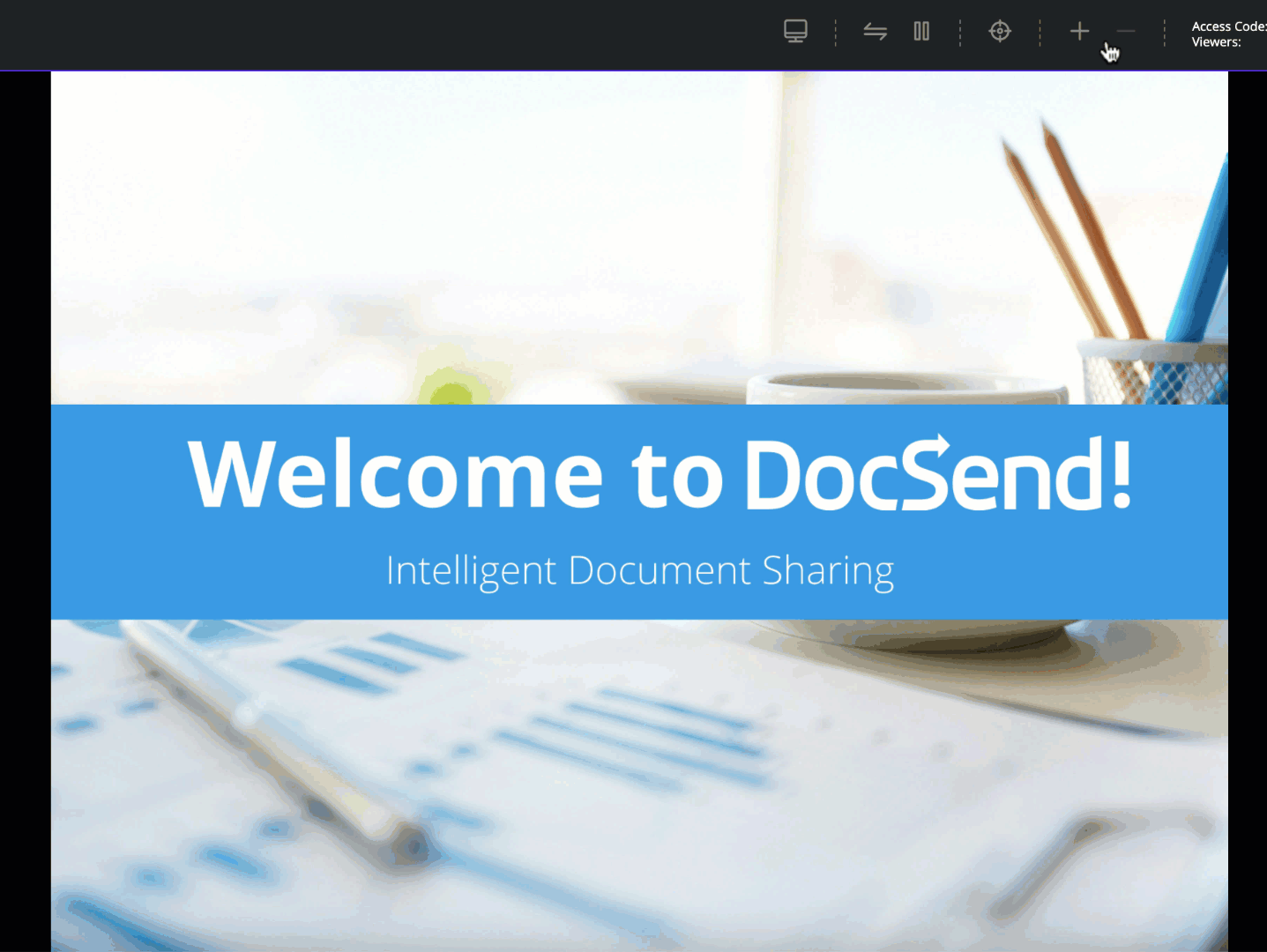 Laser Pointer
While presenting, you can click on the laser pointer icon on the Live Present toolbar to enable the laser pointer. The laser pointer is a great way to bring attention to specific parts of your slide while you walk your viewer(s) through your document.
Note: The laser pointer will match the branding color that's configured in your branding settings.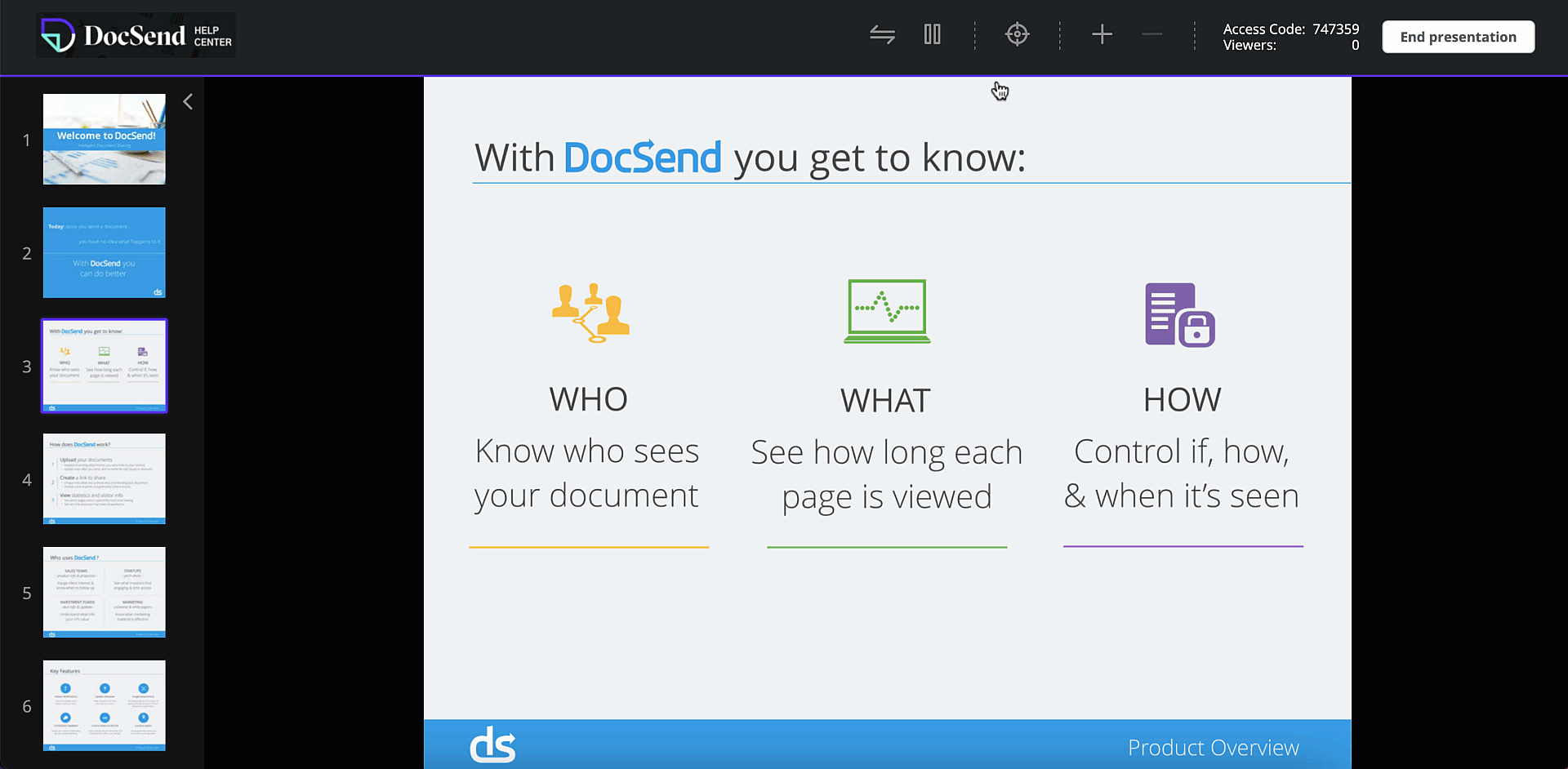 Viewer Count
While presenting, you'll see a viewer count on the Live Present toolbar that denotes how many viewers are currently watching your live presentation.

Videos in Live Presentations
During a live presentation, your hyperlinked video will not automatically play for a viewer. As the presenter, you'll need to advise your visitor to click play on the video so they can follow along.
Viewer Experience
Access Code
If you've enabled an access code, here's how your visitor will be prompted when they visit your presentation URL.

Conference Line Number (

Enterprise

)
After adding your conference line, and while you're giving a Live presentation, your visitor(s) will see a phone icon located on the Live Present banner with dial-in information.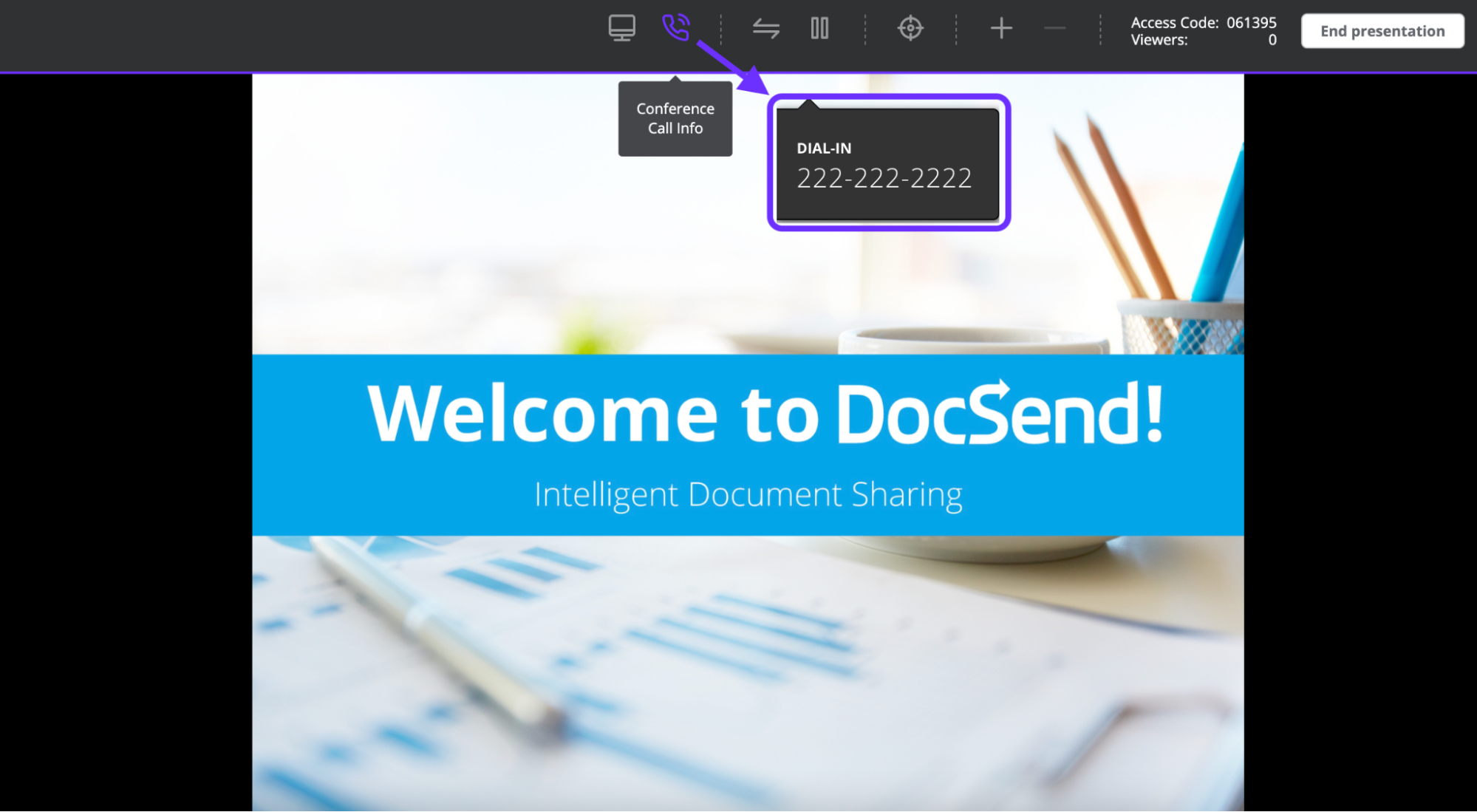 Live Present End
When you end your presentation, your viewers will see a prompt stating the presentation has ended.

Things to Consider
Your visitors will be able to see any custom branding settings configured.

Screen sharing is no longer a supported DocSend feature.
Related Reading
__
Still need help? Reach out to support@docsend.com!