Overview
One-click NDA is designed to provide a fast, simple process for sharing and executing a Non-Disclosure Agreement (NDA). When enabled, this feature helps to ensure your shared content is legally binding and only viewable after a visitor has agreed to the terms of your NDA as well as DocSend's Terms of Service.
Important: Visitors are legally required to agree to use electronic records and signatures with DocSend's Terms of Service and to your Non-Disclosure Agreement terms before accessing an NDA-protected document.
Skipping Ahead
Add or Remove a Company NDA
If you're an Owner or Admin, you can set an NDA for your company by directly uploading the document or selecting an existing document from the Content library. On the Company NDA Settings page, you can upload your document directly by clicking Upload.
Alternatively, you can choose an existing signable document to set as the NDA by clicking Change and searching for the document.
Important to note:
Currently, One-click NDA is not compatible with DocSend's new, custom eSignature fields.

Only legacy signable documents that have an appended signature page can be set as the NDA. Adding custom eSignature fields will void the document as well.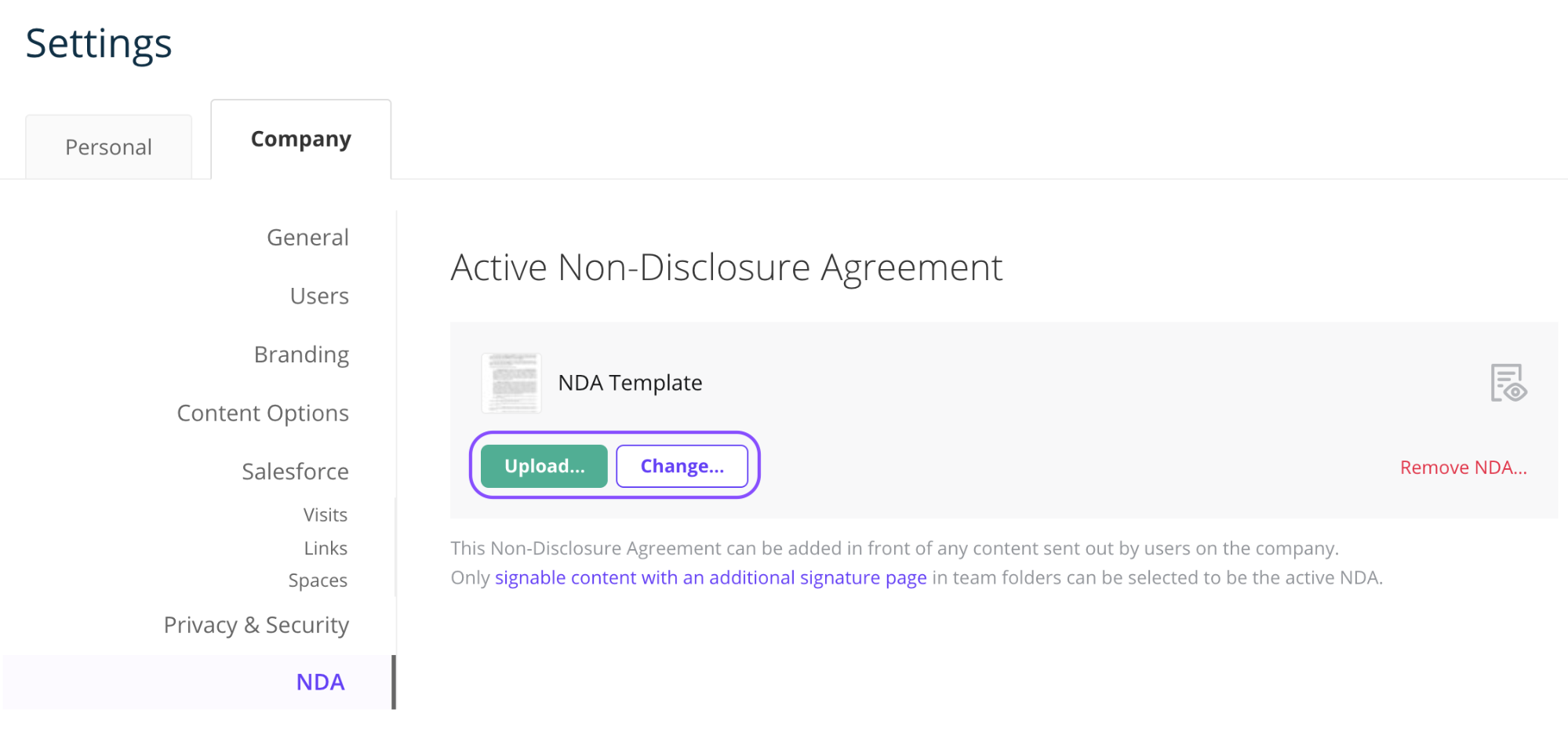 You can also remove the NDA completely by selecting Remove NDA. Note: any links with an NDA required will no longer require an NDA to be signed when visited.

The NDA document must be accessible to the Owner and Admins; the document should be uploaded into a team folder instead of a personal folder.

The active NDA document is searchable and marked with an "ACTIVE NDA" tag.
Use an NDA in Link Settings
Once the NDA is configured, you can select Require NDA to view in the link settings. When enabled, the visitor must enter their name, email and agree to your NDA before viewing your shared content.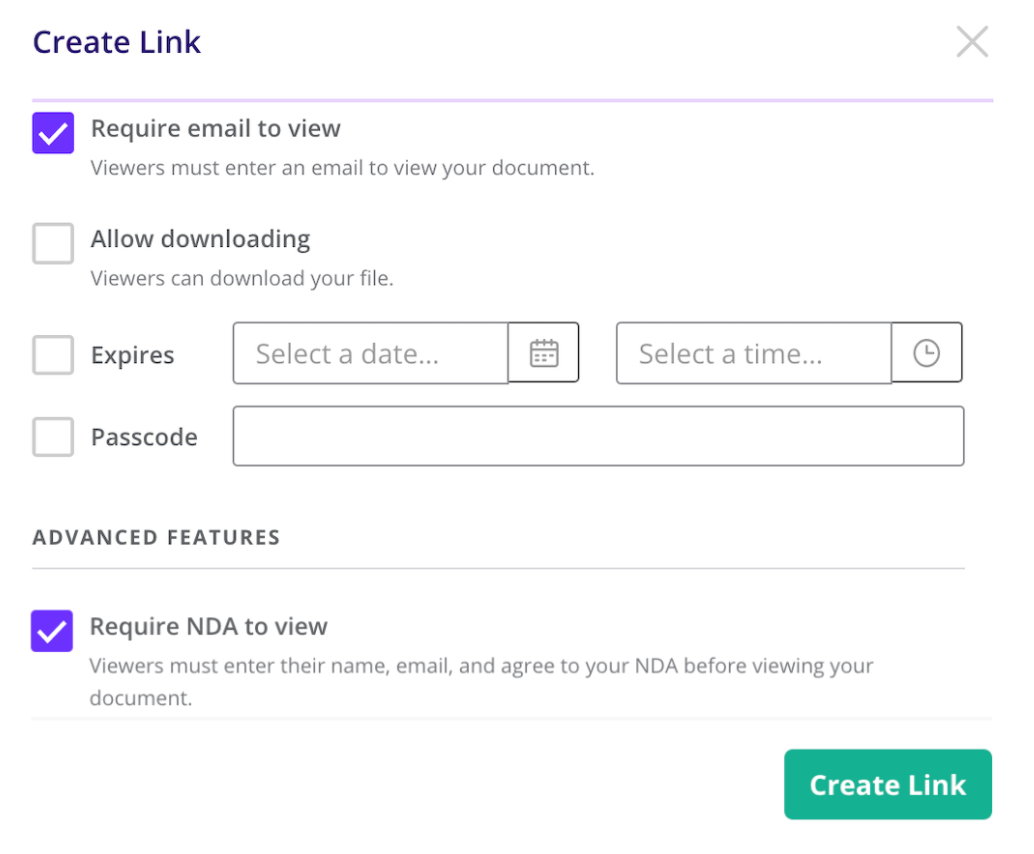 By default, the

Require email to view

link setting is also enabled as this requires the visitor to enter the email as part of the NDA agreement process.

If an NDA document is not configured, the NDA link option will not be accessible. An Owner or Admin will need to configure the NDA in the Company NDA Settings.

If the active NDA document is removed, all links that require NDA will still have the NDA link option enabled, but visitors will not be prompted to sign an NDA. The visitor will still be asked to enter their name and email in order to view the shared content.
Visitor Experience
Visitors will be asked to provide the following before gaining access to your shared content:
Name

Email

Download the NDA

Agree to use electronic records and signatures and DocSend's

Terms of Service

Agree to your NDA terms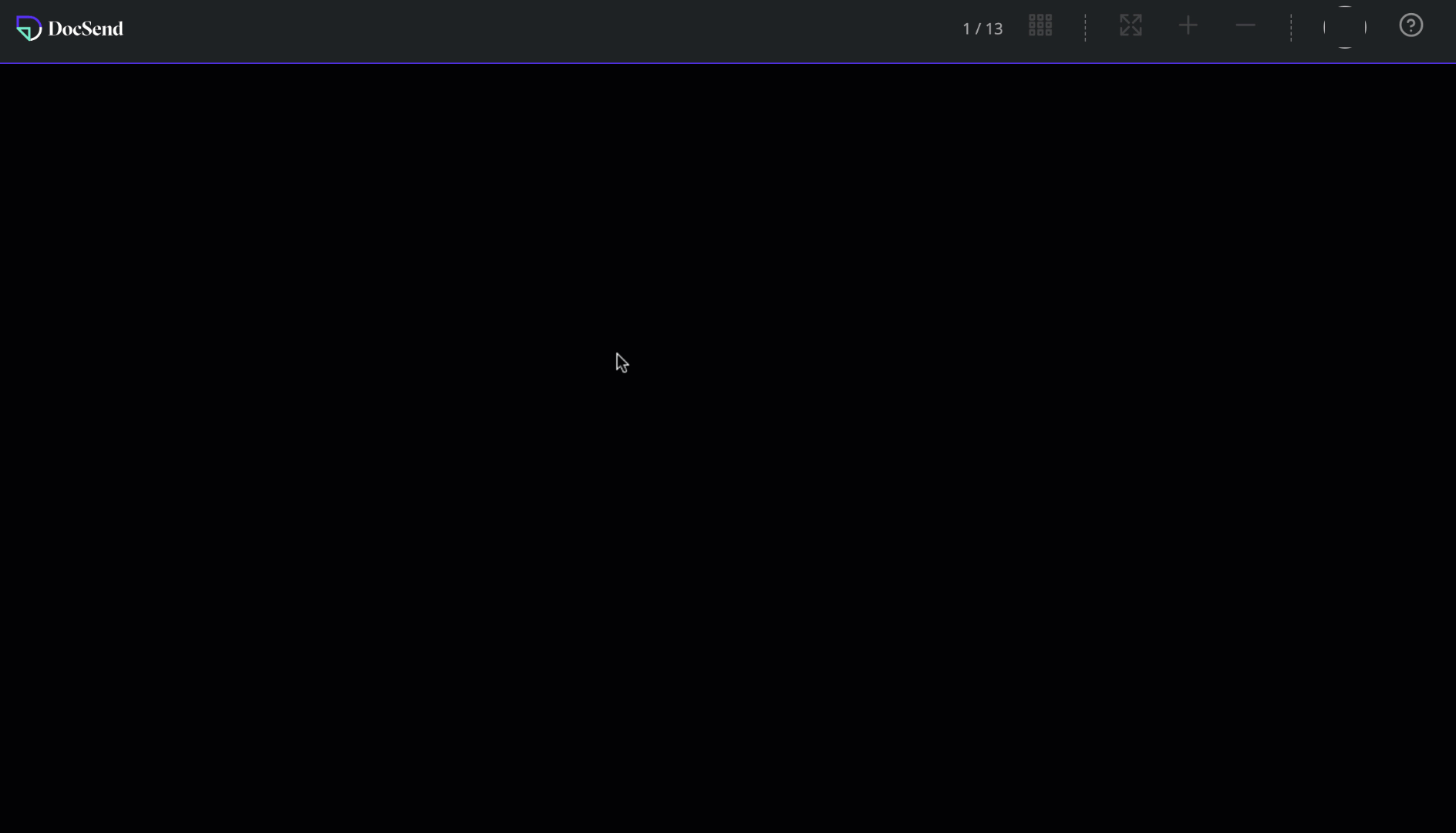 DocSend Certificate
Once signed, both you and the visitor will be emailed a zip file containing a signed copy of the document and a certificate detailed with an audit trail of all the events leading to the signature.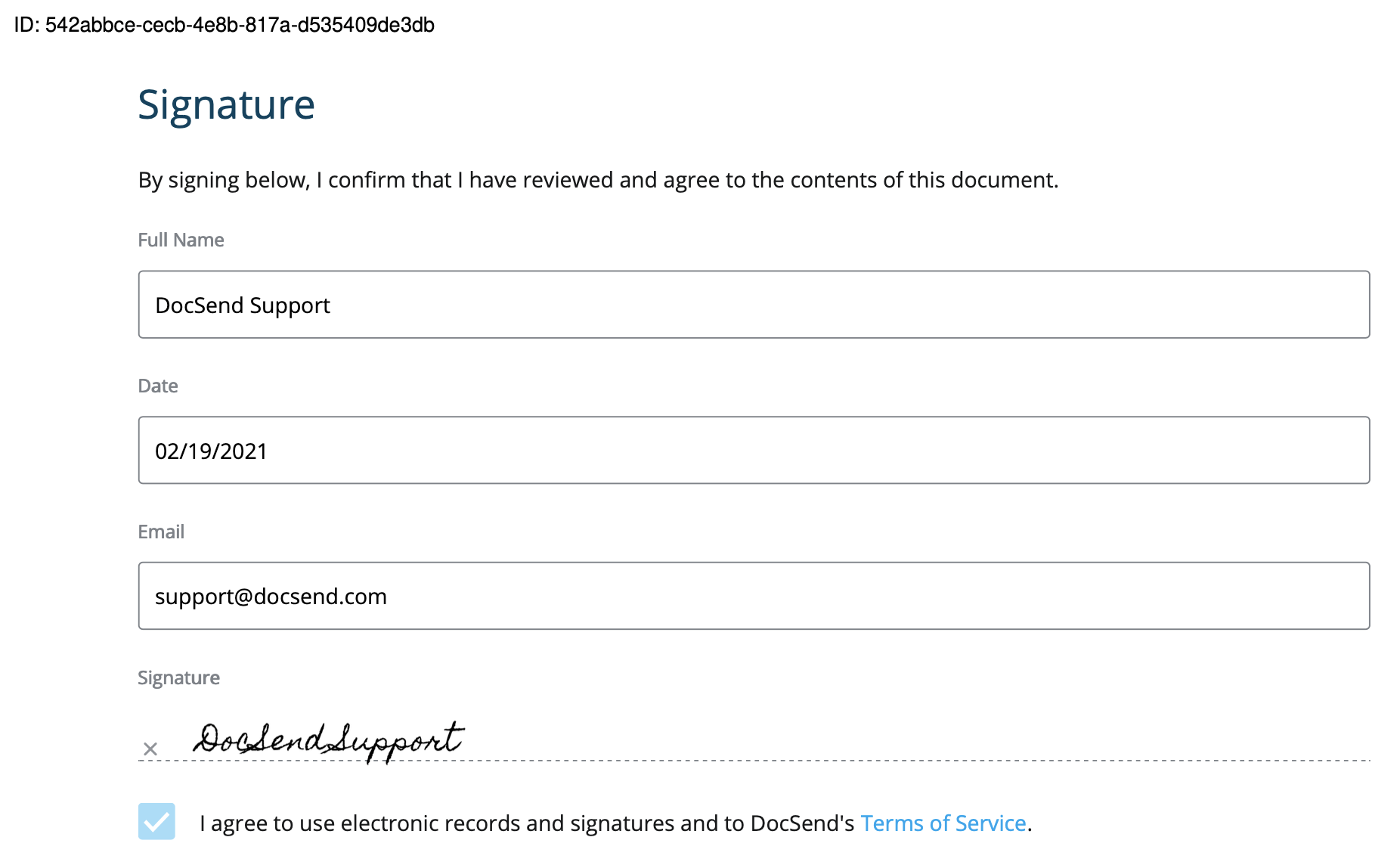 The certificate will include the following information:
Document name: The name of the NDA document
Document ID

: A unique id for the signed document and matching certificate

Original checksum

: A hash of the original document's location

Final checksum:

A hash of the signed document's location

Page count

: Number of pages in the document

Pages signed

: Number of pages the visitor signed

Signature

: An image of the visitor's signature
The audit trail will include a UTC timestamp of when the event occurred. The events captured include:
Visitor information entered

: Once the visitor has entered their information in the email/name prompt.

Includes: visitor name, visitor email, IP address, location, user agent, whether the name or email was updated

Visitor authorization

: Once the visitor has been authorized to view the document (i.e. has entered the correct password, is on the allowed viewer list, has verified their email address)

Includes: authorizations passed, visitor name, visitor email, IP address, location, user agent

.

If a link or Space requires NDA to view, "NDA downloaded" will be added as an additional authorization method to the list of authorizations passed.

Email Authentication email sent
Email verified

: When the visitor returns to DocSend with a valid email authentication link.

Includes: IP address, location, user agent

Document signed

Includes: Visitor name, visitor email, IP address, location, user agent

Document completed

: DocSend generated the signed PDF.

Important

: Two additional events are unique to the NDA signature and will always be included in the audit trail of every signed NDA document

Document downloaded

: When the visitor clicks the "Download Non-Disclosure Agreement" button or clicks the link to "Non-Disclosure Agreement" in the checkbox text.

Includes: IP address, location, user agent

Terms agreed

: When the visitor checks the checkboxes for agreeing to use electronic records and signatures, DocSend's Terms of Service, and the NDA terms.

Includes: Visitor name, visitor email, IP address, location, user agent
Important: There can be multiple instances of all events except for the signed and completed events. Events will be merged by email address and document, so if the visitor is using the same email address on multiple devices for the same active NDA document, those events will be grouped in one audit trail.
Track Signed NDAs
You can see who's signed an NDA in the Recent Activity tab of the document, the Accounts page, and the Contacts page. You can download a copy of the signed NDA from any of these pages. If notifications are enabled, you can also receive visit notifications when a visitor views and signs an NDA for a document.

Important: Visitors who have signed the active NDA document will have a green NDA tag next to their contact information. A gray NDA tag indicates the visitor has signed a previous, inactive version of the NDA and will be prompted to sign again upon their next visit.
What happens if I downgrade from Advanced?
Downgrading from Advanced will disable all links utilizing the NDA. You can remove the NDA from the Company NDA Settings before downgrading; however, all links with the NDA option enabled will still be deactivated.
To reactivate disabled links, you can update the link settings any time and uncheck the NDA option. Alternatively, upgrading back to Advanced or Enterprise will also reactivate the links.
Things to Consider
DocSend currently only supports

one

NDA per company. You can update the NDA to a new version at any time, and all NDA-enabled links will update automatically.

One-click NDA supports only

one

signature at this time.

NDAs are signed at the contact level, not the account/company level. By signing an NDA, an individual is only signing on behalf of themselves and not the company.

NDA signatures are visible on the document detail page for NDA-enabled links.

NDAs can be created and signed on most mobile devices.

Currently, DocSend does not sync NDA data to Salesforce.

DocSend is compliant with UETA and ESIGN regulations, which are specific to the US only. We recommend you seek additional legal advice to see if One-click NDA will work for your organization.

Trialing users have a 50 signature limit across NDA and signable documents.

The document configured as an NDA does not support Watermarking.
Related Reading
__
Still need help? Reach out to support@docsend.com!