Using Mail Merge in DocSend
If you've ever run an email drip campaign or sent mass personalized messages, you are probably familiar with mail merge. You can use DocSend Mail Merge Links in your message templates, which allows you to use a single link and track engagement uniquely for each recipient.
To create a Mail Merge Link, simply append the URL parameter ?email= followed by a merge field for the recipient's email address to the end of any DocSend link. DocSend listens for the url parameter and attributes the visit to the email address after the =
Available Merge tags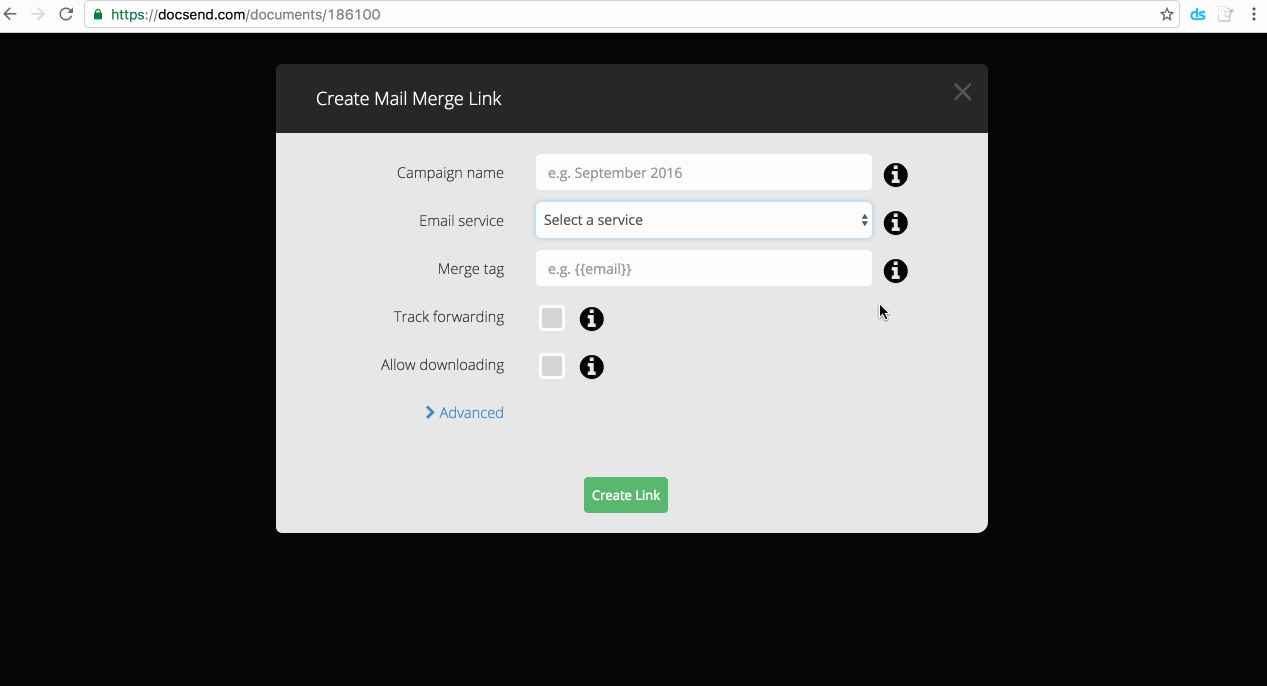 DocSend comes prebuilt with a number of different merge options such as:
Salesloft
Outreach
PersistIQ
Yesware
Toutapp
Groove
Apollo
Marketo
Pardot
Hubspot
MailChimp


For services not listed, select Other

and input the customer merge tag for your service of choice. DocSend accommodates all other services under this option. Users can select and input the service's

Merge Tag.


Heres how it works
To create a Mail Merge Link for any of your documents, click on the More arrow on any document page and select the Mail Merge Link option.

From here, name the Campaign associated with your blast and select the Email service you'll be using with the link and select your link settings. Mail merge links have the ability to track forwarding if not recognized.



When you're done configuring your link options, then click Create Link. You can copy the link any time from the All links section at the bottom of your document's page.



After you've copied your link, paste it directly into your marketing automation tool of choice and it will do the rest of the work for you by substituting the email field parameter with the emails in your blast. We recommend creating a hyperlink in your email with your Mail Merge Link, that way the full link will remain hidden from your recipient.

Related Articles