Available on: Standard Advanced Enterprise
Saving Space time
Duplicating Spaces can help users quickly replicate an existing Space and create templates to save you and your team time. The option will allow you to copy all documents, sections, Space folders, header and layout options into a new Space. This can be done on both the Space edit view or on the Space list page. Here's how it works:
Duplicating in the Space Edit View

Select an existing Space or create a new one




Tip: We recommend creating a template Space to use as a base that includes the documents you send most frequently.


Click the Duplicate Space icon in the Space actions bar


Name your duplicated Space and then click Duplicate


Duplicating on the Space List page
On the Space List page, click the "more" icon (three dots) next to the Space you want to duplicate

Click Duplicate Space



Name your duplicated Space and then click Duplicate

Personal Content
Users will not be able to duplicate personal documents or content they do not have access to when duplicating a Space. Any content that cannot be duplicated due to content permissions will then prompt a message letting the user know that not all content was copied over. Granting permission to the content or moving the document into a shared team folder will allow you to copy all content over without the warning.
Note: Collaborators of a Space will not be copied over.

Troubleshooting Duplicating Spaces

Duplicating each Space may take a couple of minutes to appear on your Space list and is dependent on the size of the Space; the larger the space, the more time required to duplicate. Users will be prompted and notified as a Space is being copied.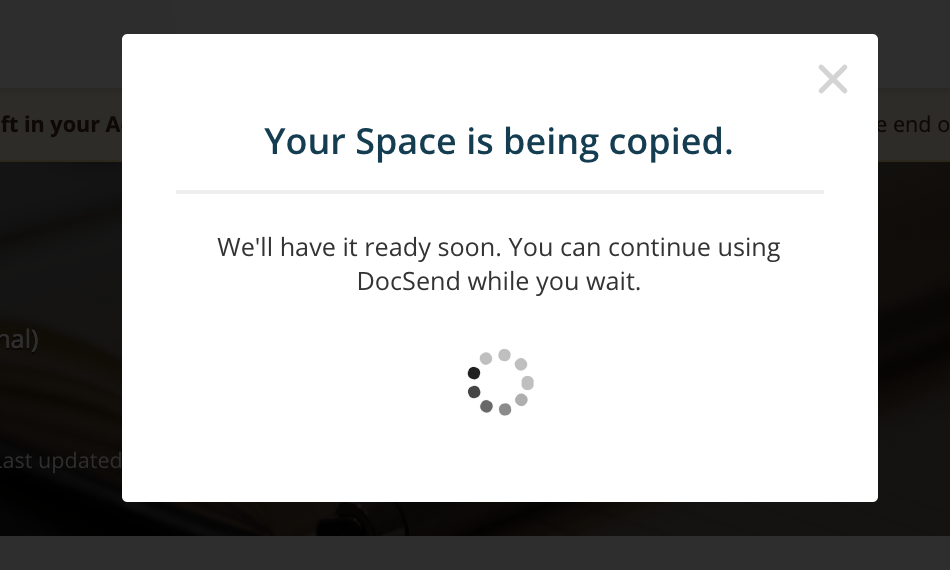 Related Articles:
Next Steps: Learn how to collaborate within Spaces