Overview
Now that you've created a Space, let's add some customization to fit your campaign or prospect needs! Spaces can be customized to include:
Separate

Space sections

that help organize content for easy viewing.

Your

prospect's

company logo

(or your own) to add even more professional polish.

A

background image

to enrich the viewing experience.
Ready to customize your Spaces? Check out our tips and recommendations below.
Skipping Ahead
Title and Subtitles
Titles are one of the main ways to identify and differentiate your Spaces. A Space title can have a maximum of 100 characters and can be edited anytime by clicking into the title field. Subtitles are a great way to provide more details about the Space!

Header Options
There are a few header options that can help you, other team members, and your visitors understand more about the content being shared. You can click on the Header Options icon to add a background image and logo, as well as change the title, subtitle, and logo alignment. You can also customize the font, color, outline color, and size of your header text. Alternatively, you can hide the header text or outline color completely.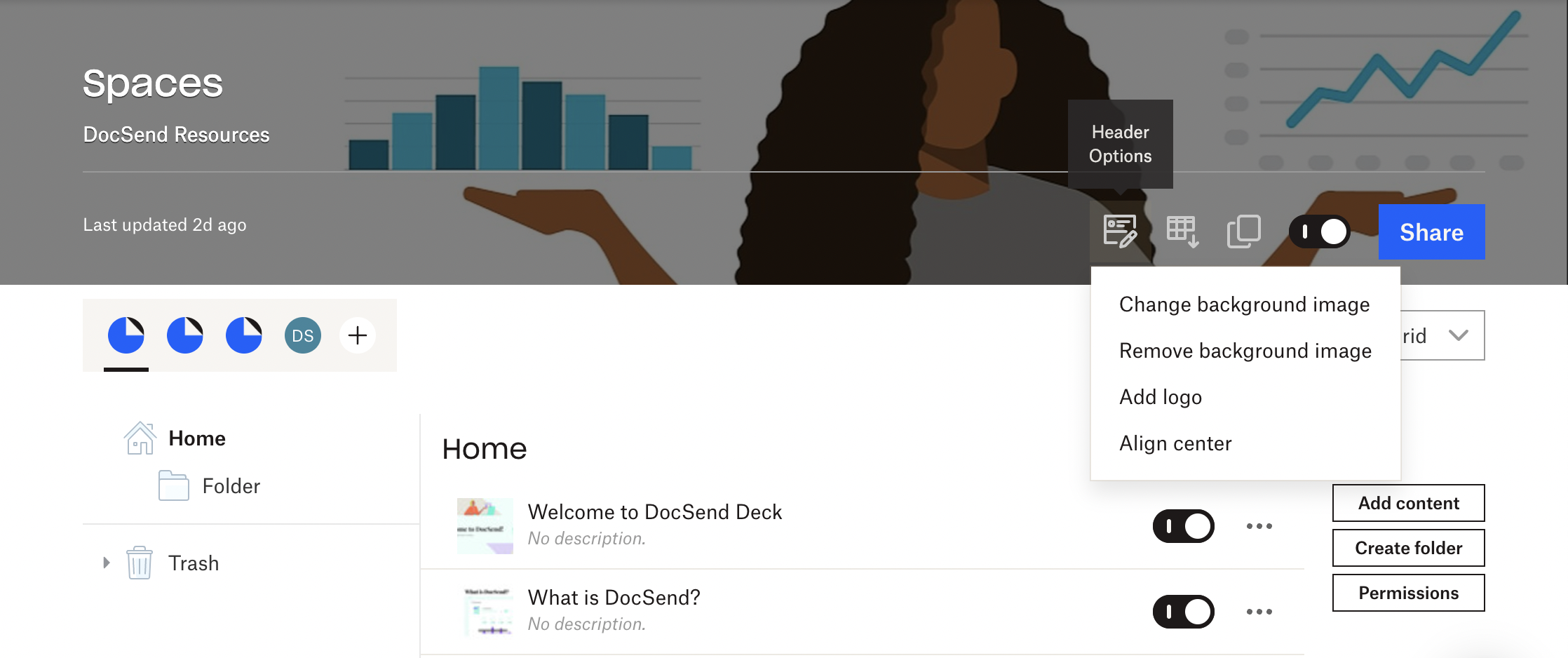 Background Image
When a new Space is created, a default background image is selected randomly from a curated set of images. This default image can be removed or changed anytime from the Header Options menu. If the header image is removed, the header will appear as a white background for your visitors.
Here are some things to consider when adding a background image:
Minimum recommended resolution (best for most HD screens): 1920 x 480 (4:1)

Maximum recommended resolution (best on 4K screens): 3840 x 960 (4:1)

The image will scale with screen width and have a fixed height which might mean the entire image will not always be visible on the landing page.

If the screen is very wide, we will start cropping from the top and bottom edges. If the screen is narrow, we'll crop from the left and right edges.

If the image gets cropped, we recommend that any content that you want always visible be in the center of the image.
Space Logo
The logo will show up on top of the background image and above the Space title. Logos must have a minimum height of 80px. If the logo does not meet this minimum, a warning message will appear. You can change or remove the logo anytime from the Header Options menu.
Content Layout
You can also customize the layout of your content for better organization and easy viewing!
Space Sections
Create sections to help group or separate your content–just click Create section to start! By default, new sections are named "Untitled Section" but can be renamed by clicking into the title field.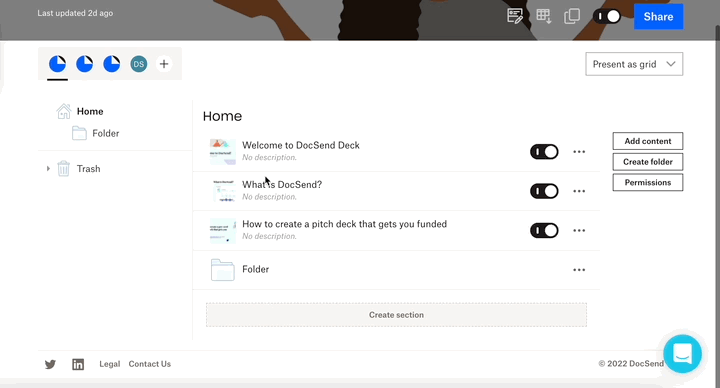 You can add new content to the section, move the position of the section, and delete a section completely by expanding the "more options" menu. Content and the sections themselves can also be moved by simply dragging and dropping into the desired location.
Here are some things to consider when creating a section:
Content must be uploaded in the Space before you can add a section.

Space section titles cannot be left blank and have a 100 character limit.

Each Space can have up to 100 sections.

Deleting a section will remove the section header and move the content into the uncategorized section of the Space.
Content View
Content can be viewed in grid or list mode. You can toggle between the two modes anytime from the content view settings menu here: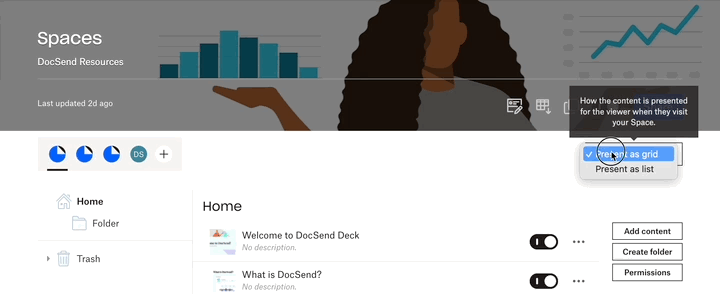 Note: Currently, the grid or list mode will only reflect on the visitors' end. To preview what this looks like, navigate to the links page by clicking Share and then clicking the Preview icon next to a link.
Grid View: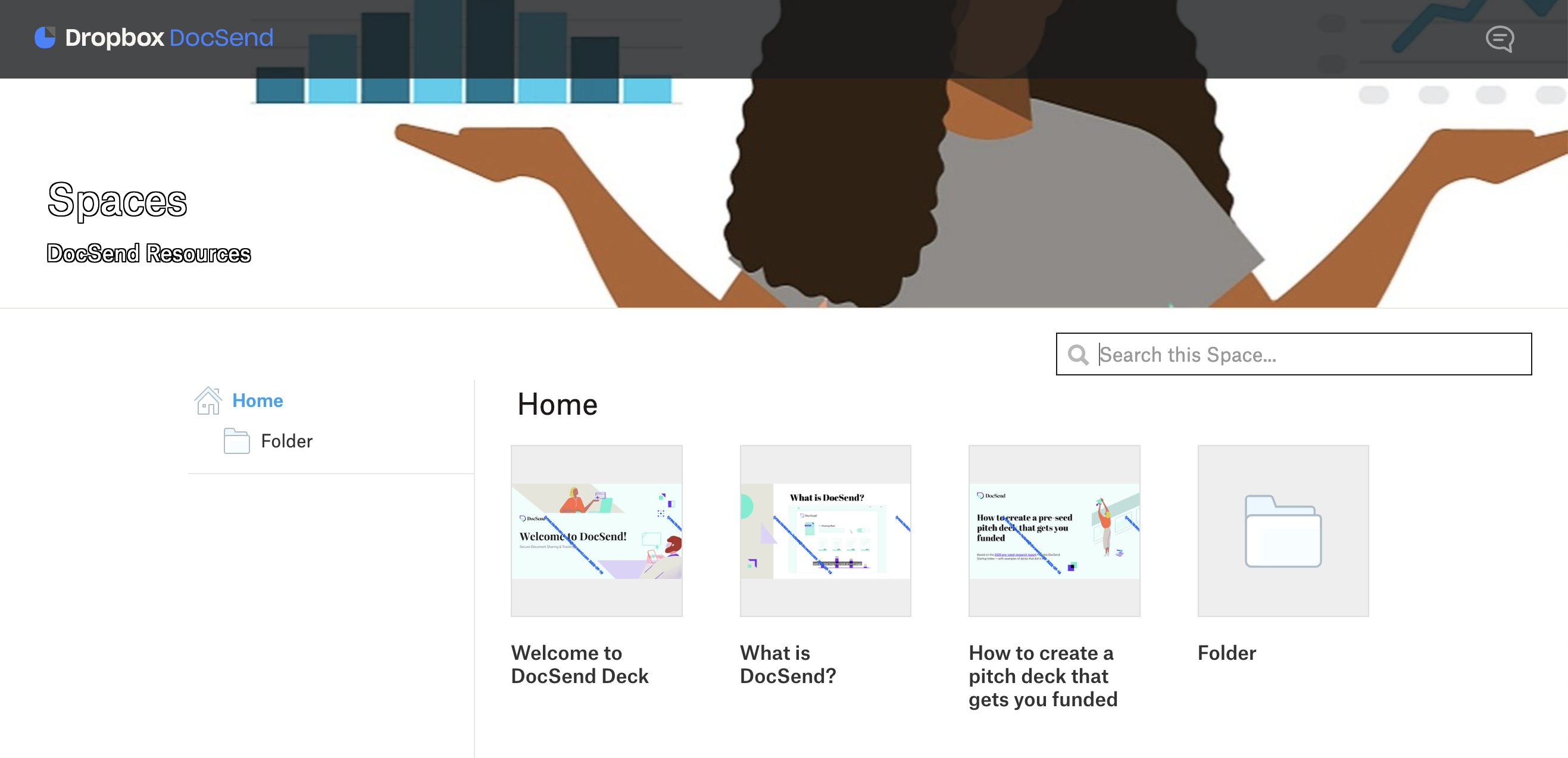 List View: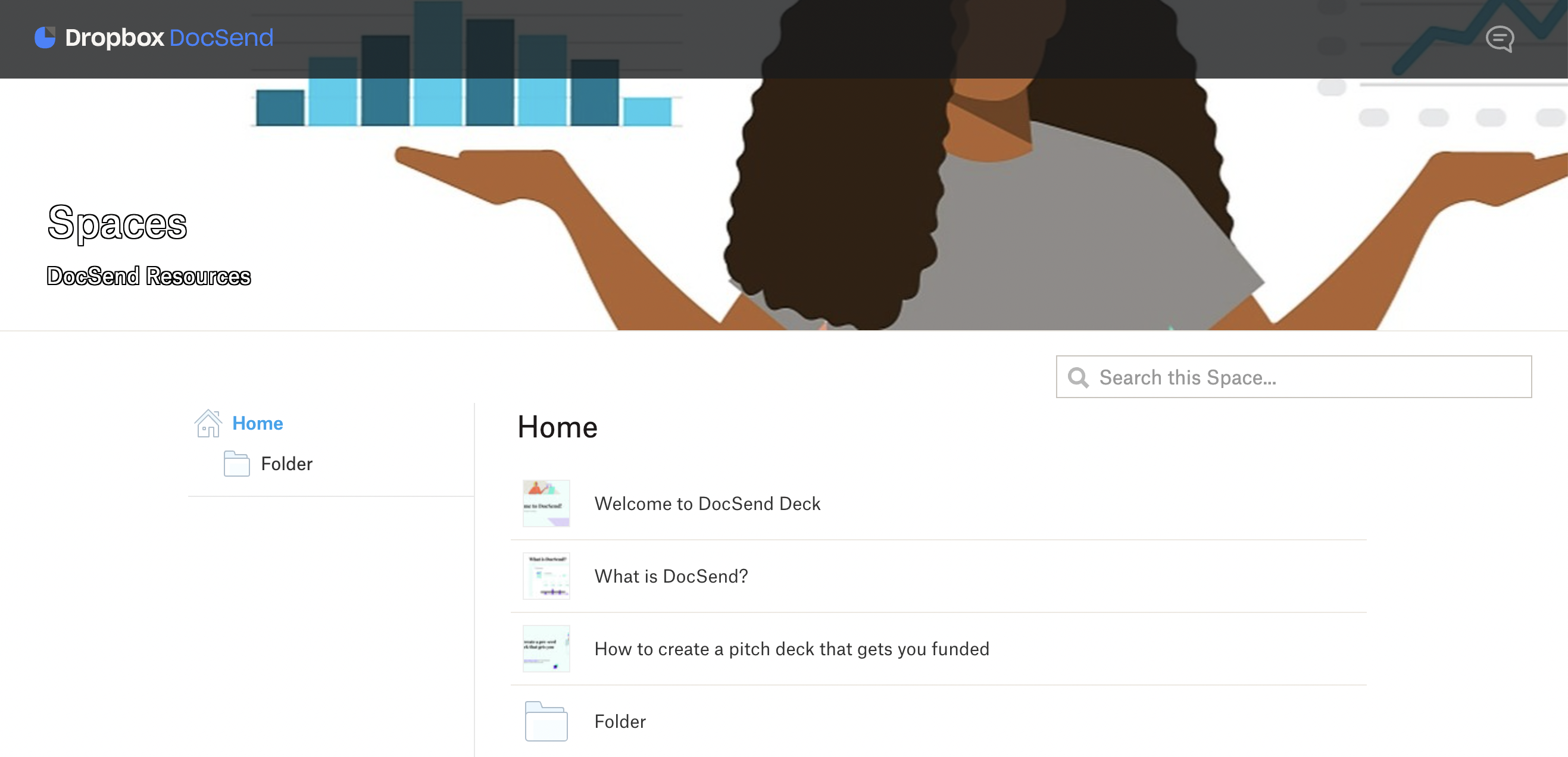 Content Descriptions
You can add a brief description to give your visitors a better understanding of what is being shared. To add a description to your Space content, expand the "more options" menu and select Edit Description. Each description has a 200 character limit and can be edited and removed completely any time.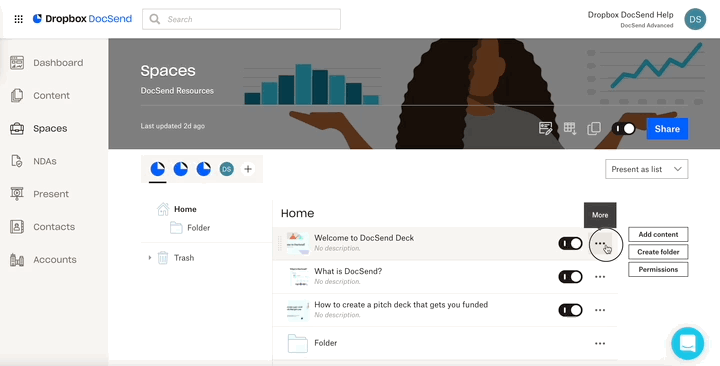 Related Reading
__
Still need help? Reach out to support@docsend.com!