As an Enterprise Admin or Owner, you have the option to use DocSend's custom Salesforce Activity field mapping functionality, which allows you to run sophisticated Salesforce reports on content performance and utilization. Note that usage of this feature requires Salesforce Professional or higher.
Enabling Salesforce Synchronization Within DocSend
As a first step, you can enable the synchronization by heading into the Settings menu within your DocSend account and selecting the "Company" tab and then "Salesforce" from the menu on the left.
There are three types of DocSend events that can be logged into Salesforce:
DocSend Visits: These occur when a DocSend link is clicked and the corresponding document viewed. This data is useful for understanding how viewers are interacting with your content.
DocSend Link Creations: These occur when a new link for a piece of DocSend content is generated by a DocSend user. This data is typically useful for tracking user engagement, as well as the overall level of engagement for a given account within DocSend.
DocSend Space Creations: These occur when a new DocSend Space is created by a DocSend user, and this data is typically useful for tracking user engagement.
 You can enable all or only a subset of these activities by clicking the appropriate section in the Salesforce menu, and checking off "Sync Visits," "Sync link creations," or "Sync space creations."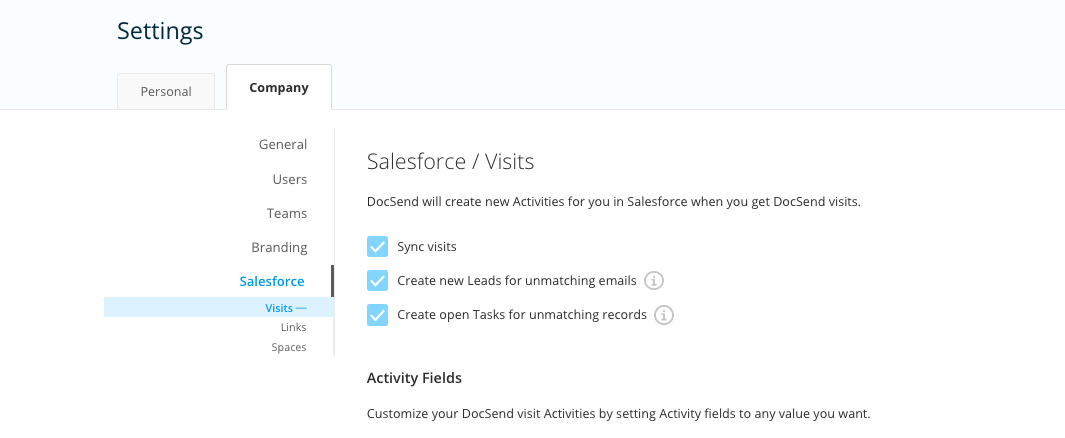 Note that once enabled, no data will be synced into Salesforce until individual DocSend users connect their Salesforce accounts. This can be done by having each user to head into the
Setting Up DocSend Activity Fields in Salesforce

Connecting Salesforce
Go to your Connected Apps tab to connect your DocSend account to Salesforce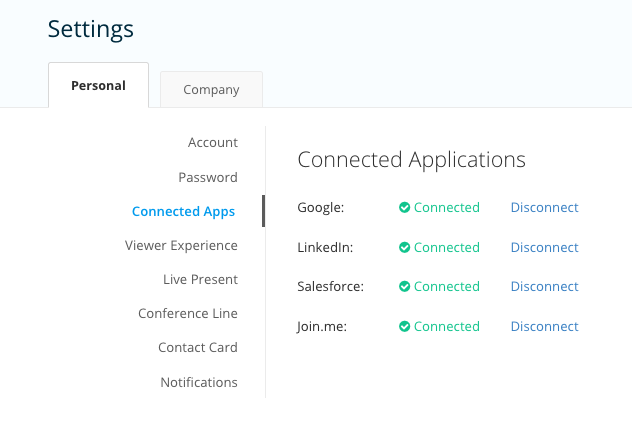 Also available on the Integrations page and also visible as a desktop notification to connect your Salesforce account.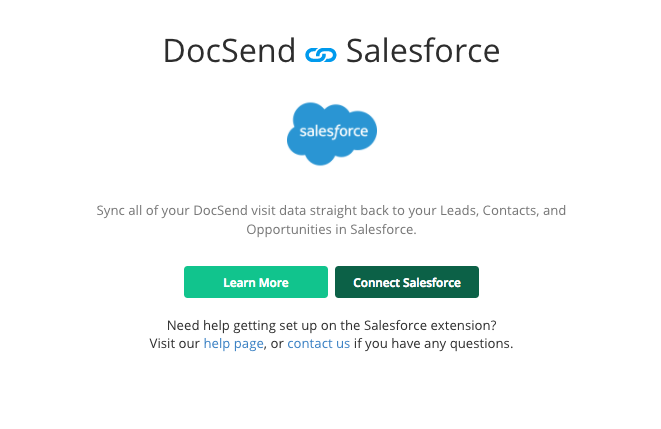 Creating a new Custom Field
The next stage in the process involves creating custom fields within Salesforce that will store the DocSend data. The fields that you create will be contingent on the types of data that you elected to synchronize in the previous step. If say, for example, you do not want to synchronize Link Creation and Space Creation data, then you can elect to not create the requisite custom fields.
To map Activity Fields in Salesforce, go to your Salesforce Setup page and search for Activity Custom Fields.


Select "New" to create a new activity field.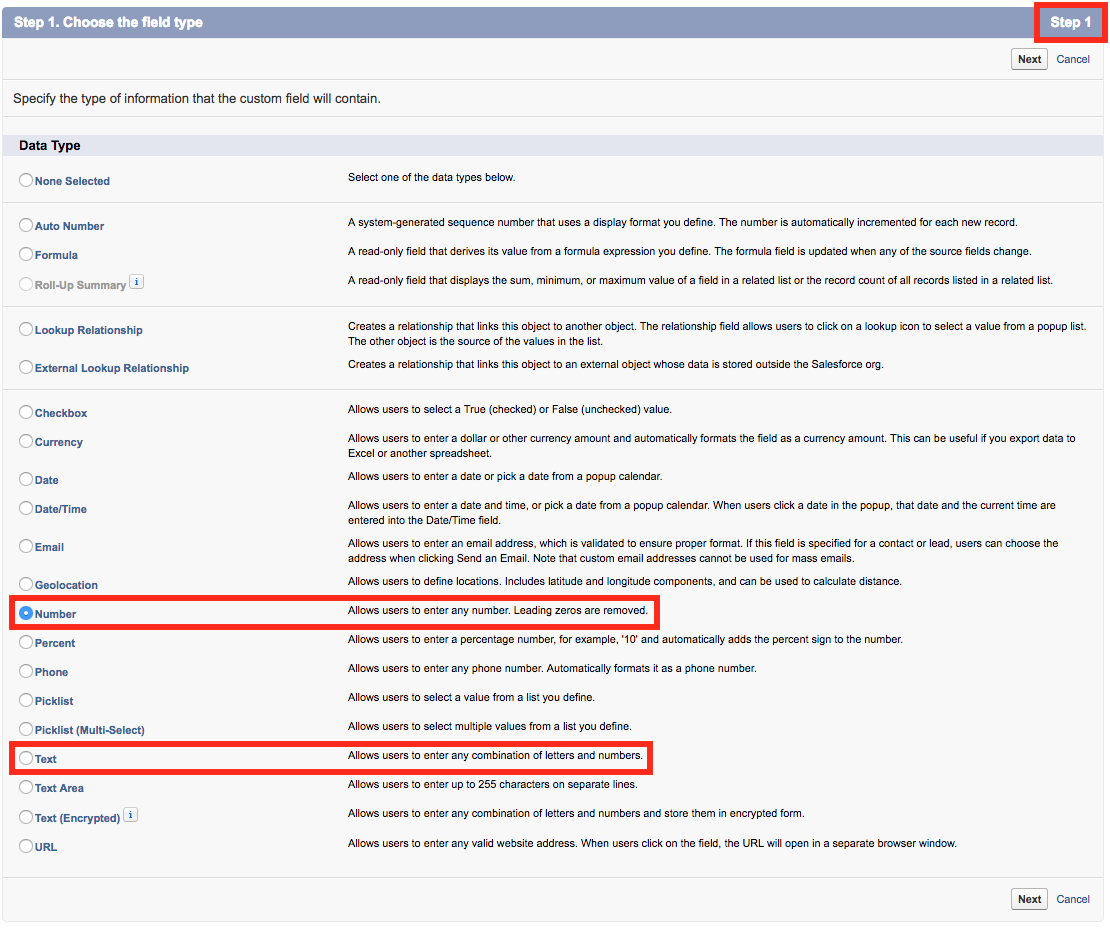 For mapping, you can add these 5 activity fields:
- Visit Duration (Data Type: Number fields)
- Percent Viewed (Data Type: Number fields)
- Document Name (Data Type: Text fields)
- Link Name (Data Type: Text fields)
- Full Stats Link (Data Type: Text fields)
Note: The Number fields "Length" must be 18 and for the Text fields the "Length" is 255. "Decimal Places" should be 0 as well.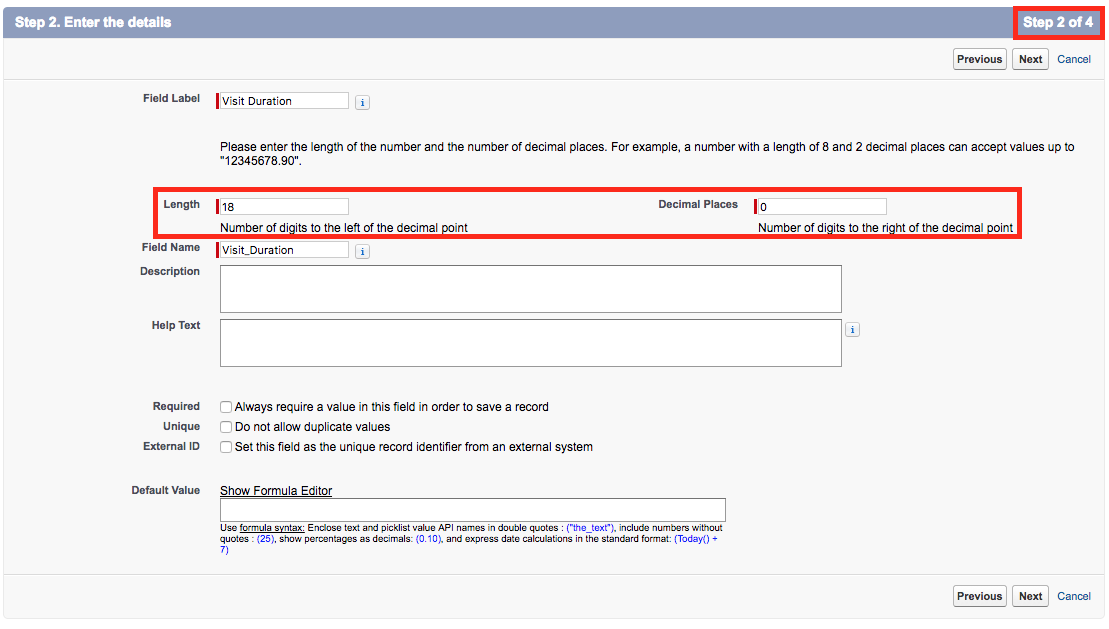 When choosing your field-level security, select "Visible" for all.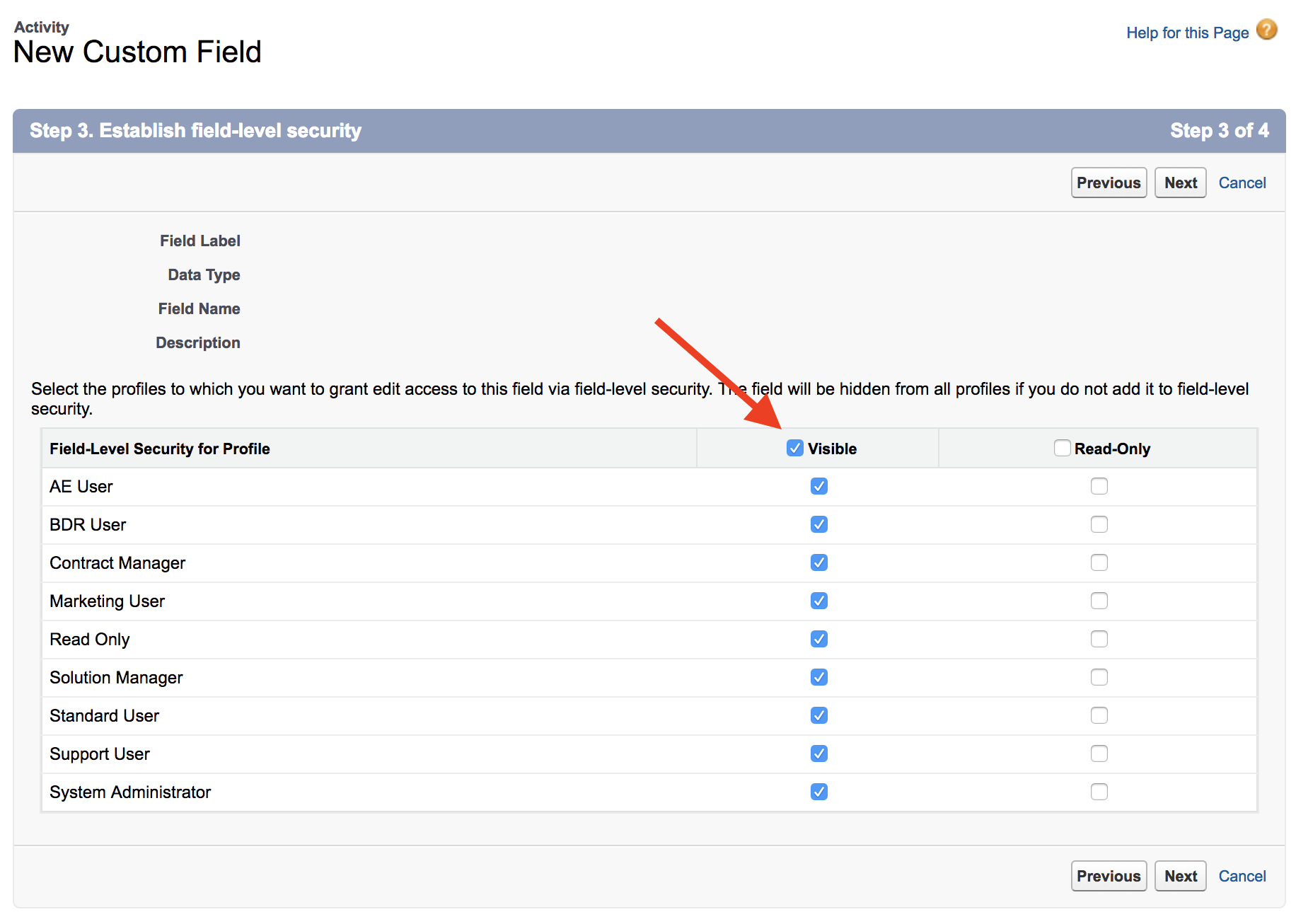 For the last step, display your Activity within the Task Layout (always deselect the Event Layout because DocSend visits are based on Task objects, not Events).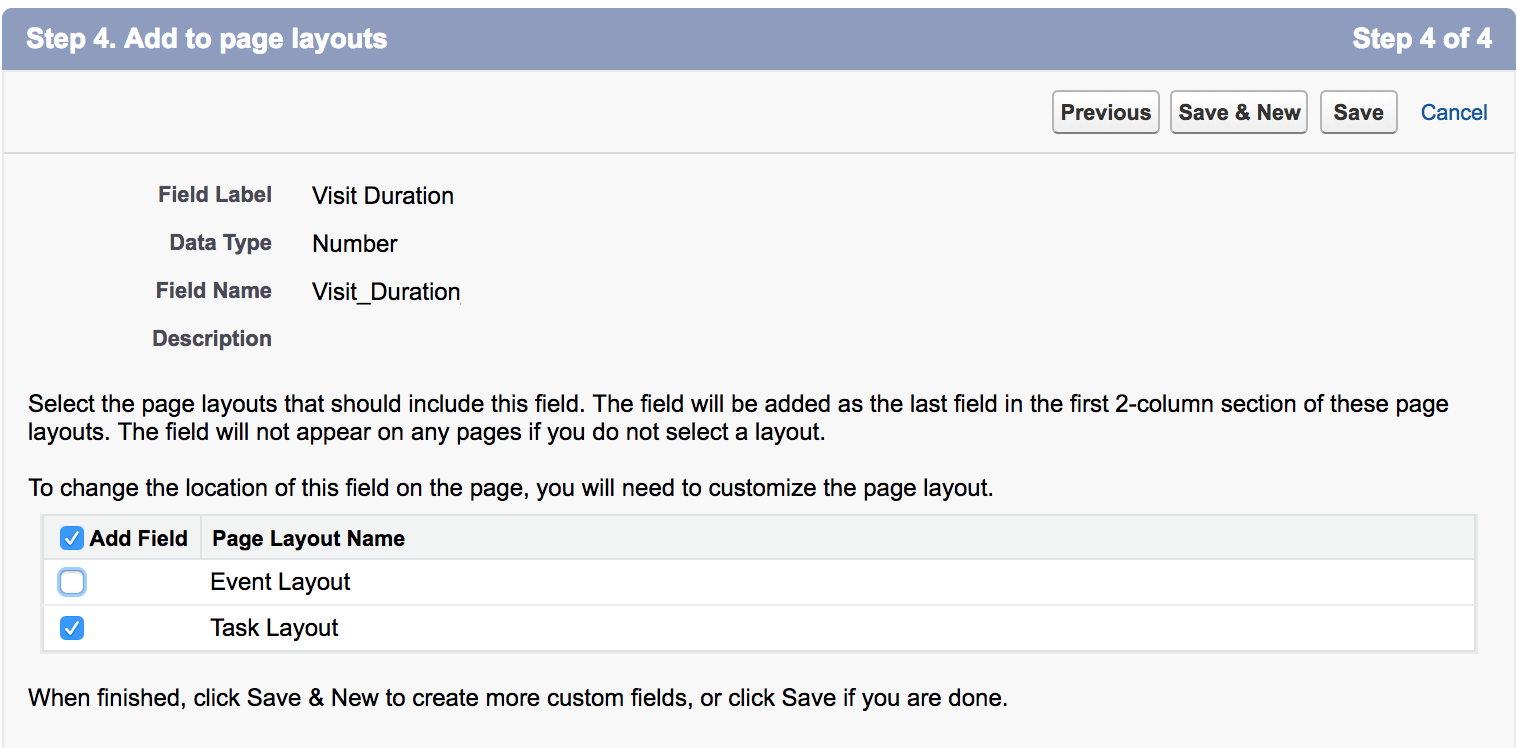 Note: Even if you don't make the "Task Layout" field visible in the UI, you will still be able to create reports from those tasks.
Adding DocSend to a "Type" field in Salesforce
After adding your activity fields, you will need to add DocSend as a "Type" field in Salesforce. To do this, follow these steps:
1.) In Setup, search for "Task Fields"
2.) Select "Type" (the Data Type will be 'Picklist')
3.) Scroll down to "Task Type Picklist Values" and select "New"
4.) Type "DocSend visit" and then click "Save"
Setting Up Your Mappings in DocSend
Configuring your DocSend account's custom fields is a quick, one-time process. To setup your mappings, the DocSend Admin or Owner will need to head to their Connected Apps settings page and connect Salesforce.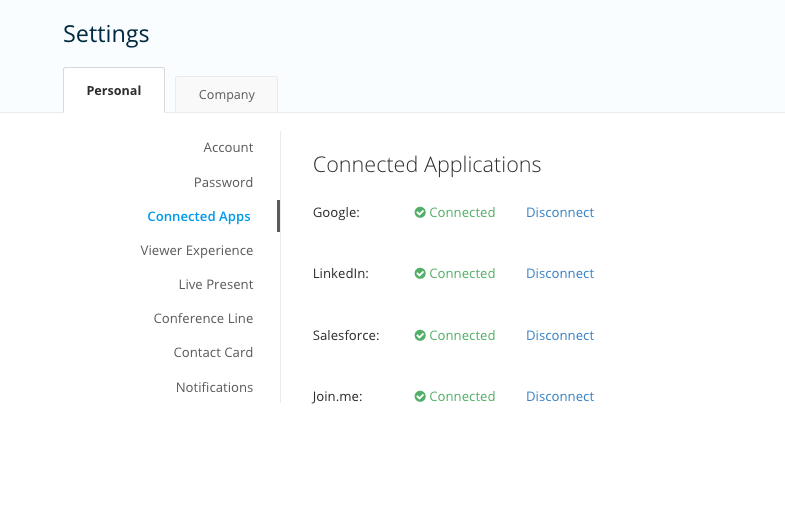 Once connected, go to your Salesforce settings page (from the Company tab) and checkmark "Sync Visits" (so DocSend visits can sync with Salesforce).
After checking the boxes, click the first dropdown box on the left titled "Activity Field" and choose "Type" from the dropdown. Map this field by typing "DocSend visit" in the "Value".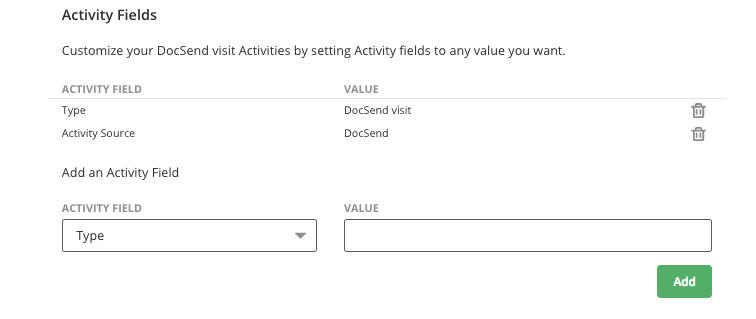 After doing this, you will be able to map the custom fields you created earlier! You can do this from the "DocSend Field Mappings" section at the bottom.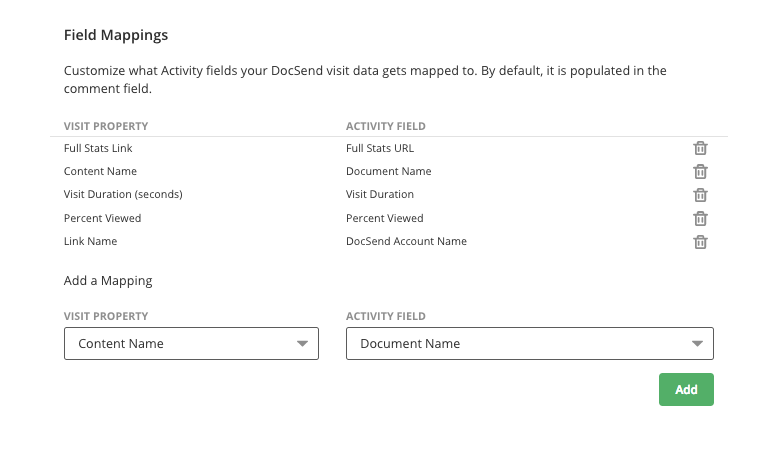 After you map your custom fields, DocSend will start pushing visit data to the corresponding Salesforce account, as a completed Task within the Activity History. The generated activity after a received visit will look like this: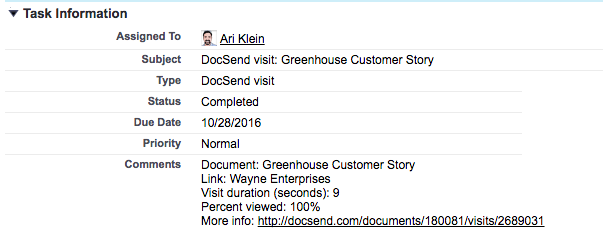 By mapping your Activity Fields, you will be able to run Salesforce reports that will help you better understand how your content is performing!