Folder Types
DocSend has two folder types available to add content to Personal and Team Folders. Personal folders can be found in My Folders section and shared folders can be found in the Team folders section on the content tab.

Content uploaded to personal folders will always be private and visible only to the creator while content uploaded to Team Folders can be seen and shared by everyone in the organization with access to that content.
Creating a New Folder
1. Go to the folder section and select the more options menu


2. Name the folder.
3. Drag or upload content.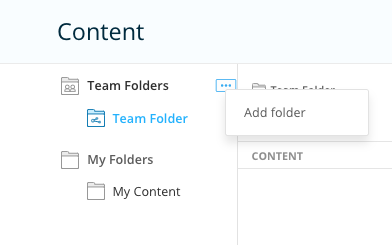 Managing Folders
Users can create and manage their folders by selecting the more options menu

to:

Add an additional folder -

Nested folders can be created to help organize and provide a more granular structure to your content.



Rename the folder -

Hover over the name of the folder and click on the more options menu to change the name of the folder.




Delete a Team Folder

-

Users can delete content which will immediately remove access from the team and all active links will be removed. A confirmation message will appear before a deleting a Team folder:

Moving Folders
You can easily move content between folders by dragging and dropping your content. Below are the few scenarios to keep in mind when moving your content.
Team Folder to Team Folder -

Content can be easily moved from team folders



Personal to Team Folder -

Moving content from personal folders to team folders will immediately share your content with other users.



From a Team to personal folder - Moving content from a Team folder to My Folder will immediately deactivate any links and also remove access to all relevant team members. A warning message will appear confirming the action.
Check out our article on Getting started with teams to learn more.