Deactivating an Account
If you are an Owner or Admin of a team account, you can deactivate a team member's account at anytime. Deactivating an account will cancel them from your current plan and credit your account a prorated sum representing the user's remaining, unused time on your current billing cycle. This unused time credit will be applied to your next invoice! The owner will be able to see this on their billing page.
Keep in mind after you deactivate a team member's account, he/she will no longer be able to log in and all their links will be deactivated.
You can deactivate an account from the Users page. 


Note: Uploaded documents, as well as historical stats and visits, from a deactivated user will still be retained even after the user has been deactivated.
Suspending an Account
If you are an Owner or Admin of a DocSend team, you can also suspend a team member's account at anytime. Suspending an account will disable password reset retrieval for the user.
The primary difference between suspending and deactivating an account has to do with payment and access. A suspended user's links will remain active, however they will remain as a paid member on your plan.
We recommend suspending an account if a member on your team has left your company, but has a lot of outreach attempts that are still active.
You can find the option to suspend an account on the Users page in the same menu as displayed above. After you select suspend, you will be prompted to change their password to lock out the suspended user permanently.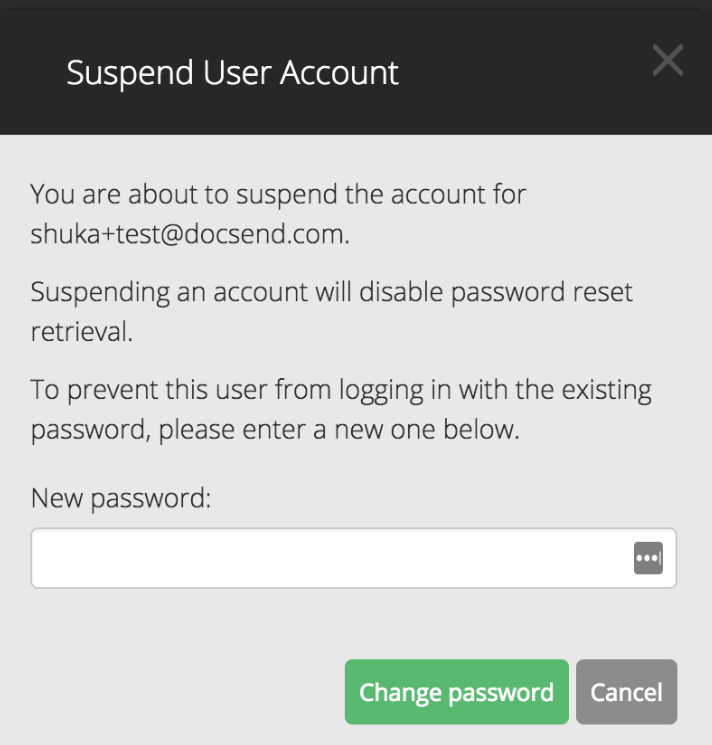 Note: Admins cannot deactivate or suspend Owner accounts.