Syncing visits and link creations to Salesforce is a company-wide setting. To have visit and link creation activities synced to Salesforce, the account Admin or Owner(s) needs to enable them from the Salesforce Settings panel.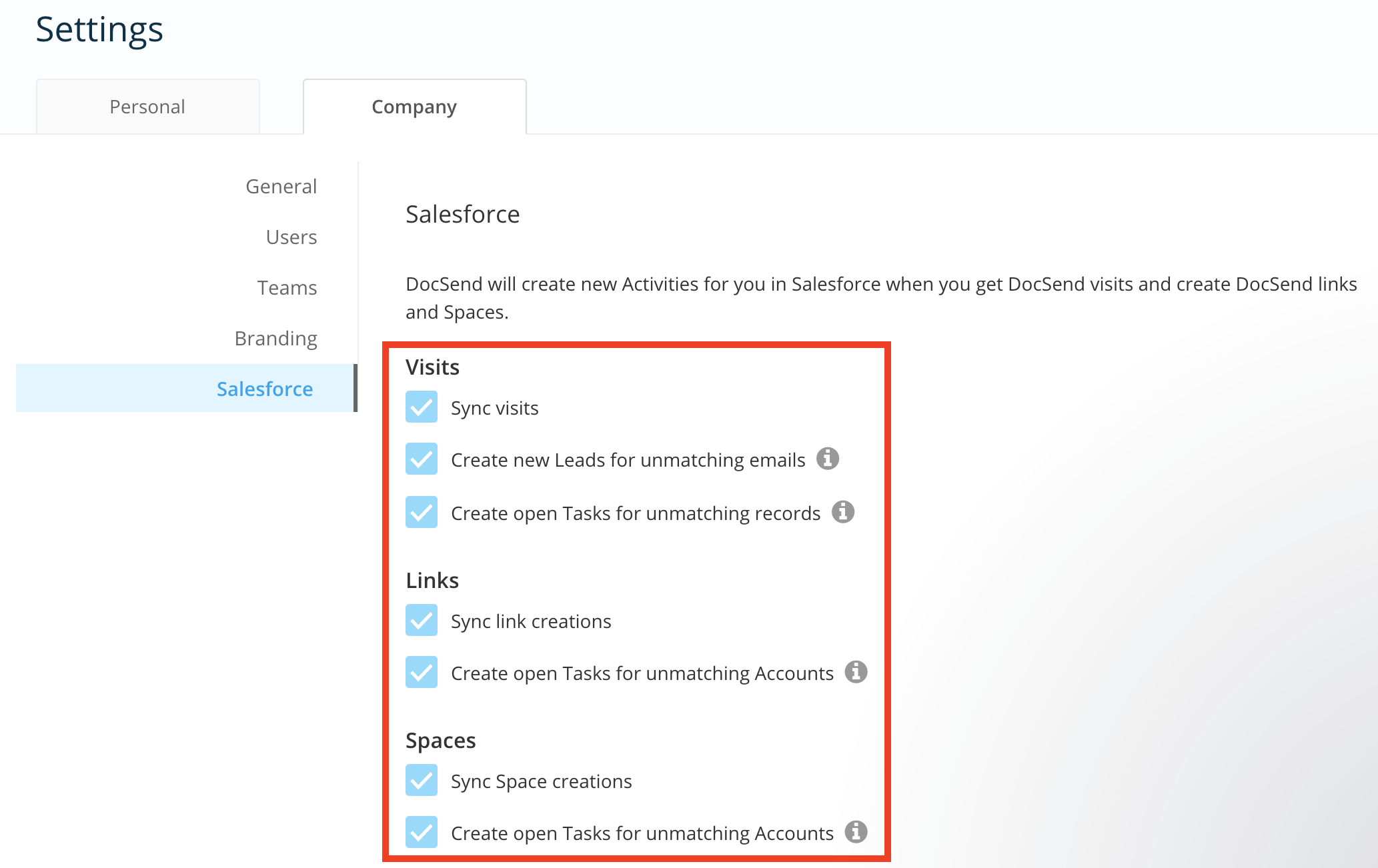 Once "Sync Visits" is checked on, users who don't have their Salesforce account connected (from their Connected Apps page) will be prompted by a blue banner to connect their Salesforce account to their DocSend account.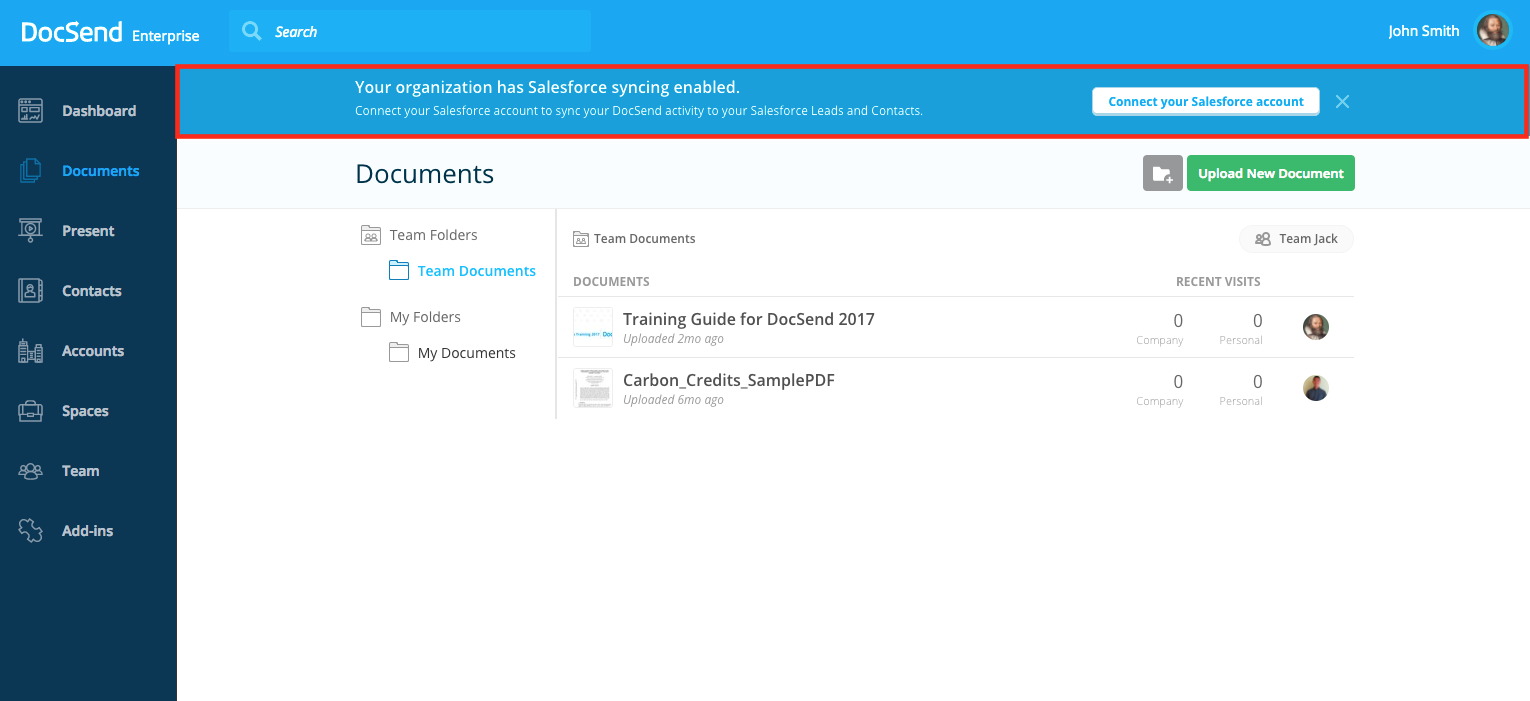 How can I sync DocSend visit data to Salesforce?
By default, DocSend will sync these five visit properties to the Salesforce Lead or Contact associated with the visitor's email address:
- Document Name
- Link Name
- Visit Duration
- Percent Viewed
- Full Stats Link
You will see the visit data appear under the "Activity History" tab as a completed task.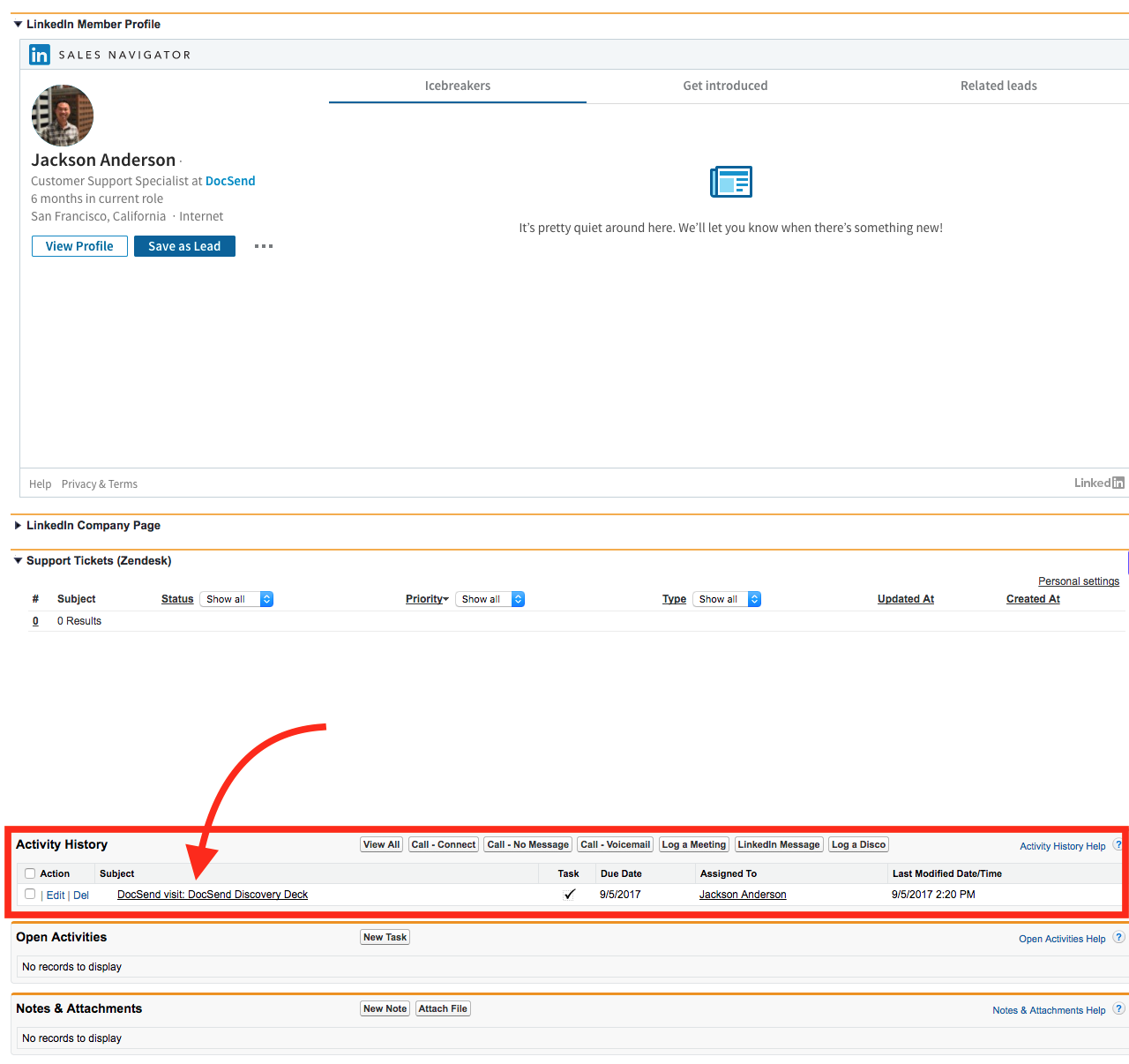 These data points will appear in the completed task's "Comments" field by default, but can also be mapped to specific activity fields (as seen below).
Mapping visit information to fields will enable you to run custom Salesforce reports to measure document performance, how much revenue a given document has influenced, and much more! DocSend Admins and Owners can configure field mappings here.
Important: DocSend visit creations will sync with a Salesforce contact if the visitor's email address matches the contact's email address in Salesforce (we recommend to "Require email to view" or use our Gmail or Outlook plugin). If the email does not match, but the DocSend and Salesforce account name matches, then DocSend will put the activity in that Salesforce account. If neither the email nor account matches, and "Create new Leads for unmatching emails" is checked on, DocSend will create a new lead for you in Salesforce.
How can I sync DocSend Link and Space Creations in Salesforce?
Additionally, users can track when links and Spaces are created by having those events synced as activities in Salesforce. These creations can help identify trends and usage by individual users. Tracking creations in Salesforce will give you a clearer picture of how well your team is utilizing the content in your DocSend account.
Link and Space creations will display the following information within the "Comments" field:
- Document name
- Account name
- Link to the Document's page
- Link to the Document's Link page
- DocSend link URL
- Recipient names who have clicked the link (this will refresh if additional visitors click the link)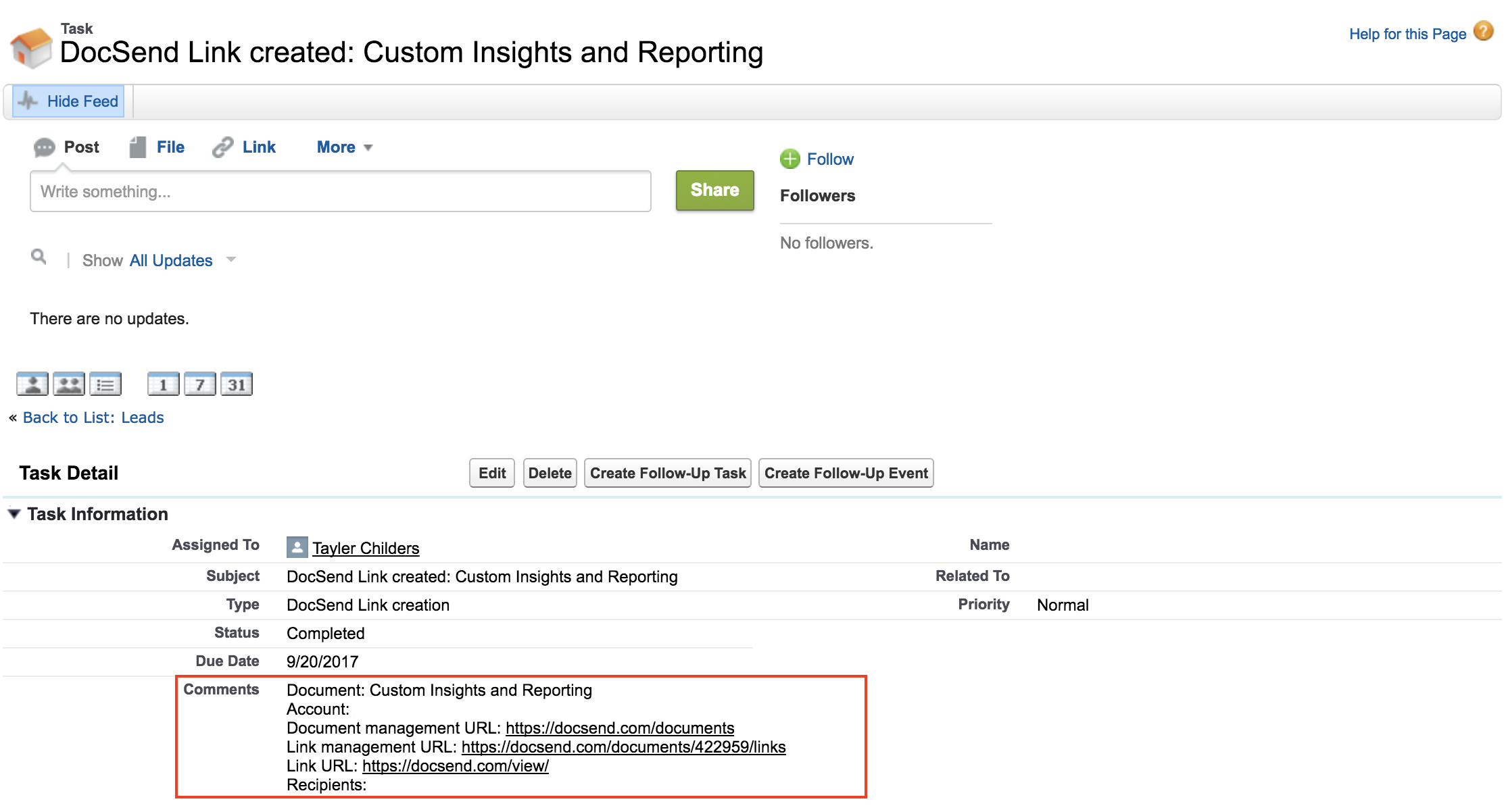 To enable link and Space creation syncing, an Admin or Owner needs to checkmark the boxes "Sync Link creations" and "Sync Space creations" from their Salesforce Settings page.
Note: If the Account in DocSend doesn't match with the Account in Salesforce, and "Create open Tasks for unmatching [records or Accounts]" is checked from DocSend's Salesforce settings page, DocSend will display an open task on the link creator's Salesforce Home page asking to correct the Account's name:

In order to fix this, the link creator will need to complete the task by inputting the correct Account Name in the "Related To" field. After this is done, you will need to update the Account Name in either Salesforce or DocSend so they both match. This will allow DocSend to sync to that matching account for all future interactions.
However, if "Create open Tasks" is not checked on and DocSend cannot find a matching Salesforce account, DocSend will not sync the visit (unless "Create new Leads for unmatching emails" is checked) or Link/Space creation.