Overview
Documents that have been marked as final must be unmarked as final or exported as a PDF file to upload into DocSend. Attempting to upload the file marked as final will trigger the error message below: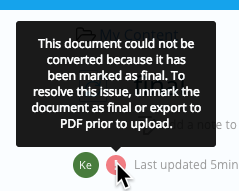 Important: Microsoft's "mark as final" feature is only available on PC.
Unmark a Document as Final
Open the presentation.

Click Edit Anyway.

Resave the file unmarked as final.

Reupload the unmarked document into DocSend.

Related Reading
–––
Still need help? Reach out to support@docsend.com!